It's been in the air for weeks but as of yesterday it is now official that the Matchroom war machine has moved onto Italy with an 8 years commitment to broadcast 8 fights per year featuring local talent. The landscape is open. Italian professional boxing has been on the slide for years due to lack of funds and media coverage. Eddie Hearn is on a mission to create a new generation of fighters that will be signed and groomed from the Amateurs but at the same time this is an opportunity for UK boxers to conquer new ground.
It is only befitting that the man to headline the inaugural show of the Italian campaign is the "Conqueror" himself, former Cruiserweight Commonwealth champion Mr Tony Conquest (18-2, 6 kos) who will challenge local hero Fabio Turchi (15-0, 11 kos) for his WBC International Silver belt on November 30th in Florence. And he fancies the Italian job…
BB: You officially retired in 2015. What made you come back?
TONY CONQUEST: I did have a few injuries but I walked away mainly due to family issues. It's not like I had nothing left to give or lost motivation. I did not think I would ever fight again, to be honest, but then you go back to the gym and they ask you to spar a couple of rounds… The passion came back and there is still life in me. Also, I got married and had a son in the meanwhile, so it's not just about glory: I want to provide more for my family.
BB: Winning the WBC Silver belt would propel you in the rankings. If you pass this test, will you be aiming at world honours or is there any unfinished business at domestic level?
TC: The domestic scene is wide open. Okolie is good but still relatively a novice, far from the finished article. I would fancy a shot at the British title. Also, I wouldn't mind a rematch with Wadi Camacho if he gets the Commonwealth belt. Me and him go a long way back. We have known each other for 14 years, since the Amateurs. But, this fight opens a whole new platform. With Usyk moving up to Heavyweight, there will be a lot of opportunities at top level. I am following the current Cruiserweight WBSS and I think I could hang with that crowd. You can't turn down opportunities like that.
BB: How did the Turchi deal come along? How long has this been in the making?
TC: It was spoken about a few times but nothing was concrete until 1 week ago, when the deal was closed.
BB: Is it not too short a notice for you to prepare?
TC: I'm always fit, there is never a time when you catch me out of shape. If you box, you need to live the life. You never know when opportunity might knock. I have been training since 2 weeks after my last fight in July and am on weight. I have 4 full weeks to work on tactics with southpaw sparring partners so no problems at all.
BB: Turchi's record suggests power but the level of opposition seems below UK domestic level. What is your assessment?
TC: He has beaten the type of guys he should be beating at this stage of his career but the fact he stopped so many of them suggests his power is complemented by skills. Let's not forget these are very experienced campaigners that need to fight again in 2 or 3 weeks, they know all the tricks to run away and survive the distance. He has taken care of business and got the job done in style. He is strong but also a mover with good technique and defence.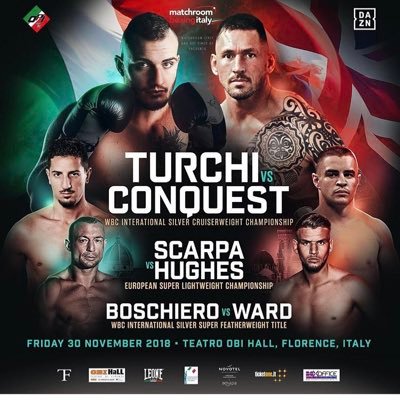 BB: What will be the factor that might make a difference in your favour?
TC: Determination. Once my mind is on the objective, I always find a way.
BB: Do you have any concerns about fighting abroad for the first time?
TC: Not at all. I am bringing a good crowd along with me and am not concerned about his. I'm going to come over, put it all on the line and give my all.
BB: What do you think in general about Matchroom ventures outside of the UK? How does this benefit UK fighters?
TC: I think Hearn is doing a great job. With HBO walking out of the way, more fighters are now under one banner. If it keeps growing, we will get to the point when there will be no more political obstacles for big fights to be made and more chances to have unified divisions.
BB: Your pick for Bellew vs Usyk?
TC: My head is with Usyk, my heart with Bellew. He proved people wrong before and I would love to see him do it again. He is a warrior, but Usyk is a different breed, very articulate in his boxing.
?? @EddieHearn explains about @MatchroomBoxing Italy, where they will promote 8 shows a year on @daznglobal ?
.@britishboxers @EPrapotnich #boxing pic.twitter.com/OXLeNqFW99

— British Boxing (@britishboxers) November 7, 2018