"Another day at the office my arse, I am going to stick it on him badly." Williams warns Mullender.
"If it doesn't make money, it doesn't make sense" was the essence of Larry Holmes' approach to professional boxing and newly crowned British Middleweight champion Liam Williams (19-2-1, 14 KOS) has embraced this philosophy, although it is not at the root of his love for the game. A former British and Commonwealth champion at Light Middle, he temporarily moved up in weight to chase new opportunities and is determined to make it at the highest possible level and for the best possible price. But before entering the next level of his career he has to take care of challenger Joe Mullender (11-2, 5 KOS) when they meet in the first defence of his title. Ahead of March 8 Warren Promotions' show at the Royal Albert Hall, Williams tells us he has a plan for the fight and it does not involve taking backward steps. 
BRITISH BOXERS: How did you get into boxing? 
LIAM WILLIAMS: My friends and I started going to the gym for fun, just to get off the streets for a couple of hours. Eventually they quit but I stuck and never looked back. I had 49 Amateur fights and won 44, collecting eight Welsh titles and six British along the way. 
BB: What made you decide to turn professional? 
LW: It was inevitable after Vince Cleverly trained me for my last 2 Amateur bouts because of the environment I found myself in. I was 18 and my motivation was neither money nor titles. Not in the beginning, at least. I had no expectations, it felt like the logic thing to do and I was curious to see what would happen. But once money and recognition started coming in, I felt it could turn into something big. It proved the right choice as I am in a very good position today and with very good people around me. 
BB: How did it feel becoming British champion for the second time and in a different weight category after holding Lonsdale and Commonwealth belts at Light Middle? And which do you consider the most important victory of the three and why? 
LW: It felt like a great achievement, I am really proud of myself. I rate the British title over the Commonwealth and it was actually more rewarding to win it the second time around because I was the underdog and I had a bigger, more difficult task in front of me in Mark Heffron who was feared and avoided. 
BB: The only blemishes on your record came in back to back clashes with Liam Smith. What went wrong in those fights and what did you take out of them that made you a better fighter? 
LW: The first fight left a bitter taste in my mouth. I was well ahead before being stopped due to a nasty clash of heads. I think I won eight rounds out of nine. Very disappointing to end up second best in that fashion. By the time the rematch came around, I had lost interest. I was not fully committed and stopped enjoying boxing like I used to. That had to do with how things were going in the gym at the time. My trainer Gary Lockett was there but it wasn't a good atmosphere. I was basically training alone and it felt really isolating. As a result, I was less effective on fight night. I could and should have won both fights, so there isn't really anything to take out of them except that they pushed me to make the changes I needed in order to keep progressing. 
BB: What were the advantages of moving up in weight? 
LW: None. I can still make Light Middle comfortably and I am actually planning to move back down after the next fight. The move was only made because of the economic opportunities at the weight. 
BB: How did you link up with Dominic Ingle? 
LW: I have been around Dom's gym a few times before in the past, sparring the likes of Kell Brook, Jason Quigley and Billy Joe Saunders. I knew it was a good gym and an environment I would be comfortable in. Obviously Dom is a very good trainer. I tried Jamie Moore's gym which I enjoyed, him also being a top guy, and considered Adam Booth but in the end it felt natural to go back at Ingle's as it was tried and tested.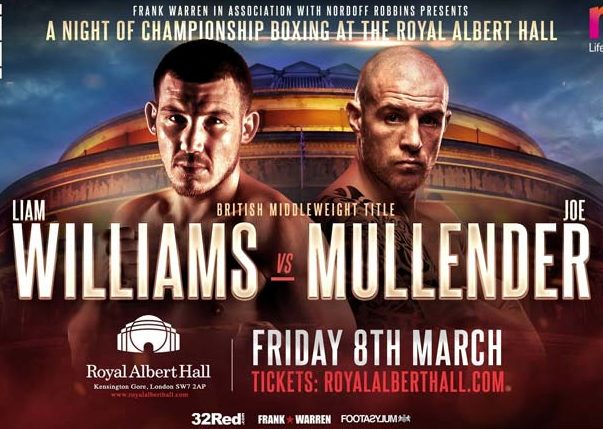 BB: Do you rate Mullender and how would you compare him with your previous level of opposition? 
LW: He is a slight step backwards but it doesn't mean I don't rate him at all. He has had his ups and downs. But in the end of the day I would have fought anyone they'd put in front of me. The main point of this fight is to keep busy. 
BB: He claims to have done no study on you and that his only strategy will be dragging you into a war. Has he been successful at getting under your skin? How are you going to approach this fight? 
LW: 100% no, he did not get under my skin. It's his mistake if he really underestimates me and one he will regret as it will prove his downfall. I am better than him in every department. Another day at the office my arse, I'm going stick it to him badly. The ultimate aim is to do damage but following a game plan. I am going to keep my composure and listen to the instructions but I am not running away. I am stronger and punch harder. 
BB: You made clear you have world title ambitions and are willing to take them at whatever weight they present, but both Middle and Light Middleweight divisions are stacked with talent at top level. Realistically, how do you see your path to a title shot unfolding? 
LW: I feel I can make the move right now. I have been at that level with Smith and proved that I can mix it. I had 21 fights and those are my only losses. I have no doubt I would win if we met again. If I can't go straight to world level then I would be happy to go after a European title. I took a good look at Garcia (Light Middleweight) and Szeremeta (Middleweight) and fancy the job with both. 
BB: Given the choice, who would you pick to fight for a world title in each category? 
LW: Jarret Hurd and Canelo, simply because they hold more belts and bring more money to the table. Both tough fights but maximum reward and exposure. At that level, it would be stupid to use any criteria other than business sense. 
BB: Anything else you would like to add or share? 
LW: I am honoured to fight at the Royal Albert Hall and join a list of all time greats like Ali, Lennox Lewis and my Welsh hero Joe Calzaghe. It's a pleasure to be part of this event.
Follow us on Social Media…
Instagram: https://www.instagram.com/britishboxers_bbtv
Twitter: https://twitter.com/britishboxers
Facebook: https://www.facebook.com/britishboxers
YouTube: https://www.youtube.com/britishboxersuk

boxing #britishboxing
LATEST BBTV VIDEOS