The Klitschko reign will be remembered in the future as a dominant display of boxing prowess. But for those of us who lived and watched through it, we viewed it as a time we adjusted our televisions to the welterweight, lightweight and featherweight divisions.
Whilst the blue-ribbon division experienced inertia through the 2000's, ultimately, the largest objects have the greatest gravitational pull and the orbit of fans are back. The Mike Tyson– esque rampage of Anthony Joshua after his graduation to the professional ranks, the dethroning of Wladimir Klitschko by the unorthodox Tyson Fury and the annihilation of Z- list opposition by Deontay Wilder set the path for an exciting present. As the three vie for supremacy, contenders such as Dillian Whyte, Andy Ruiz, Adam Kownacki, Kubrat Puvlev and Oscar Rivas remain hot on their tails. Even more exciting times are near with relative newcomers Daniel Dubois, Joe Joyce, Filip Hrgović, Efe Ajagba and Tony Yoka entering the sphere. 

The recent clashes of the last few years have recaptured the imagination of the public for the men above 200 pounds, but what about the fighters just south of this limit? Historically, the Cruiserweight division has been largely ignored. Since its induction in 1983, it has been viewed as the Heavyweight division's ugly smaller Sister. The public demand for even the most premier stars in the division has hardly reached the vociferous fervour of even fringe bouts amongst the bigger fighters.
Oleksandr Usyk has bucked this trend.
This poetry writing, juggling, folk dancing, hand standing, slightly crazy looking Ukrainian reached the pinnacle of his Cruiserweight career whilst accruing a massive following domestically and internationally. Now he poses a new question to an already buzzing Heavyweight scene. A 6-foot-3 harbinger of the sweet science posed this question to the Heavyweights emphatically with his debut at the top weight.
This came in the form of a one-sided beat down on an overweight and irrelevant Chazz Witherspoon in October. This proved nothing of course, other than that Usyk could weigh in over 200 pounds. Despite this, as of March 2020, Usyk has been named the world's fourth-best active Heavyweight by BoxRec and tenth by ESPN. An achievement in of itself after just one, Heavyweight performance. Even if it was a pummelling of a paycheck boxer.
What really qualifies Usyk for these rankings is his staggering plethora of accomplishments at Cruiserweight. To put it lightly, he has won everything he could possibly have won; bar 15 amateur fights (compared to his 335 other amateur wins).  
To put it not so lightly, during those 350 amateur fights, Usyk won gold medals at the 2011 World Championships and 2012 Olympics. He turned professional in 2013 and won his first world title fight in his 10th bout and the undisputed Cruiserweight championship crown in just his 15th professional fight in 2018. This of course was aided by the entertainment-injected tournament styled, 'World Boxing Super Series' which was necessary to attract more viewership to the Cruiserweight title bouts.
He has been the first Cruiserweight in history to hold all four major world championships: the WBA (Super), WBC, IBF and WBO titles. Additionally he was The Ring magazine and lineal Cruiserweight champion. By that point, in sixteen fights he had defeated five current or former world champions; snatching away three undefeated records.
Usyk has won all his bouts compellingly apart from his majority decision win over Mairis Briedis. Briedis himself an amazing (undefeated at the time) tactician took much of Usyk's skill to defeat. Oleksandr has never been dropped professionally and as far as appearances go, he has never looked seriously hurt.
Yet……it is not enough for the Ukrainian. Like the fans, the gravitational pull of the Heavyweight division is too much for fighters to resist. After his destruction of former world champion Tony Bellew, Usyk announced his entry to the big boys at the end of 2018.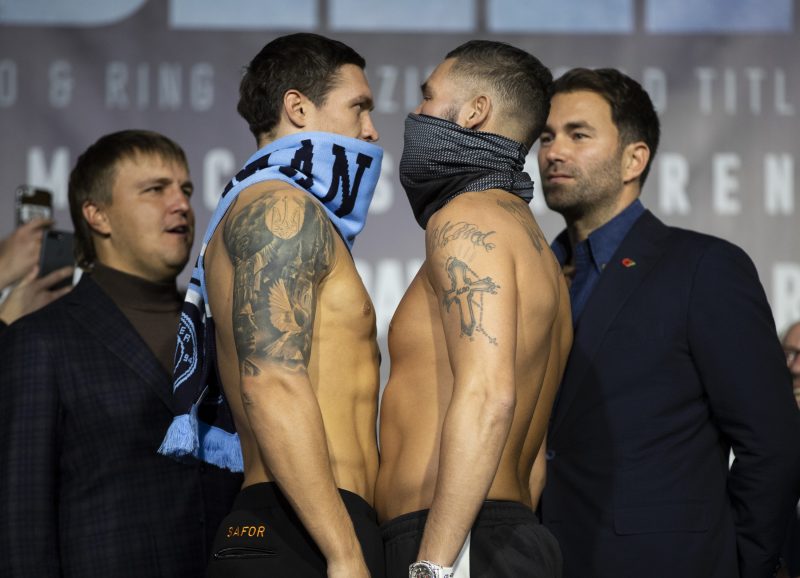 Immediately, much of the boxing community began to scale Usyks enormous talent with the matter of size difference. Those in the know cited a wealth of successful Cruiserweights that had unsuccessful moves to Heavyweight, such as Glenn McCrory, Dwight Muhammad Qawi, AL Cole, Vassiliy Jirov and Orlin Norris. Size matters exclaim the naysayers of Usyk's potential Heavyweight dominance, but it is misguided to not see the exceptions to the rule.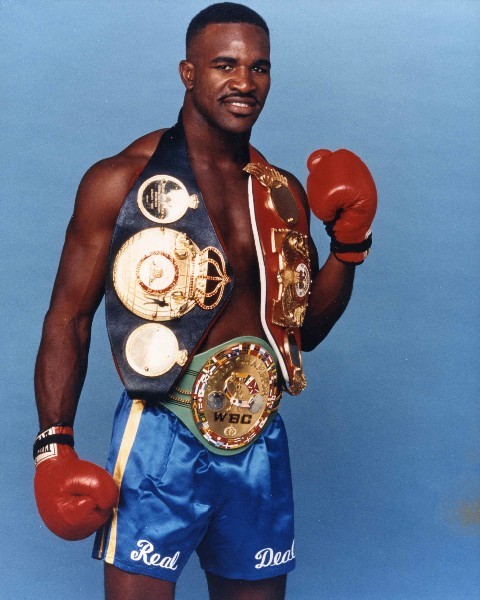 The 'Real Deal' Evander Holyfield stepped up to become undisputed champion!
History has of course displayed great exceptions. Tomasz Adamek, Roy Jones Jr, Ezzard Charles, David Haye and Evander Holyfield have all shown that they could achieve champion status moving up to the top. Holyfield was the most notable transition out of these names as Holyfield remains the only four-time world Heavyweight champion, having held the unified WBA, WBC, and IBF titles.
At 6 foot 1, Holyfield often gave away 3 inches or more in height and a few inches of reach. Even more importantly, he gave away 10 to 20 pounds in his fights at Heavyweight. He was even outweighed 25 pounds with Riddick Bowe and 30 pounds to Lennox Lewis when they fought.
Whilst 6 foot 3 David Haye's success at Heavyweight may not have been as impressive, his win over Nikolai Valuev, a 7-foot-tall behemoth is remembered as an inhuman triumph over stature. The 9 inches in height and subsequent massive weight advantage over Haye, meant his win went down as the only boxer in history to be 98+ pounds lighter than an opponent in a world title fight and win.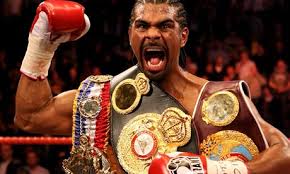 David Haye a success at both weights
The odds are generally against any Cruiserweight who seeks Heavyweight fame. But the calculated methodical style of Oleksandr is just so bizarrely attuned it may beat those odds. Like his fellow countryman Vasyl Lomachenko, Usyk downloads his opponent's information quietly in the first 3 rounds. He may even sacrifice these rounds to the busier fighter as they come forward. Poking and prodding the defence of the opponent, Usyk analyses the reaction time, head placement, foot movement and punch variation of the man standing opposite. This downloaded information is tested and corroborated as he utilises his enormous toolbox of offensive skill.
Throwing a record 99 jabs against Andrey Knyazev in one round, his lead southpaw hand is incessant. It parrys the orthodox jab rendering these fighter's left hand useless as he piles on scoring shots. Constantly shifting to their right, Usyk nullifies the right cross of his opponents and attacks the vulnerable left side with ferocity. Controlled aggression sees him hop in and out of range, scoring hurtful cumulative punches, escaping the counterattack, and going right back to business. He is a master of space, making his opponent go where he wants them to.
His constant shifting makes them miss, sapping their precious energy in doing so. He drains a fighter's morale by displaying effortless superiority and a work rate that builds every round. It is not unusual for Usyk to have some his busiest rounds as the bout ends, either by the last bell or a knockout. Nobody in the Heavyweight division has these skills and nobody in the Heavyweight division has his work rate. 
Aside from the technical skill of Usyk, he is hardly a diminutive figure. At 6 foot 3 inches he was always a large Cruiserweight and has already faced larger opponents. Joe Joyce, 6 foot 6 (the same height as Anthony Joshua) and much broader than Usyk, contested the Ukrainian in the World Series of Boxing. Usyks style was all wrong for the Brit, even if it was semi-professional boxing.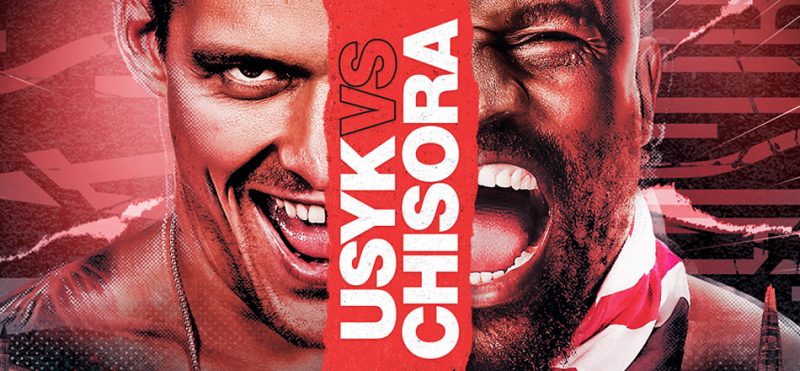 Anthony Joshua, Tyson Fury and Dillian Whyte pose height, reach and weight questions for Usyk. However, each one of these prominent boxers have had these attributes quashed by physically less impressive fighters. Oscar Rivas was, at points, able to bully the 12 pounds heavier and 4-inch taller Whyte last July. Luis Ortiz was able to ragdoll the much rangier Wilder at points in their second bout in November. In September, Fury was damaged severely by a much smaller man in Otto Wallin. And in one of the biggest upsets in boxing history, a physically uninspiring Andy Ruiz crushed Anthony Joshua in their first fight last year. Usyk presents a completely different level of difficulty to the top men over these fighters.
The answer if Usyk CAN compete at Heavyweight and win is a resounding yes. But absolutely nothing is for certain amongst the Heavyweights. Each of these fighters could detonate an enormous flat lining punch on Usyk, no more so than Wilder. We simply just do not know how he will take one. Critically, Anthony Joshua, the man Usyk wants most, made enormous positive changes to his game in the 2nd Ruiz fight. He displayed that he can box and move using his physical advantages perfectly. Tyson Fury, well, at 6 foot 9, he has consistently shown he can box beautifully and recently showed power against Deontay Wilder at the rematch in February.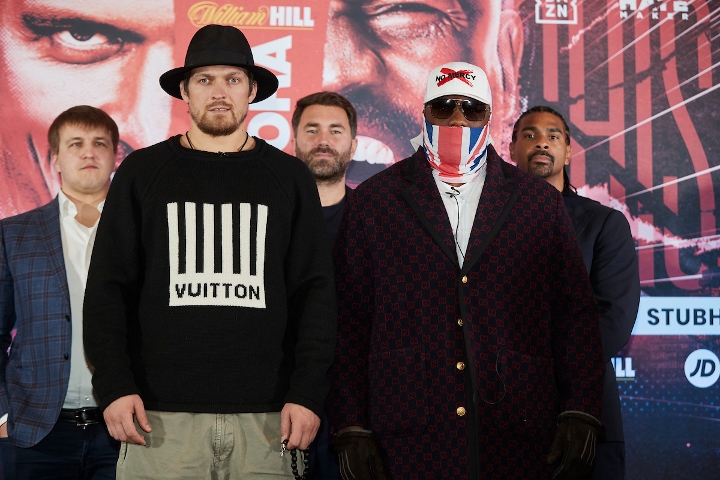 Before we can contemplate these mouth-watering fights, Usyk must first be properly christened in the blue ribbon division against a legitimate veteran, Dereck Chisora. Chisora presents the perfect challenge for Usyk at Heavyweight at this stage. Chisora is a boxer that comes forward with relentless force and uses his weight so well in bouts. He will lean on you, attack the body, club wildly at you and march through your best punches. He begins centre ring and will trade if he can get you to trade. As his more recently adorned nickname suggests, "War Chisora" will bring a war.
Perhaps Usyks greatest vulnerability at this division will be his tendency to work at a slower rate in the early rounds. Downloading his fighter's information may result in him being blasted in the first three rounds by an aggressive big man. Equally, an awkward, switch hitting, jerky fighter like Tyson Fury does not necessarily follow a pattern to study and learn. But I suspect this elite specimen will know something we don't.
Oleksandr Usyk's addition to this captivating cauldron of the biggest boxers is another interesting twist to the story of the sport, it is sure to be remembered.
SUBSCRIBE TO BBTV
JIMMY KELLY IN CAMP PREPARING FOR CLASH WITH UNBEATEN MEXICAN BANGER JAMIE MUNGUIA
'ITS ON THE ANNIVERSARY OF MUM'S PASSING, I'LL BE UNBEATABLE" ZELFA BARRETT ON EUROPEAN TITLE FIGHT
"SECOND SESSION OF THE DAY!" TYSON FURY STAYING IN SHAPE IN RETIREMENT #shorts
PROSPECT WATCH: EX FOOTBALLER JACKSON HUME 2-0 JOINS ARNIE'S GYM MANCHESTER
THE RISE AND RISE OF EVERTON RED TRIANGLE - WITH COACH PAUL STEVENSON
"IV'E BEATEN THE CURRENT WORLD CHAMPION TWICE!" JAZZA DICKENS ON HIT LIST FOR COMEBACK FIGHT!
AT HOME WITH THE GORMANS - PART 6 - RIP TOMMY DIX - RICKY GETS A NEW FIGHT DATE!
JOSHUA BUATSI, EDDIE HEARN & VIRGIL HUNTER REACT TO VICTORY OVER CRAIG RICHARDS | POST FIGHT PRESSER
"NO F*CKING ABOUT" MICHAEL CONLAN & ADAM BOOTH REACT TO BUATSI - RICHARDS & TALK NEXT OPPONENT
"FURY V JOSHUA IS BIGGEST FIGHT OF ALL TIME!" EDDIE HEARN HINTS ON AJ USYK & TALKS WEEKEND SHOWS
JOSHUA BUATSI - CRAIG RICHARDS HIGH STAKES! WEIGH IN AND FINAL FACE OFF BEFORE SATURDAYS BIG FIGHT!
CHANTELLE CAMERON - VICTORIA NOELIA BUSTOS WEIGH IN AND FACE OFF
"THE SAVAGE" ALEN BABIC IS BACK! - ADAM BALSKI WEIGH IN AND FACE OFF!
JOHN FURY WATCHES TYSON SHADOW BOXING IN FRANCE "HE'S NOT GETTING BEATEN FOR A LONG TIME THIS MAN"
"NO TIME FOR FALSE PEOPLE" PETER FURY & TOMMY DIX - SECRET TO HAPPY LIFE & OTHER WISDOM
BORN IN 1939 TOMMY DIX TALKS ABOUT GROWING UP A WAR BABY AND BEING A GUINEA PIG FOR PENICILLIN
BUATSI V RICHARDS PREVIEW AND A LOOK AT THE LIGHT HEAVY DIVISION
RICKY HATTON'S CAR COLLECTION - A ROLLS ROYCE AND THE "PASSION WAGGON' ONLY FOOLS & HORSES VAN!
WOW! RICKY HATTON'S DRAMATIC WEIGHT LOSS JOURNEY CONTINUES (NEW FOOTAGE)
DENNIS HOBSON: COMMENTS ON UNIFICATION BETWEEN JONAS & RANKIN & REVIEWS WORLD TITLE SHOW IN GLASGOW
THEY PROVED THE DOUBTERS WRONG! BILLY NELSON & MARTIN BAKOLE CELEBRATE WIN OVER TONY YOKA IN FRANCE!
THE GYSPY KING AND QUEEN TYSON AND PARIS FURY BRING THE PARTY TO COTE D'AZUR IN FRANZE
WHAT NEXT FOR TYSON FURY? LATEST FIGHT NEWS ON THE TRADE SHOW BOXING PODCAST
"AMIR GOOD WORK MATE" DAVID HAYE BIGS UP AMIR KHAN AFTER RETIREMENT ANNOUNCEMENT
A LOOK INSIDE THE GYPSY SITE GYM WHERE TYSON FURY TRAINED WITH COUSIN RICKY GORMAN (DEBUT JULY 23)
"BELIEVE ME I WANT TO FIGHT HER 100%" SAVANNAH MARSHALL EXPLAINS CLARESSA SHIELDS FIGHT DELAY
"THANK YOU SO MUCH" MARTIN BAKOLE WALLOPS TONY YOKA AND CELEBRATES ON HIS LIVE STREAM #shorts
"NO MORE PITTA PATTA I'M TAKING PEOPLE OUT!" BIG FRAZE ON RING RETURN AND TONIGHTS BOXXERS SHOW
"ALL OF A SUDDEN THEY FORGET HIS ACHIEVEMENTS" JOHNNY NELSON TALKS AJ V USYK & ELLIS ZORRO BOXXER
ELLIS ZORRO WINS THE BOXXER CRUISERWEIGHT COMP (ALL RESULTS)