Caoimhin Agyarko is a 23-year-old middleweight fighter hailing from Belfast and London; two epicentres of boxing excellence. With over 130 fights and just a miniscule 11 losses, Caoimhin (pronounced: Kee-van) graduated from an exceptional amateur career and entered the pro ranks in 2018.
Caoimhin was immediately picked up by prodigious Frank Warren promotions and trains at Ibox gym in London. Currently, as a professional, Caoimhin has amassed a professional record of 6 and 0 with three knockouts. "Black Thunder" has an elusive style that immediately captures the attention of any boxing fanatic.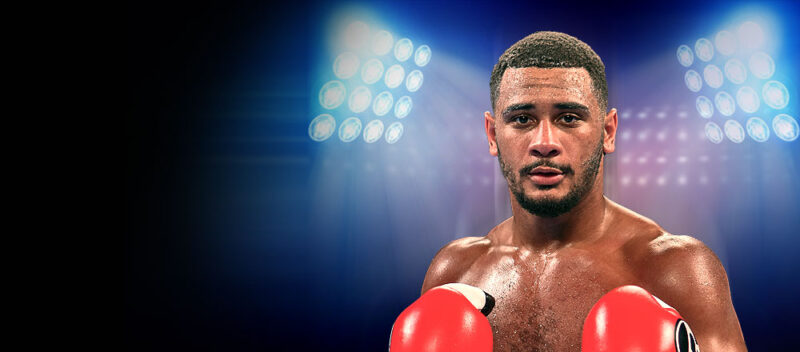 With a penchant for keeping his hands down and a wicked need for speed, there are glimmers of Josh Kelly and dare I say Roy Jones Jr. He has the building blocks to be a true superstar and can make waves in an exceedingly competitive middleweight division; especially with Frank Warren behind him.
How has lockdown been for you?
"Not too bad, back in camp now so happy enough. Spent a few weeks in Belfast for the lockdown. Was training for a fight but then obviously with the lockdown it was cancelled. But back in London training now and focused for the next bout"
How did you get into the sport?
"Started when I was 7 or 8 years old. I'm originally from London but my mum is from Belfast. My Mum had brought me over to the gym (The Holy Trinity Boxing club) where my Uncle used to box. Since the day I put on a pair of gloves, I've just loved it ever since.
What does Alan Smith and Eddie Lam at the IBox Gym bring to table for you as a fighter?
"Been with Ibox Gym for a year and a half. Every session, I learn something new. They've added to my game but I haven't changed much from the amateurs. I've always had a very professional style; but I've settled my feet and not up on my toes as much as you would be as an amateur. Learning to sink shots in a bit more"

You are a very elusive fighter with fantastic head movement, demonstrated clearly in the Paul Allison fight. Often, you will have your hands low. What Is the benefit of keeping the hands low?
"It shows confidence. I'm better with my hands low than when they are high. But one of the benefits of keeping my hands down low is as my coach said, if you look back in the cowboy days they had their guns strapped to their waist but not around their shoulders. Its cause it's quicker to bring your hands up than to bring your hands down. Like a gunslinger. I'm also confident to defend punches with my hands low."
Is there any inspiration behind this style?
"Always watched Muhammad Ali, Mike Tyson, Prince Naseem. Lomachenko is one of the people I've grown up watching. The likes of Roy Jones Jr is one of my favourite fighters. I watched them all growing up and kind of created my own style from taking bits and pieces from what they used to do. But a lot of what my style comes from is Micky Hawkins, my amateur coach. He had played a massive part in my style. We always practised coming forward and going back. He never wanted me to be a one-dimensional fighter. Wanted me to fight on the inside, wanted me to fight on the back foot. It's something that we worked on for 13-14 years. Trying different styles and if it doesn't work training then it may not work in the ring. ButI've got a style that now works for me"
Do you think the move to London helped make the transition to professional boxing easier?
"I've always had a professional style. But the decision to move over to London was because I wanted to obviously get the best opportunities to become a world champion. There's a lot more people to spar and the best trainers."
Do you think Irish and British boxing is on the rise?
"Definitely Irish boxing is on the rise. There isn't a huge amount of professional coaches that I thought could bring me to the level that I needed to be at. So coming over to London was the right move. But there is so much talent in Britain and Ireland now."
What's going to be your next fight?
"Can't announce it just yet; but the news should be out very soon. Maybe next week. It's going to be an opponent with a winning record and it's definitely going to be a step up in experience"
What names on the domestic level do you have your eyes on?
"I'll fight anyone at the right time. I feel I'm better than most of these domestic level fighters, especially around my age and record. At the top you've got the likes of Liam Burns who will be fighting for a world title, who I'm not quite at the level with but anyone at the domestic level, I'm ready"
In your last fight you were 159 pounds. Is this a weight you want to stay at?
"160 I'm comfortable. I make the middleweight limit. We've discussed Junior Middleweight over the last year, but it may be a bit of push to get down. I'm Definitely strong enough to stay at Middleweight. I may not be the tallest but definitely one of the strongest"
Favourite bout so far?
"The Paul Allison fight. Fighting back home in the Ulster hall was unbelievable and was an experience I'll have for the rest of my life. First time fighting back home as a professional. I showed what I was really about, slipping and sliding with the hands down. I looked great against a tough opponent"
Three years' time from now, where do you want to be in your career?
"I set a goal that I wanted to be world champion at 27 so 3/4 years from now. Nothing less than a world title will be enough"
What is your favourite punch to throw?
"Jab"
In one word, what's your best attribute as a fighter?
"Ring IQ"
Who do you think is the best middleweight at the moment?
"Me! ……. Ha-ha, Nah, Canelo Alvarez"
Caoimhin Agyarko – future champ or not?
"Future champ!"

SUBSCRIBE TO BBTV
"I DON'T GIVE TWO FU*KS, COMING BACK & TAKING OVER, THATS A FACT!" HIGHIE FURY & EXCLUSIVE FOOTAGE
HUGHIE FURY IN CAMP FOR COMEBACK FEBRUARY💥 FULL VIDEO AND INTERVIEW COMING
"GREEDY B*STA*DS!" PETER FURY OPENS UP! HUGHIE'S COMEBACK, TOM ASPINALL WIN, BOXING POLITICS & MORE…
CHLOE WATSON REACTS TO FIERY FACE OFF WITH JUSTINE LALLEMAND AHEAD OF EUROPEAN TITLE FIGHT
"BEFORE FIGHT I HAD 60 CALLS, AFTER I HAD 3" NATHAN GORMAN RAW ON LOSSES & HITS BACK AT FURY CRITICS
NEW! RICKY HATTON HONEST ON TYSON FURY V OLEXANDR USYK- CHLOE WATSON TITLE FIGHT- DANCING ON ICE!!
HEAVY DUTY! NATHAN GORMAN V BHODAN MYRONETS FACE OFF AT TODAYS PRESSER (WASSERMAN BOXING)
NATHAN GORMAN IS BACK IN ACTION AGAINST BHODAN MYRONETS - FULL PRESS CONFERENCE (WASSERMAN BOXING)
"HOPEFULLY COMMON SENSE WILL PREVAIL" EDDIE HEARN ON CONNOR BENN V CHRIS EUBANK JR
TUESDAY NIGHT BOXING: HEADLINED BY CENTRAL AREA TITLE FIGHT! | MAREE BOXING & FRANK DUFFIN PROMO
BIG LEFT HOOK! JOSH PADLEY LANDS A PEACH ON BATESON PROMOTIONS/ GSW LEEDS SHOW - FULL FIGHT ON BBTV
KO OF THE YEAR?!💥💥MICK LEARMONTH LANDS A DEVESTATING SALVO IN LEEDS
FULL FIGHT:JACK BATESON RETURNS AGAINST TOUGH RUSLAN BERCHUK | BATESON PROMOTIONS & GSW BOXING
BRUTAL! KO OF THE YEAR CONTENDER? MICK LEARMONTH RETURNS TO THE RING WITH A DEVASTATING FINISH!
PRO BOXING FROM LEEDS: JACK BATESON RETURNS, A BIG KO AND TOP PROSPECTS
KATIE TAYLOR DOESN'T RULE OUT CHANTELLE CAMERON TRILOGY FIGHT
"THEY ALL WROTE ME OFF!" KATIE TAYLOR FULL POST FIGHT PRESS CONFERENCE AFTER CAMERON UNDISPUTED WIN
KATIE TAYLOR RETURNS TO DRESSING ROOM AS UNDISPUTED CHAMPION! 🤩
KATIE TAYLOR ARRIVES FOR HER REMATCH WITH CHANTELLE CAMERON TONIGHT
EDDIE HEARN RESPONDS TO "WILL ANTHONY JOSHUA BE BACK TO HIS DESTRUCTIVE BEST" (Against Otto Wallin)
FRANK SMITH HINTS AT IMMINENT NEWS REGARDING CONNOR BENN V CHRIS EUBANK JR!
LEGEND! NIGEL BENN ARRIVES IN LEEDS FOR BATESON PROMOTIONS DINNER SHOW
"BIZARRE IF WE CAN'T MAKE CONNOR BENN V CHRIS EUBANK JR!" EDDIE HEARN ALSO PREVIEWS DUBLIN CARD
WAR! GARY CULLY AND REECE MOULD FACE OFF IN FIERY CLASH BEFORE TOMORROW NIGHT IN DUBLIN
PAT BARRETT MOVES LYNDON ARTHUR OUT OF MANCHESTER FOR BIVOL WORLD TITLE CAMP
TOMMY DIX PRODIGY ADAM RASOOL GETS ENGLISH TITLE ELIMINATOR CHANCE AT YORK HALL
FORMER FURY SPARRING PARTNER (STAN BERTENS) ON WHY HE THINKS TYSON BEATS OLEXANDR USYK
NIALL BROWN ON SPARRING LYNDON ARTHUR AND HIS GYM MATES BIG CHANCE AGAINST DMITRII BIVOL!
PETER MCDONAGH GOES IN! SLAMS CRITICS OF AJ /DAVISON LINK UP - TALKS SAUDI ARABIAN SHOWS DEC & FEB
EDDIE HEARN SURPRISES BOXING WORLD BY STICKING UP FOR FRANK WARREN!