"I just want to fight the fight the top guys, anyone in any order, I just want to get in there and fight the top guys."
In 2015 when Dillian Whyte came up short in a rocky battle with domestic rival Anthony Joshua, many discredited whether his career would take him to world level.
However, since his sole defeat, the Brixton banger has battled through every obstacle on his way back to the summit of the sport's most decorated division.

In spite of continued frustration with the WBC, which have even led to a potential legal battle, it would appear that 'The Body Snatcher' is on the cusp of a shot at world honours.
Embodying the drama of heavyweight boxing, his journey back to the brink of heavyweight glory after the Joshua fight has been far from straightforward, commencing with consecutive wins over Ivica Bacurin, Dave Allen and Ian Lewison, he then moved onto a barnburner with Dereck Chisora.
In what was a fight of the year contender, Whyte and Chisora went toe-to-toe as both sought to pitch themselves as a future contender for the champion Joshua, who was topping the bill against Eric Molina that night.
Although he earnt a split decision victory, Whyte's rise in stock that night was eclipsed by his rival Chisora, with many expressing the opinion that the veteran was unlucky not to get the nod.
Moreover, it meant that Whyte had a further score to settle, which two years later he did emphatically as the two met in a long-awaited rematch in the capital city. The equally engaging bout saw Whyte stamp his authority on the rivalry with a characteristically thunderous left hook. The two victories underlined that Whyte's credentials at world level.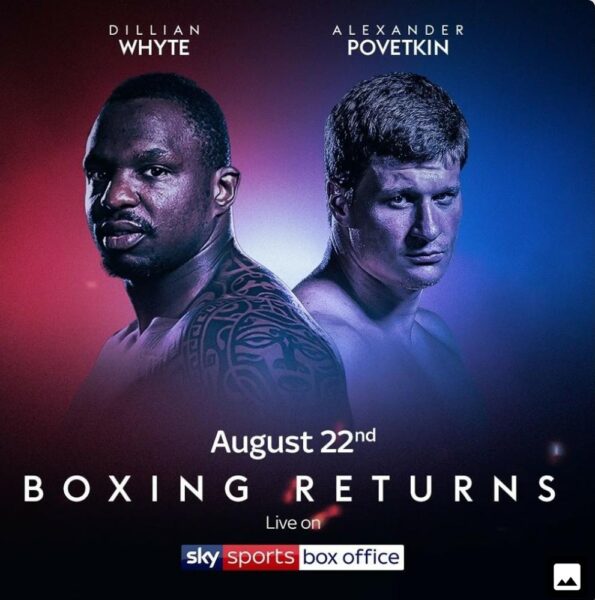 That win followed up perhaps his most significant win in terms of world status when he outpointed former IBF belt holder, Joseph Parker. A victory that meant that Whyte and Joshua are the only fighters to have handed Parker a blemish in his 29 fights.
Nonetheless, in what was probably the most challenging encounter of his career came throughout his clash with previously undefeated Oscar Rivas. On the night, he captured the interim WBC title, but as he cemented his position as the standout challenger for the coveted green strap, Whyte became embroiled in one of the most dramatic boxing narratives of 2019.
In what should have been a jubilant period, Whyte wore a weary expression as his celebrations were muted, after BoxingScene's Thomas Hauser reported Whyte's alleged doping failure, allegations he was later cleared off.
When the story came to light, Whyte Tweeted: "I am so disappointed with the rubbish that has been said about me over the last few days. I have lawyers dealing with it and I have been told that I can't talk about it for good legal reasons. I was cleared to fight and I won that fight fair and square."
Although Whyte was eventually cleared of any wrongdoing, the case inevitably served to hinder his exponential progress through the heavyweight division, as he fought just once more in 2019 – labouring to a win over Mariusz Wach.
August's clash with Povetkin isn't just a chance for Whyte to get back in the ring, but it's a significant opportunity for him to get back to his embattled best.
Looking ahead to the fight, he said: "It's two men with very similar mindsets, two warriors that are scared to fight no one. He is not like Andy Ruiz or Luiz Ortiz – Povetkin is serious and he wants to fight."
He added: "I just want to fight the fight the top guys, anyone in any order, I just want to get in there and fight the top guys."
Moreover, with Tyson Fury's dismantling of Deontay Wilder only serving to enhance the allure of boxing's most lucrative division, the-32-year-old will be elated to have put the situation firmly behind him, as he prepares to return to the ring next month.
Whyte's longstanding status as the mandatory challenger for the WBC title acts as the most significant obstacle in the road to a clash between Joshua and Fury. With back-to-back clashes between the two reportedly agreed, it seems highly likely that is Whyte can defeat Povetkin he jumps ahead of Joshua in the queue for a clash with Fury.
SUBSCRIBE TO BBTV
BUATSI-YARDE? CORDINA'S WORLD TITLE SHOT AND MORE ON THE BOXING TRADE SHOW PODCAST
GENADY GOLOVKIN SAVAGE ONE PUNCH STOPPAGE OF LUCIAN BUTE AS AN AMATEUR
"YOU HAVE TO SACRIFICE TO BE A CHAMPION" PAT BARRETT OPENS UP ON NEPHEW ZELFA'S EUROPEAN TITLE SHOT
UNREAL! RICKY HATTON HALF THE MAN HE USED TO BE! PREPARING FOR EXHIBITION COMEBACK JULY 2ND
OLYMPIAN MUHAMMAD ALI - NEXT OUT ON FRANK WARREN SHOW 11th JUNE IN TELFORD
RARE VIDEO:TYSON FURY ON BEING CHALLENGED TO A SPAR BY A KICK-BOXER (WITH FORMER AMATEUR CLUB-MATES)
JIMMY KELLY IN CAMP PREPARING FOR CLASH WITH UNBEATEN MEXICAN BANGER JAMIE MUNGUIA
'ITS ON THE ANNIVERSARY OF MUM'S PASSING, I'LL BE UNBEATABLE" ZELFA BARRETT ON EUROPEAN TITLE FIGHT
"SECOND SESSION OF THE DAY!" TYSON FURY STAYING IN SHAPE IN RETIREMENT #shorts
PROSPECT WATCH: EX FOOTBALLER JACKSON HUME 2-0 JOINS ARNIE'S GYM MANCHESTER
THE RISE AND RISE OF EVERTON RED TRIANGLE - WITH COACH PAUL STEVENSON
"IV'E BEATEN THE CURRENT WORLD CHAMPION TWICE!" JAZZA DICKENS ON HIT LIST FOR COMEBACK FIGHT!
AT HOME WITH THE GORMANS - PART 6 - RIP TOMMY DIX - RICKY GETS A NEW FIGHT DATE!
JOSHUA BUATSI, EDDIE HEARN & VIRGIL HUNTER REACT TO VICTORY OVER CRAIG RICHARDS | POST FIGHT PRESSER
"NO F*CKING ABOUT" MICHAEL CONLAN & ADAM BOOTH REACT TO BUATSI - RICHARDS & TALK NEXT OPPONENT
"FURY V JOSHUA IS BIGGEST FIGHT OF ALL TIME!" EDDIE HEARN HINTS ON AJ USYK & TALKS WEEKEND SHOWS
JOSHUA BUATSI - CRAIG RICHARDS HIGH STAKES! WEIGH IN AND FINAL FACE OFF BEFORE SATURDAYS BIG FIGHT!
CHANTELLE CAMERON - VICTORIA NOELIA BUSTOS WEIGH IN AND FACE OFF
"THE SAVAGE" ALEN BABIC IS BACK! - ADAM BALSKI WEIGH IN AND FACE OFF!
JOHN FURY WATCHES TYSON SHADOW BOXING IN FRANCE "HE'S NOT GETTING BEATEN FOR A LONG TIME THIS MAN"
"NO TIME FOR FALSE PEOPLE" PETER FURY & TOMMY DIX - SECRET TO HAPPY LIFE & OTHER WISDOM
BORN IN 1939 TOMMY DIX TALKS ABOUT GROWING UP A WAR BABY AND BEING A GUINEA PIG FOR PENICILLIN
BUATSI V RICHARDS PREVIEW AND A LOOK AT THE LIGHT HEAVY DIVISION
RICKY HATTON'S CAR COLLECTION - A ROLLS ROYCE AND THE "PASSION WAGGON' ONLY FOOLS & HORSES VAN!
WOW! RICKY HATTON'S DRAMATIC WEIGHT LOSS JOURNEY CONTINUES (NEW FOOTAGE)
DENNIS HOBSON: COMMENTS ON UNIFICATION BETWEEN JONAS & RANKIN & REVIEWS WORLD TITLE SHOW IN GLASGOW
THEY PROVED THE DOUBTERS WRONG! BILLY NELSON & MARTIN BAKOLE CELEBRATE WIN OVER TONY YOKA IN FRANCE!
THE GYSPY KING AND QUEEN TYSON AND PARIS FURY BRING THE PARTY TO COTE D'AZUR IN FRANZE
WHAT NEXT FOR TYSON FURY? LATEST FIGHT NEWS ON THE TRADE SHOW BOXING PODCAST
"AMIR GOOD WORK MATE" DAVID HAYE BIGS UP AMIR KHAN AFTER RETIREMENT ANNOUNCEMENT