Unbeaten middleweight Nigel Benn, perfect at 22-0 with all 22 wins coming well inside the distance, collided with Michael Watson, who himself boasted an impressive 21-1 record.  
Watson had forged a reputation as a boxer's boxer, cumulating a synaptic skillset that rivalled some of the slickest movers at the time.
The two men met in what would be called, "the super tent" at Finsbury Park in London. Billed as a classic slugger vs pure boxer, the British public were deeply invested, selling out makeshift stands. The bout was shown live with even our cousins across the pond showing significant interest. Both men were on the precipice of gaining entry to the elite level of boxing. Benn's eyes were firmly fixed on a top 10 spot, whilst Watson believed that his more educated and polished style deserved the recognition over his ambitious counterpart.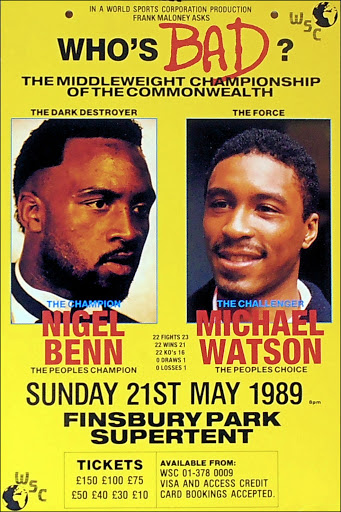 During a ring walk that would make Deontay Wilder stand to attention, Benn enters the ring in front of his former Army Regiment who were hoping that the British champion would retain his title. Benn, ever the aggressor, comes out clubbing. He bobs and weaves towards his man much like Joe Frazier, swooping at the waistline, lunging with enormous shots. He was throwing bolo punches to the body and wild hooks upstairs. Watson maintains a very tight defence which he was able to break occasionally to land some successful neat counters. 
The bout progresses in the early rounds with stiff jabs from an increasingly engaging Watson. His shell defence provided an almost-perfect cover to counter punch from, but Benn's relentlessness ensures some wild hooks find their home. Punches from Benn are thrown with such ferocity that they seem to burrow down beneath Watson's defence. However, Watson shows calm and resilience. 
Round four and Benn looks dangerous as he clips Watson with a left hook clean. 'The Force' again covers up high to regain his composure. Due to Benn's pressure, the two engage in some clinch work. Watson intelligently shoulder barges him off the close engagement and springboards into landing concussive blows that rattle, 'The Destroyer'. Benn looks hurt but comes back strong at the end of the round.
Round five and what a war! The two men engage with grinding in-fighting, as they vie for centre ring. Watson has abandoned his shell defence, whilst Benn continues to bob and weave at the waist. This, however, becomes an easy target for the clever Watson as he is able to time Benn coming in.
A piston-like jab slows the rolling Benn as Watson zeros in with several straight punches which ragdolls the aggressor. Benn is in serious trouble and staggers backwards, the bout looks like it is in its death throes, but from the gates of hell, Benn swings a tremendous uppercut that turns the tables. He follows it up by launching head seeking missiles at Watson taking on the role of the aggressor once more. Watson reverts to his tight defence, shrugging off many of the more winging telegraphed shots. The wily Watson lands a clean counter right that wilts Benn heavily in the closing seconds. 
Round six opens up with an air that Watson now has the measure of the British champion. Watson picks off clubbing hooks that are hurled at him. Parrying and slipping, the challenger Watson now damages Benn with a counter punch that has Benn physically backing away. Bizarrely, the ref puts a halt to the action briefly. During this time, it is clear Benn is now completely bedraggled. The action resumes and the champion is surgically flattened by a bullseye left hook.
What a scrap! 
Unfortunately, a tragically ironic set of circumstances would follow this fight in both their careers.
The careers of both Benn and Watson, two fearsome warriors, act as a poignant reminder of the sacrifices and risks of boxing. We should remember when we are overly critical of boxers that pick up injuries in a fight or a doctor/referee stops the contest. Our utmost respect goes to any professional boxer who quite literally risk their lives to get an income and to entertain us. 
WATCH THE FULL FIGHT: NIGEL BENN VS MICHAEL WATSON
SUBSCRIBE TO BBTV
"I DON'T GIVE TWO FU*KS, COMING BACK & TAKING OVER, THATS A FACT!" HIGHIE FURY & EXCLUSIVE FOOTAGE
HUGHIE FURY IN CAMP FOR COMEBACK FEBRUARY💥 FULL VIDEO AND INTERVIEW COMING
"GREEDY B*STA*DS!" PETER FURY OPENS UP! HUGHIE'S COMEBACK, TOM ASPINALL WIN, BOXING POLITICS & MORE…
CHLOE WATSON REACTS TO FIERY FACE OFF WITH JUSTINE LALLEMAND AHEAD OF EUROPEAN TITLE FIGHT
"BEFORE FIGHT I HAD 60 CALLS, AFTER I HAD 3" NATHAN GORMAN RAW ON LOSSES & HITS BACK AT FURY CRITICS
NEW! RICKY HATTON HONEST ON TYSON FURY V OLEXANDR USYK- CHLOE WATSON TITLE FIGHT- DANCING ON ICE!!
HEAVY DUTY! NATHAN GORMAN V BHODAN MYRONETS FACE OFF AT TODAYS PRESSER (WASSERMAN BOXING)
NATHAN GORMAN IS BACK IN ACTION AGAINST BHODAN MYRONETS - FULL PRESS CONFERENCE (WASSERMAN BOXING)
"HOPEFULLY COMMON SENSE WILL PREVAIL" EDDIE HEARN ON CONNOR BENN V CHRIS EUBANK JR
TUESDAY NIGHT BOXING: HEADLINED BY CENTRAL AREA TITLE FIGHT! | MAREE BOXING & FRANK DUFFIN PROMO
BIG LEFT HOOK! JOSH PADLEY LANDS A PEACH ON BATESON PROMOTIONS/ GSW LEEDS SHOW - FULL FIGHT ON BBTV
KO OF THE YEAR?!💥💥MICK LEARMONTH LANDS A DEVESTATING SALVO IN LEEDS
FULL FIGHT:JACK BATESON RETURNS AGAINST TOUGH RUSLAN BERCHUK | BATESON PROMOTIONS & GSW BOXING
BRUTAL! KO OF THE YEAR CONTENDER? MICK LEARMONTH RETURNS TO THE RING WITH A DEVASTATING FINISH!
PRO BOXING FROM LEEDS: JACK BATESON RETURNS, A BIG KO AND TOP PROSPECTS
KATIE TAYLOR DOESN'T RULE OUT CHANTELLE CAMERON TRILOGY FIGHT
"THEY ALL WROTE ME OFF!" KATIE TAYLOR FULL POST FIGHT PRESS CONFERENCE AFTER CAMERON UNDISPUTED WIN
KATIE TAYLOR RETURNS TO DRESSING ROOM AS UNDISPUTED CHAMPION! 🤩
KATIE TAYLOR ARRIVES FOR HER REMATCH WITH CHANTELLE CAMERON TONIGHT
EDDIE HEARN RESPONDS TO "WILL ANTHONY JOSHUA BE BACK TO HIS DESTRUCTIVE BEST" (Against Otto Wallin)
FRANK SMITH HINTS AT IMMINENT NEWS REGARDING CONNOR BENN V CHRIS EUBANK JR!
LEGEND! NIGEL BENN ARRIVES IN LEEDS FOR BATESON PROMOTIONS DINNER SHOW
"BIZARRE IF WE CAN'T MAKE CONNOR BENN V CHRIS EUBANK JR!" EDDIE HEARN ALSO PREVIEWS DUBLIN CARD
WAR! GARY CULLY AND REECE MOULD FACE OFF IN FIERY CLASH BEFORE TOMORROW NIGHT IN DUBLIN
PAT BARRETT MOVES LYNDON ARTHUR OUT OF MANCHESTER FOR BIVOL WORLD TITLE CAMP
TOMMY DIX PRODIGY ADAM RASOOL GETS ENGLISH TITLE ELIMINATOR CHANCE AT YORK HALL
FORMER FURY SPARRING PARTNER (STAN BERTENS) ON WHY HE THINKS TYSON BEATS OLEXANDR USYK
NIALL BROWN ON SPARRING LYNDON ARTHUR AND HIS GYM MATES BIG CHANCE AGAINST DMITRII BIVOL!
PETER MCDONAGH GOES IN! SLAMS CRITICS OF AJ /DAVISON LINK UP - TALKS SAUDI ARABIAN SHOWS DEC & FEB
EDDIE HEARN SURPRISES BOXING WORLD BY STICKING UP FOR FRANK WARREN!