Saturday night witnessed the first of BOXXER's partnership with Sky Sports and the return of a number of British boxing's brightest prospects. With Eubank Jr versus Muratov called off at the last minute, events went against the debut show but promising performances throughout indicated this may yet be a combination that could ignite. 
David Avanesyan dominates a game Liam Taylor
Topping the bill David Avanesyan defended his European welterweight title and showed just how punishing the champion can be. A war from the off Avanesyan gained early control of the centre of the ring refusing to be backed down by an effective double jab from Taylor. Closing the gap with increasing regularity the Russian peppered the challenger with devasting uppercuts and wore some hefty right hands with ominous ease.
Down in the first, when the stoppage came in the second Taylor had already taken some heavy shots, the final finish breaking through the guard and pinging his head towards the ropes.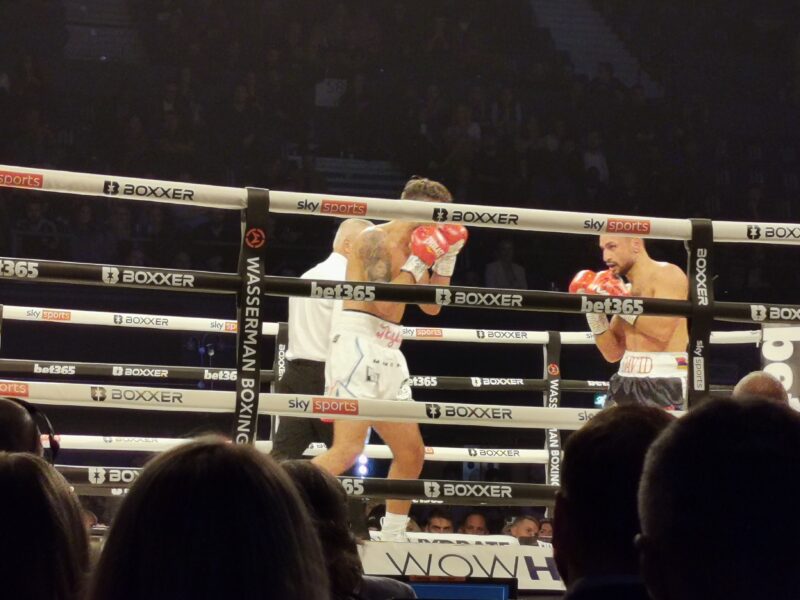 Liam Taylor is a fine boxer but in David Avanesyan he fought a boxer in a hurry who has now surely pushed himself one step closer to a second world-title attempt. Few boxers can boast the levels of improvement of the welterweight, ably coached by Carl Greaves and the Russian will now have eyes on the WBO or possibly WBC belts. Ranked sixth in the WBO a potential eliminator versus Michael McKinson could propel him higher up the rankings and force the governing bodies hand.
With little to gain from fighting Avanesyan and a lot to lose Terence Crawford (WBO) and Errol Spence (WBC) look likely to take the risk only if mandated. Virgil Ortiz Jr, Shawn Porter and Jaron Ennis all provide routes up the rankings but we will have to wait and see whether any of those fighters are willing to take the challenge of an in-form fighter in the prime of his life.
Germaine Brown impresses in win over Jamal Le Doux
Germaine Brown let his fists do the talking in an highly impressive win over Jamal Le Doux. In an even opening two rounds, Brown established himself early in the third, starting fast and punishing Le Doux inside. It was a pattern that continued throughout, telling shots slowly sapping the energy from a despondent Le Doux. A punishing fourth was followed by a big right hand midway through the fifth and Brown showed, despite only possessing three knockouts in his career (10-0-0), the super middleweight has more than enough power to keep his opponents reluctant to make the first move.
Game, strong and technically savvy the fight served as an eliminator for the English title, one we will all look forward to. Brown was a clear 99-92 winner.
Linus Udofia wins, Felix Cash awaits.
Linus Udofia knew that negotiate Xhuljo Vrenozi and a British Middleweight title fight against Felix Cash would be his. It was an outcome he provided unwilling to wait for. Breaking down the Albanian in three rounds, the towel came in as Vrenozi was caught against the ropes taking telling punishment.
It is difficult to determine just how much we can gather from Saturday's win and Felix Cash has proved himself a more than worthy champion but Udofia has made clear, he wants the fight and his team back him to deliver.
Riakporhe ring-rusty in disappointing return to the ring.
No sooner was Riakporhe out of the ring than his next opponent was announced, Olanrewaju Durodola in November in the WBC Silver clash. But if the cruiserweight was in a hurry he showed little signs against Krystzof Twardowski. Always doing enough Riakporhe bided his time, tagging the Pole with single shots but never looking like stopping him over most of the eight rounds. Down in the final round Twardowski read the majority of what came at him but never looked to be doing enough to win the contest.
Riakporhe can be forgiven for such a showing and will see it as an exercise in removing the ring rust. Against Durodola he will face a man ranked fifth by the WBC. Riakporhe will look for a better showing next time out.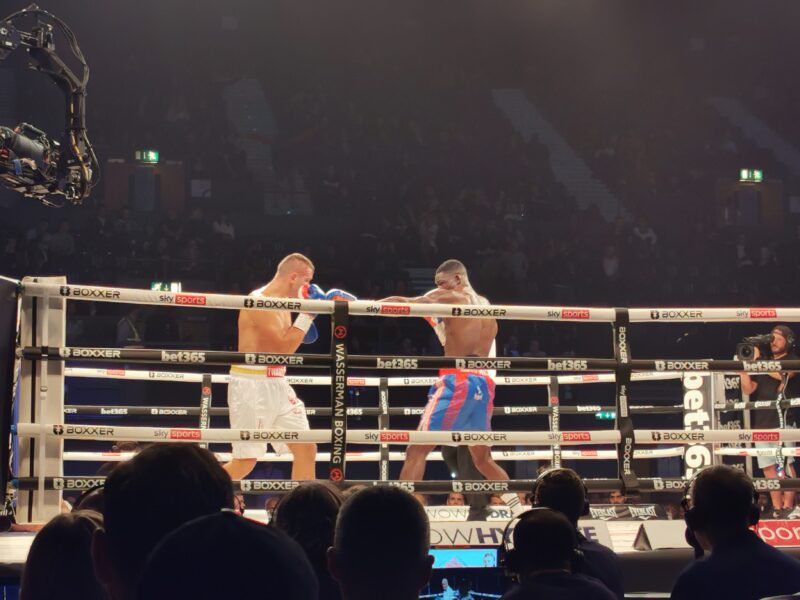 Lawal stops Benoit Huber to edge closer to bigger fights.
One man who will have watched Riakporhe with interest is Mikael Lawal. The unbeaten twenty-six year old took some clean shots from the Frenchman Benoit Huber before ending the contest in the third round. With his opponent's legs buckling the referee intervened, much to the disappointment of Huber but it was a fair stoppage which saved him from a far worse conclusion. Lawal moves to 14-0-0 and will have half an eye on future potential British showdowns with Jack Massey and Luke Watkins or higher ranked European opponents like Vasil Ducar.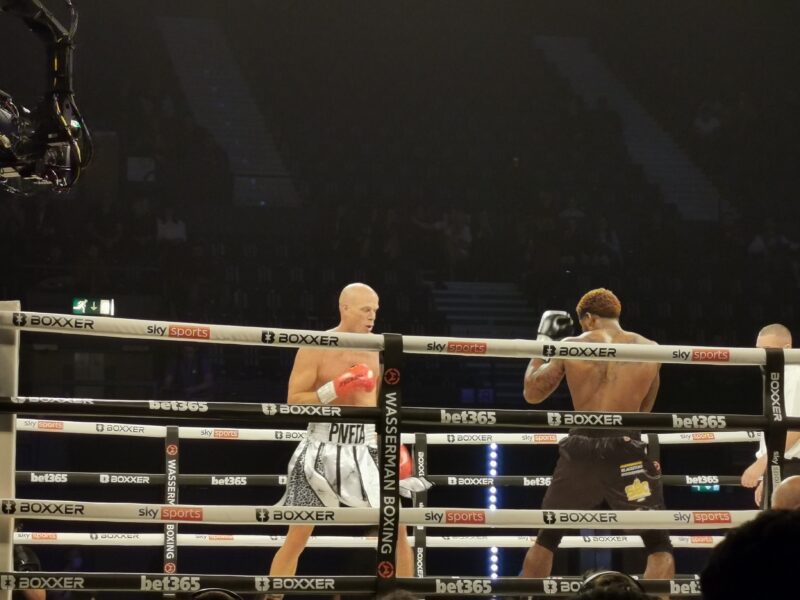 Pigford punishes heavy handed opponent.
It was a shame not to see Joe Pigford on the main card, with the 18-0 fighter evidencing a power that is clear for all to see. Isaac Aryee was no mug, possessed his own heavy hands and proved durable throughout. When Pigford eventually finished the job in the fifth round it was after turning the screw over the previous two. Punishing the Ghanaian Pigford showed that with a vocal backing, BOXXER and Sky Sports would do well to give him a wider showing.
Ebonie Jones makes debut and Razor Ali makes his mark.
Ebonie Jones produced a good display in her professional debut, comfortably outpointing a far bigger Vaida Masiokaite. With success on the inside, Jones displayed a good technical show of boxing but will know she will improve over the coming contests. Still only 23 we will be seeing much more of Jones in the years to come.
Making his Wasserman debut Razor Ali won every round against Stefan Nicolae. The Iranian will face far bigger tests but shows he is a very adept boxer with a desire to also engage. It is a combination that will stand the super-bantamweight in good stead.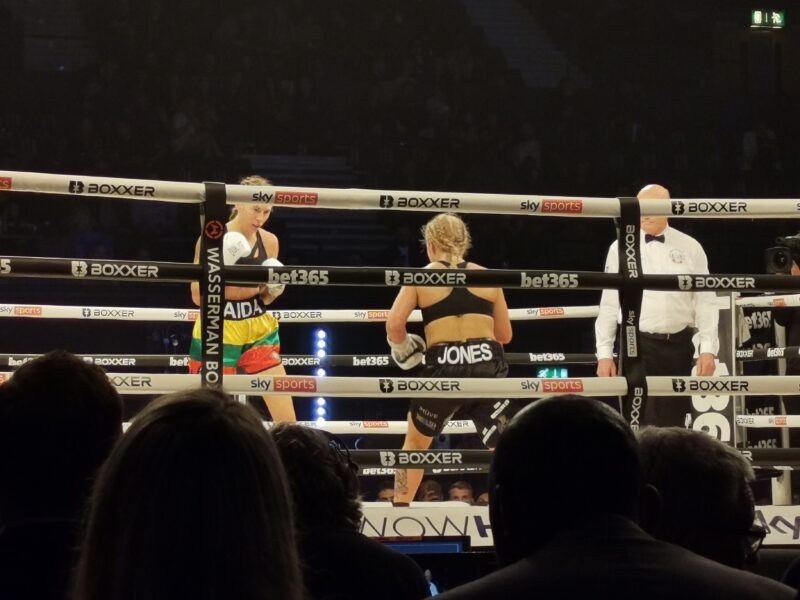 Harvey Horn wins every round in another step up in class
Harvey Horn had to wait till the end of the night for his time in the lights but when he did he excelled over six rounds. Winning every one and roared on by a large Essex following, Mark Tibbs' fighter showed the ability to match the clear character he has. Adam Yayaha (21-7-2) has previously faced Tommy Frank and Andrew Selby and Harvey Horn may well see Tommy Frank as a clash that he wants next.