Just when it seemed Spain's Kiko Martinez might be there for the taking for Sheffield's Kid Galahad, 'La Sensacion' rolled back the years with two stunning overhand rights to halt any unification ambitions the British featherweight may have been harbouring.  
Galahad seemed to be cruising towards a comfortable victory in the first defence of his IBF title he secured against Jazza Dickens back in July, with the champion shuddering Martinez in the first round. Galahad is not renowned for harbouring knockout power, but the writing appeared to be on the wall for Martinez, who hadn't won a round after four. The fifth looked to be heading a similar way until right at the end, with Galahad caught flat-footed for a split-second and the experienced Kiko making him pay with a punishing right hand over the top which left 'Kid' flat on his back with just under ten seconds of the round remaining. Galahad dawdled back to his corner, clearly not having recovered, with his trainer Dominic Ingle bellowing to him that he was guilty of 'standing in front of him'. The champion looked shell shocked in the corner, seemingly unaware of what had quite transpired just moments earlier.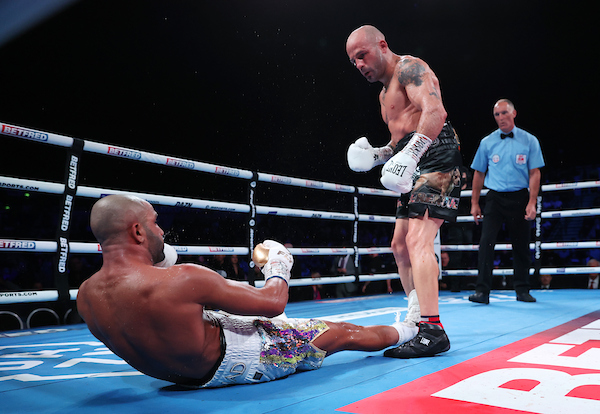 An argument could be made that sending him out for the sixth was not perhaps the smartest decision given how hurt he still appeared to be, although it is an easy point to make with the benefit of hindsight. Galahad had been cruising up until the knockdown and if he could somehow regain his composure, one would have certainly backed him to get back on track. Martinez did not wait very long to find out however, landing the exact same shot in the opening seconds of the sixth. This time around, referee Steve Gray did not even bother administering a count, waving the fight off instantly. Galahad was sprawled out on his back, star fished, with zero chance of getting up and beating the count this time around.  
Kiko Martinez is a world champion in 2021. Who would have thought? Especially given the large volume of criticism towards the making of this fight from fight fans online, the large majority dismissing Kiko Martinez altogether before a single punch had been thrown. The centre of the debate seemed to be how Galahad would secure victory, not if – would it be via stoppage or a comfortable points margin? No one could really blame them, either. Galahad looked superb when he secured the title against Dickens four months ago, and Martinez felt unfortunate not to get the decision against Zelfa Barrett up at super-featherweight back in February, few could have foreseen what would transpire at the Sheffield Arena on Saturday night. Even more so after the opening four rounds.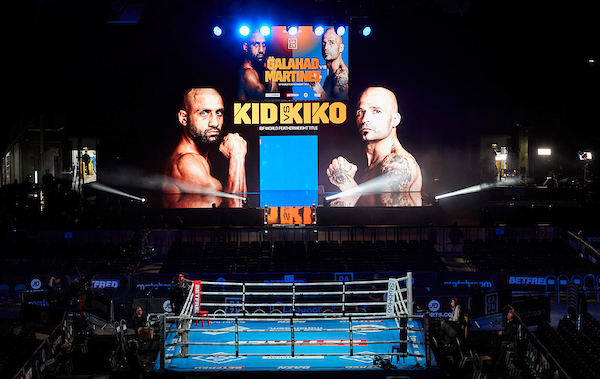 I'm sure a rematch clause was put in place beforehand, but Tony Bellew expressed concern for Galahad's future at 126lbs in the post-fight analysis section for DAZN, highlighting his failure to make weight first time around at Friday's weigh-in and how he believed Galahad to look 'tight on the scales'. WBA Regular champion Leigh Wood, who was also working as a pundit and shone in the role for streaming service DAZN, agreed with Bellew. The coming weeks and months will provoke considerable intrigue following the events of tonight regarding where Galahad's fighting career will lie. One thing that is for certain is if he does decide to move up to 130lbs, none of the champions will be queueing up to fight him. He had to wait a long time to secure a shot at featherweight, so one can assume no decision will be made in the immediate aftermath of Saturday night's card in Sheffield.
The main event didn't feature the only upset on the card as another British champion lost their world title, the female WBC 130lb belt the belt in question this time. Alycia Baumgardner demolished Doncaster's Terri Harper in the fourth round with a huge right-hand which left Harper out on her feet and her gloves dropped to her waist. Referee Mark Lyson reacted immediately, and credit should be afforded to him for doing so as he waved the fight off without hesitation. It should not be underestimated just how important Lyson's actions may prove to be, Harper was gone, unable to respond, and any follow-up punches which she would not have been able to prepare for could have dealt her serious damage.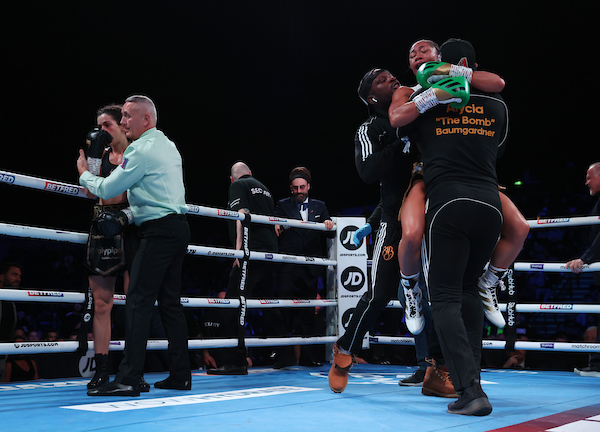 The champion had not looked her usual self from the opening bell, this being her first fight in twelve months due to an injury to her right hand, with Baumgardner arguably taking the first two rounds. Harper seemed hurt in the second, with the American seemingly unable to miss with the straight right-hand, though Harper did well to regain composure and get a round under her belt in the third.
Like the situation with Galahad, all the talk pre-fight was about potential unification matchups providing Harper could find a way past the now 11-1 Baumgardner. Promoter Eddie Hearn confirmed in a post-fight interview that a rematch clause is in place, though it should be asked whether enacting it would be wise given how the four rounds had transpired up until the point of the stoppage. Harper had admitted during fight week that there were times she feared her career would be over due to the injury to her right-hand, and tonight's result will have increased any existing stress and tension that has lingered throughout 2021 tenfold. Regardless of what her next move is, Harper will need plenty of rest and time away from the boxing gym after what was a brutal stoppage in the card's co-feature bout of the evening.
As for Baumgardner, she may now be the one eyeing up potential unifications with WBO and IBF champion Mikaela Mayer or WBA champion Hyun-Mi Choi. Super-featherweight and the surrounding divisions are thriving right now in the female code, and Saturday provided yet another twist just as the jigsaw pieces appeared to be falling into place.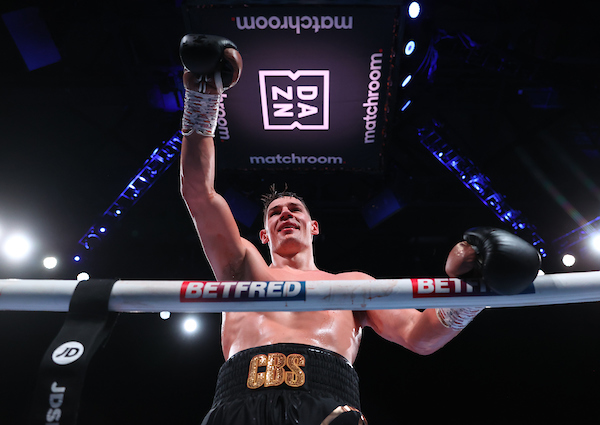 Bournemouth's Chris Billam-Smith made the first successful defence of his European Cruiserweight title against France's Dylan Bregeon, running out comfortable winner by scores of 120-109 and 119-109 (x2) respectively. 'CBS' has demonstrated an iron chin and damaging power and will now look for big nights in the coming twelve months as he continues his assent at European level. Mega rematches with the likes of Richard Riakporhe, the only man to beat Billam-Smith thus far in the professional ranks, and Tommy McCarthy are on the table, both of which would provoke considerable intrigue due to how close they were the first times around. While Saturday's match-up was not the most entertaining of fights, little criticism can be levelled at CBS for the role he played with the Frenchman regularly looking to engage in a clinch on the inside, and the resume he has put together so far during the early stages of his career demonstrates he's willing to mix it up with anyone at domestic level.
The vacant Central Area title at 140lbs was on the line during the first televised bout of the card, featuring James Flint and Dom Hunt respectively. Fighting over ten rounds, it was Wakefield's Dom Hunt announced as the winner by way of referee Steve Gray's 98-93 scorecard. The southpaw Hunt was impressive throughout, regularly finding the chin of Flint with a straight left-hand down the middle. Flint on the other hand appeared to run out of ideas at the final bell neared but never deterred in pursuing Hunt, often landing with several left hooks on the inside sporadically. It was Hunt who delivered on a more consistent basis though and appeared in control of the contest across the ten rounds.
Matchroom should be afforded credit for providing a platform for fights at this level which regularly deliver entertaining competitive matchups, providing nice respite for fight fans who are often served with prospects facing off in uncompetitive matches.
Sheffield's Donte Dixon also climbed another rung on the domestic ladder against Scotland's Jordan McCorry over eight rounds in what turned out to be a great learning fight for the Steel City prospect. Referee Howard Foster ultimately determined Dixon a 77-73 winner, but the experienced McCorry provided a more than stern test for the Sheffield man, clearly coming with intention to secure the win himself. Dixon and his management team should be afforded great credit for throwing him in with someone like McCorry who, despite entering the contest with a record of 19-7-1, has shared a ring with the likes of Sam Bowen, Zelfa Barrett and Archie Sharp respectively and certainly did not look out of place with any, going a considerable number of rounds with each. Dixon will presumably look for a couple more similarly matched bouts before searching for a shot at a domestic title, perhaps the English, at 126lbs.
The 21-year-old clearly possesses an abundance of natural ability, demonstrating impressive footwork and lateral movement throughout the bout, regularly creating angles to throw his clubbing hooks on the inside. No doubt his fan-friendly style will appease those watching both in the arena and at home on TV also. Donte Dixon is certainly one to keep an eye on.