The IBF, WBO and WBA Heavyweight champion of the world Oleksandr Usyk has revealed in an interview with American news channel CNN that a rematch with two-time champion Anthony Joshua is understandably not at the forefront of his mind right now, due to the ongoing invasion of his home country Ukraine by Russia.
Rewind back to the end of September in 2021, Usyk met the Brit at the Tottenham Hotspur Stadium in front of a rowdy crowd of around 70,000 people to win a unanimous points decision after a dominating performance over twelve rounds. As a result, Usyk left with three of the four pieces of the heavyweight championship and further highlighted his standing as one of the best pound-for-pound fighters in the world. A rematch clause was inserted in the contract for the mega showdown with 'AJ' prior to the fight, and as a consequence meant the two must meet again, set to be this summer, due to Joshua's triggering of said clause shortly after his defeat.
However, the recent invasion of Ukraine by Russia, which has already left at least three-hundred-and-fifty military personnel and civilians dead as a result, will likely have an impact on the timing of the rematch, or even if the fight goes ahead at all. Alongside former heavyweight champions Vitali and Wladimir Klitschko, both Usyk and close friend [also former three-division champion] Vasyl Lomachenko are stationed in their home country as Ukrainians continue to fight back against Putin's regime.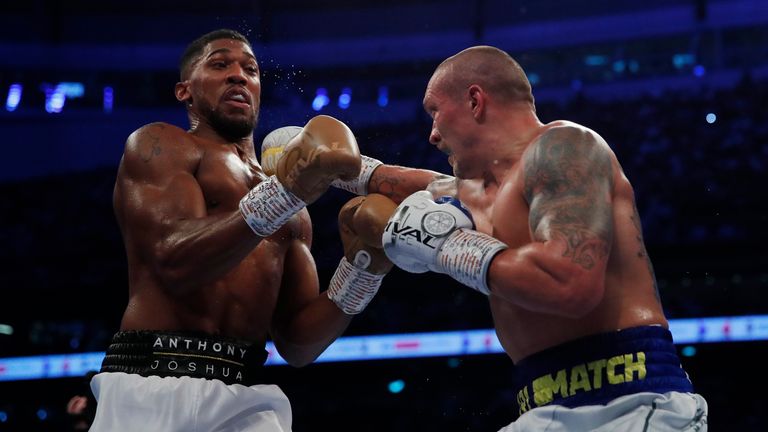 Usyk told CNN regarding the rematch, "I really don't know when I'm going to be stepping back in the ring. My country and my honour are more important to me than a championship belt".
With the situation not seeming to be simmering down anytime soon, and while boxing is of course by no means close to being a priority given the gravity of the circumstances, at some point Joshua will have to consider his own career and whether taking a fight against someone else will be of benefit to remain active. Many felt that an immediate rematch was not wise for the Brit due to the extent of Usyk's domination in London last year, and that he will be better off refining his skills against a lower-level opponent, especially given apparent new additions to his coaching team.
Regardless of what happens next, the absolute priority has to be the health and well-being of Usyk, Lomachenko, the Klitschkos and everyone else who has been and continues to be impacted by the horror consuming the Ukraine. Here's to hoping the situation takes a better turn soon.