'Born Rivals' Chris Eubank Jr. and Conor Benn came head-to-head on Friday during a heated press conference for the first time since the official announcement of their mega showdown on October 8th.
In a joint Matchroom and Wasserman Boxing promotion, the two will put their family name on the line in a huge all-British affair, just as their father's did during the nineties to form the most iconic British boxing rivalry of all-time. Although neither Chris Eubank Sr. or Nigel Benn were at the Glaziers Hall on Friday, their presence was certainly felt as their two sons went back-and-forth in front of the cameras.
Promoters Eddie Hearn and Kalle Sauerland kicked off the conference with introductory remarks, before attention soon turned to the fighters who did not disappoint as they went back-and-forth at each other throughout, a clear indication of the lingering rivalry between the two families that was kickstarted during the early years of Junior's life. Benn meanwhile was not even born when his father Nigel stepped into the ring in Birmingham thirty-two-years ago.
"Eubank was still mentioned to me before I even had my debut fight. It's just been brewing and the stars have aligned for October 8th", remarked Benn, who was his typical pumped-up self. "We've both walked the same road, so you've gotta respect that, but when we get in there we do settle the family business, and I'm taking care of the family business".
Benn's trainer Tony Sims confirmed that Team Eubank asked for the catchweight to be set at 157-pounds, and affirmed his belief that his man will be more than capable of scoring a major victory at that weight. "I believe he'll be strong at that weight. He spars all the world level middleweights and super-middleweights in my gym day in, day out. When he fights these days I don't put him in with welterweights because they just don't hold up to him".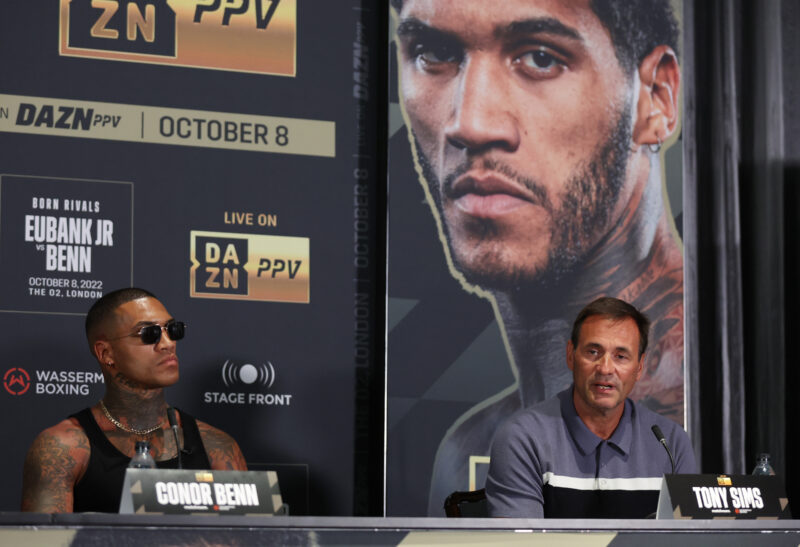 Promoter Kalle Sauerland confirmed that other fights were available for Eubank Jr, fights he admits he would have preferred to have seen his man take, but Junior outlined his desire to be a part of something special on October 8th. "I wanted to be involved in something that has never been done before and can never be replicated, it's exciting". The first clear shot of the day was fired from the Junior to his adversary at the other end of the table. "It isn't a 50/50 fight to me, but I like that people think that. He believes he can go out there and stop me, he says he can be the first man to do that…you've got balls kid, you've got some big old balls".
The comment drew an instant response from Benn. "You'll find out mate. You playing the underdog card…that's the card you're trying to play. 'Dropping weight is a disadvantage', mate you suggested the weight to us and we agreed. We just simply implied you make the weight, that's all. We were told you can make the weight, so that ain't a disadvantage. Surely going up two weights is a disadvantage?". Eubank was firm as he fired back, telling Benn "you cannot beat me". The build-up had well and truly begun.
"You not seeing this as a 50/50 is a problem with your ego. You taking me lightly is gonna be your problem" was the return from the Ilford man, while the Brighton native Eubank Jr. affirmed his confidence, telling Benn "yes, I am taking you lightly. I can't do anything else but take you lightly, I underestimate you because I know what I am and I don't see the pedigree and the grade people are giving you". "No one sees it in you", was the response as the tension began to ramp up in the room.
Regarding the weight, Eubank acknowledged the difficulty he is set to face as he embarks on making the 157-pound catchweight limit. "I am going to have to get to a weight that I haven't been since I was eighteen-years-old. It's going to be tough and very painful to do, and then not being able to put on a certain amount of weight after the fight…the restrictions, [the rehydration clause] they're fair because you are coming up. I won't be one-hundred-per-cent on the night".
The latter part of the statement certainly pricked up the ears of his opposite number, with Benn immediately asking for clarification on what had just been said. "Did you say you won't be? That screams excuses, you suggested the weight".
"No, I won't. I can't be anything but real. That's the weight we agreed on. I can't be one-hundred-per-cent when I have to go down to a weight I've never been to and then I can't rehydrate fully. But that's fair because if I'm one-hundred-per-cent then it's a public execution, and we can't do that". Brutal words from Junior. Back comes Benn again, "who have you executed, come on? Your problem is your ego, that's all ego mate. The same as having your name first [on the fight poster] when everyone knows its Benn-Eubank, the same as the ring walk, the same as all the other b******".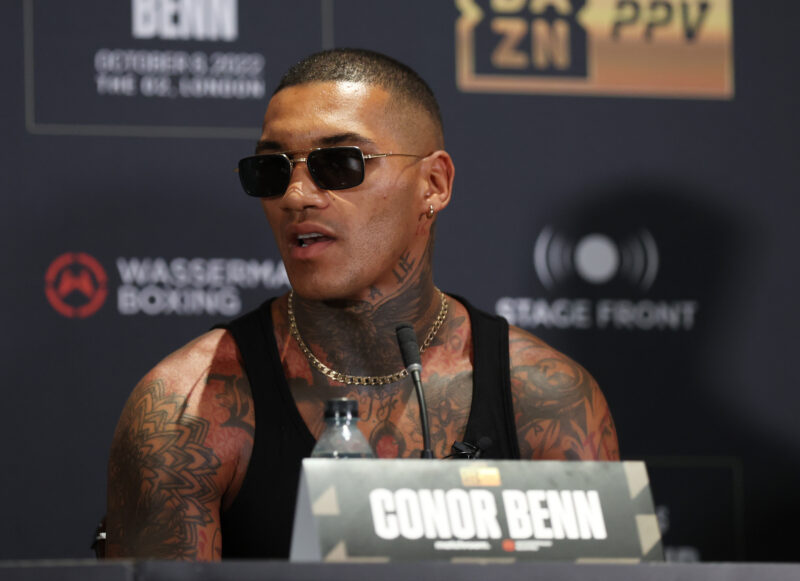 Eubank wasn't finished, telling Benn he will be his "fatherly figure during the lead-up to this fight and on the night", in an almost tongue-in-cheek tone. "Excuse me Chris but whose dad was holding their hand their whole career? I don't need no fatherly figure, you do, but I don't". Just as it seemed as though there would be a break in the verbal exchanges, the pair fired off again.
"I'm going to take you to school, walk you through the doors, sit you down in class and I'm going to teach you every lesson you need to learn. That's how I see the fight playing out, and if you want to ask me if I have any advice for him my advice is…" remarked Eubank, before Benn stopped him in his tracks telling him that "no one asked". But Junior was persistent, going on to say "my advice to Conor is to get sparring partners who are going to really hurt you for the next eight weeks, that's the best shot you have". Benn brushed the remarks aside, laughing as he said, "but that makes zero sense doesn't it. That makes zero sense".
"I would never give anyone the power over me for me to hate them. I don't dislike Conor, he hasn't done anything to me personally, so I don't dislike him but at the same time this fight is personal. The things that his father put my father through, I can't forgive and I can't forget. I grew up and I watched the mental stress and the toll it took on him [Chris Eubank Sr.] preparing for those fights [against Nigel Benn]. I watched the injuries and my mother having to look after him after the fights and him going to hospital and losing half of his tongue, I watched Nigel tell my father on national TV that he hated him. These are all things that I can't forget and I can't forgive", detailed Eubank. "Nigel's only shot at his loss being avenged is Conor beating me. That's the only way he can redeem himself. That will help him sleep better at night. I can't let him get those extra hours of sleep, I can't do that to my old man. I have to make sure the Eubank name stays on top of the Benn name".
"He just made it very deep. No, it's not that deep really" was the comical response from Benn. "Dad had a draw in the last fight, we know he should have won but that's that. I'm gonna get in there and handle business and I'll settle the score. I really could not care less to be honest with you [about Eubank thinking he can win at only sixty-per-cent of his maximum]. That's his problem, I'm gonna prepare for him like I prepare for everyone else. I'm gonna go in there and if I see a slight opening then I'll take him out. He needs to focus and stop worrying about everything else while I'm up at 3am in the morning when he's probably playing poker".
More accusations of early excuses came from the twenty-five-year-old after Eubank stated eh wasn't ready right now for the fight. "Am I ready? No, I'm overweight right now and I haven't really been in the gym consistently". Benn jumped all over it. "Do you know all I keep hearing is excuses. When I give you a good beating I don't wanna hear no excuses, 'oh I was sixty-per-cent', 'oh I lost at poker', blah blah blah and all that talk". Junior again insisted "you cannot beat me Conor, there are no excuses. I will get down to the weight and I'm not gonna get fined hundreds of thousands of pounds for being a pound over weight [as are the reported terms of the rehydration clause]".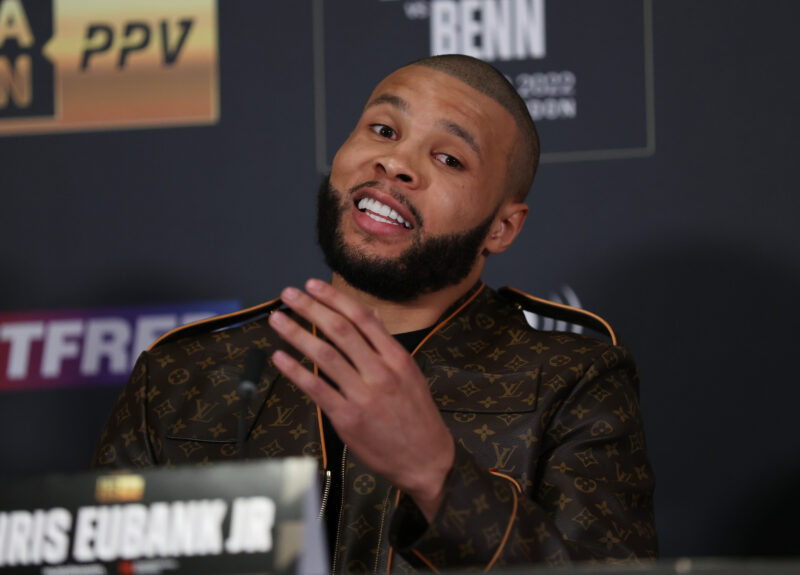 In a frustrated tone Benn snapped back, "why are you playing that card? You suggested the weight". "It's not a card, I'm just simply saying what the penalties are if I miss the weight. That's all I'm saying. I will make the weight. I'm not gonna kill myself in this training camp. I normally train like an animal and spar killers but I'm not doing any of that for this fight, because one, I don't need to and two, the weight is the main thing for me. I want longevity in the sport and what a lot of people don't know is what takes it out of you is hard training camps".
Eddie Hearn butted in, asking Eubank Jr. if the game-plan really is the assumption that he'll walk through Conor Benn. "Absolutely. I don't need a game-plan, I just need to show up", was the response. "If that's Conor wants to think [that Eubank's lost his killer instinct as has been suggested by others in the media] to help him prepare for this fight then that's okay". "You have nothing to lose in this fight, if you pull off a miracle and beat me then you're a superstar and you're out of your father's shadow", teased Eubank as he dangled the rod again. "I'm already out of my father's shadow" snapped back Benn. "No you're not", was the response. "You keep thinking about excuses though, you don't hear one excuse from me. I couldn't give a rat's arse, I think I can beat you so I'll beat you, forget the weight. That's why I'm taking this fight" as Benn again questioned Eubank's confidence.
"If I lose to Conor Benn then I am finished. I can't lose and then say 'hey let me fight for a middleweight title', and if I win I'm most likely not gonna get the credit for it. All the pressure is actually on me for this fight, I've got a lot more to lose. You're in a great position, you're gonna get paid an absurd amount of money, it's a great business move on your part" teased Junior. "I get paid already mate," poked back Benn.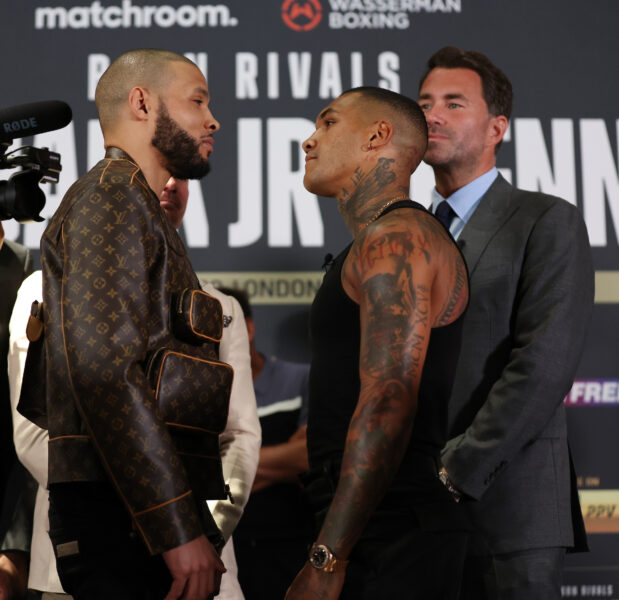 The forty or so minutes that the press conference lasted for was certainly entertaining to say the least and sets up an intriguing eight weeks before fight night at the O2 Arena which will see two of British boxing's biggest personalities come together for thirty-six-minutes of all-out action. While some claim to turn their nose up at the bout, there's no doubting that an overwhelming majority will be tuning in to see the latest instalment of the Eubank-Benn saga unfold on October 8th.