Chris Eubank Jnr confirmed on Friday morning that he will be training himself for his upcoming catchweight showdown with Conor Benn on October 8th.
Both men appeared on the ITV breakfast show to promote their contest next week at London's O2 Arena which will be shown live on DAZN pay-per-view. Promoters Eddie Hearn and Kalle Sauerland accompanied their respective fighters ahead of the third instalment of the Eubank-Benn family rivalry, over thirty years on from the iconic fights between their two fathers Nigel Benn and Chris Eubank Sr.
Eubank Jnr donned a shirt with the words '60% baby' front and centre in reference to his claim in August that he could only be at 60% of his best for the fight due to arduous process of making the 157lb catchweight limit. The thirty-two-year-old also confirmed during the sit-down that he would in fact be training himself for the big fight against his rival. Roy Jones Jnr had been in the corner of Eubank Jnr for his previous two outings against Marcus Morrison and Liam Williams but it turns out he will not be present at the O2 Arena next month. "I've trained myself for this fight. My father has kept his distance. He wanted me to wait, he didn't want me to take this fight. But there's no time like the present, I wasn't going to let this one slip through my fingers."
Junior initially stated he wished to have his father Eubank Snr as the head of his corner team for the big showdown due to his history with Benn's father. However, Snr stated on a joint media call three weeks ago that he wanted to pull his son out of the fight due to concerns over making the weight limit, casting doubt over his presence in the home corner next Saturday.
Junior normally campaigns at middleweight which has a weight limit of 160lbs and confirmed he was on track to comfortably make the weight. "[I'm at] sixty-per-cent [again referencing his previous line from the announcement press conference in August]. I'm on weight and I'm ready to go. I have this weight that I have to make which I've never made before in my entire career. There's also a rehydration clause after the fight saying I can't be over a certain weight, so I can't be at 100% for this fight but the 60% that I'll be is going to be a very dangerous and worrying 60% for Conor."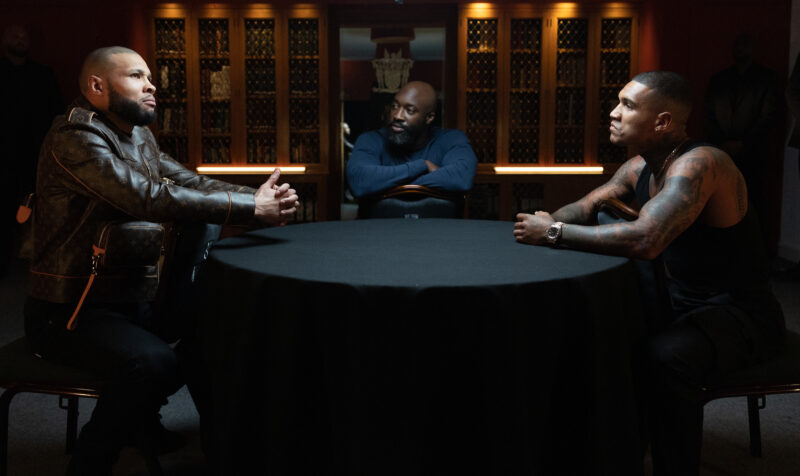 Eubank Jnr claimed he hasn't had to make adjustments to accommodate the extra weight, nor has he brought in a nutritionist to facilitate the process. "Absolutely not [when asked whether he has brought in a nutritionist]. I'm doing everything on my own accord, I've had my burgers and my birthday cakes. I've done everything my own way. I'm a professional but I also know what my body can do."
Benn refused to give credence to the argument that he has it easier due to him moving up from welterweight, assuring he has the ability to beat Junior regardless of the weight. "Listen, we can all play the card that I'm coming up a stone and all that, at the end of the day I can beat the man. But I'll be at 100% because I am a dedicated professional athlete and not ramming burgers down my throat, or portraying that image anyway. I'm here working, grafting hard and I'll be 100% on the night.
"The fight wouldn't have happened if it wasn't Eubank-Benn or if you [addressing Eubank] were ring walking second, but the reality is my ego isn't that big about my name being first in the history books or whoever ring walks second. I couldn't care less to be honest with you mate.
It's fair to say that the build-up is heating up nicely ahead of fight week where tensions are sure to rise with the legacy of both men's family names on the line in a huge all-British showdown.