Super-lightweight prospect Adam Azim will step-up against Rylan Charlton at Alexandra Palace on November 27th.
The card, which was originally set to take place on November 26th, will also feature the British title fight between cruiserweight Mikael Lawal and Deion Jumah.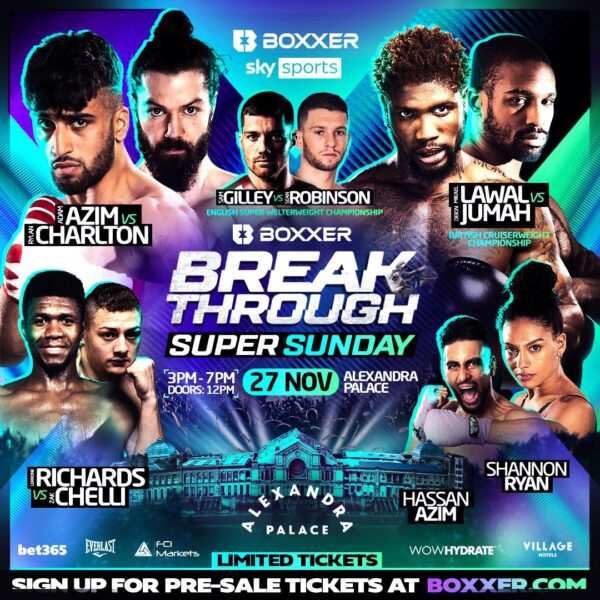 English super-welterweight champion Sam Gilley will also look to defend versus Sean Robinson.
Azim boasts five knockout victories in six outings so far as a pro, with his last three ending in the first round. The Slough man remains one of the standout talents on the way up in British boxing.
Norwich's Charlton marks the biggest step-up so far for the 20-year-old who has proven difficult to match despite being so early on in his career. The 30-year-old's record currently stands at 9-3-1 respectively but has operated at a solid level domestically, always providing a stern test for those who face him.
An intriguing super-middleweight contest is slated to take place between Lerrone Richards and Zak Chelli.
The former has long struggled to land the big names at 168lbs due to his high risk, low reward nature and so turns back to domestic level while he waits for another big fight to present itself at world level. Richards entered the Ring Magazine's top ten last December with an impressive victory over Carlos Gongora in Manchester.
Chelli meanwhile secured the English title last time out with a unanimous decision victory over Germaine Brown. A victory over the former British, Commonwealth and European champion would fast-track him to the forefront of the world scene at 168lbs.
Top prospects Hassan Azim (welterweight), Shannon Ryan (super-flyweight) and Rhys Edwards (super-bantamweight) are also set to feature. Opponents are yet to be confirmed at the time of writing.