Anthony Joshua's journey to becoming a three-time heavyweight world champion begins on Saturday night as Michigan's Jermaine Franklin looks to land a career-changing victory.
Joshua, 24-3-0, (22KOs), returns to London's O2 Arena for the first time since his seventh-round victory over Dominic Breazeale in June, 2016.
The 33-year-old suffered his second consecutive defeat to Oleksandr Usyk in the Saudi Arabian desert eight months ago, twelve months after he surrendered his unified titles in his initial defeat to the Ukrainian.
Despite making clear improvements from the first fight, Joshua lost by a wider margin than the split-decision defeat suggests after judge Glenn Feldman inexplicably returned a 113-115 card in favour of the Briton in the Middle East.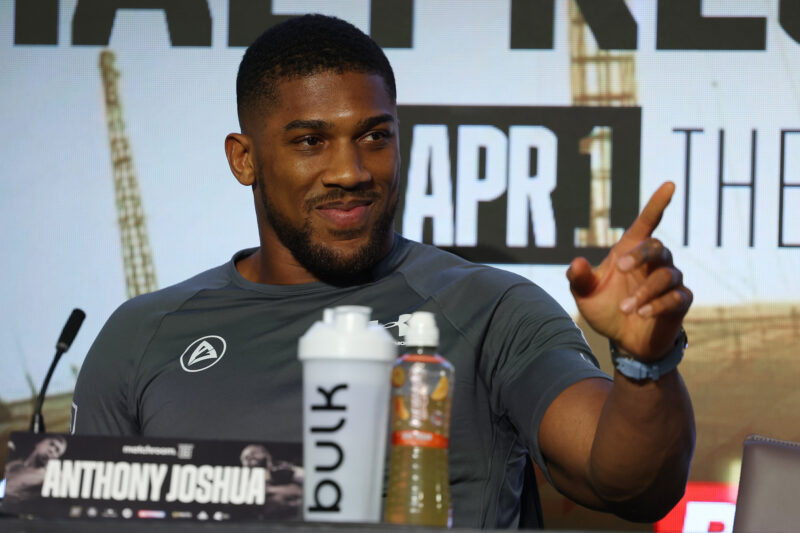 The immediate aftermath saw the London 2012 gold medalist breakdown in the ring after hurling Usyk's belts out of the ring before blurting out a bizarre post-fight speech.
The Finchley man immediately apologised later in the night at a post-fight press conference which saw him break down into tears.
Joshua has since made a third change to his corner team in his last three fights.
Texas' Derrick James, trainer of pound-for-pound starts Errol Spence Jr and Jermell Charlo, replaced Robert Garcia in the Brit's corner as Joshua moved stateside to prepare for his ring return.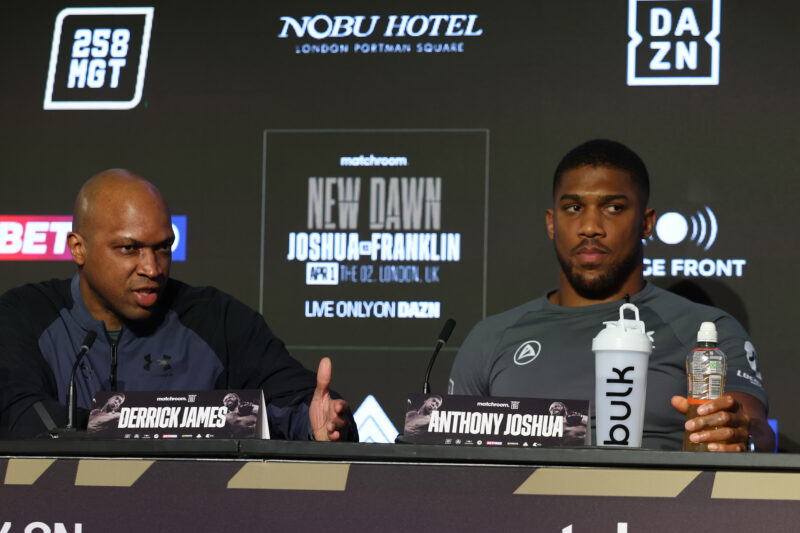 "AJ is a student, he always wants more. And so I think this Saturday will be a night where we show everybody everything that we've been working on", said James at Wednesday's press conference.
"Jermaine Franklin is a very tough fighter. I don't care how we get it [the win], I just care that we do get it. It's all about winning the fight, regardless of how he wins."
Joshua spoke highly of his latest coach who won the Ring Magazine Trainer of the Year in 2017.
"I ask Derrick certain questions and the knowledge he spits is phenomenal", said Joshua.
"We're at a stage now where all the physical work is done and it's all about the knowledge. You've gotta train your mind and Derrick is up there with some of the best people I've spoken to about boxing."
The Franklin fight will be Joshua's first without a world title riding on it in seven years since he knocked out Dillian Whyte to secure the British heavyweight crown.
Joshua remains eager to impress however and vows to end the fight in spectacular fashion come this weekend.
"The more he [Franklin] talks, the bigger grave he digs for himself. I could say a lot of things about him but I respect my opponent. It's not for me to talk.
"I've prepared for a twelve-rounder but I do believe in my ability and my counter-punching to put a dent in Jermaine. But like I said I'm not here to talk. I'll do what I have to do to get the win."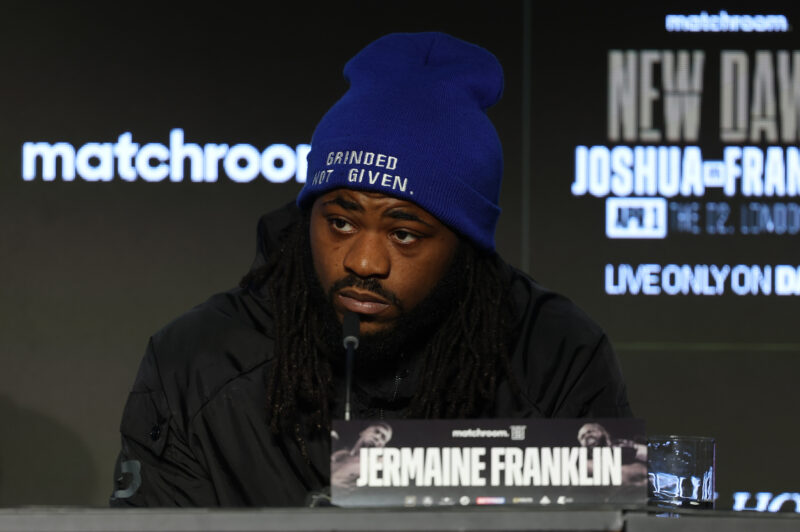 Franklin (21-1-0, 14KOs) meanwhile heads into the fight on the back of a narrow majority-decision defeat to the aforementioned Whyte in November.
Many edged the fight to the American who was critical of the decision but has nevertheless landed a golden opportunity to change his career beyond Saturday night.
"I'm gonna get the win by any means possible but if I can put him on his ass then that's what I'm gonna try to do", said Franklin.
"I come from a place with not a lot of possibilities so if I made it this far anything is possible.
"My passion for the sport as well as my team and my family are all the motivation I need. I believe my hand is getting raised at the end of the fight."
Friday's weigh-in saw Joshua come in at a career-high 255.4lbs, over a lb higher than his previous record against Carlos Takam in 2017 as he looks to land his first stoppage win since 2020.
Franklin dropped 23lbs since his defeat to Whyte last year.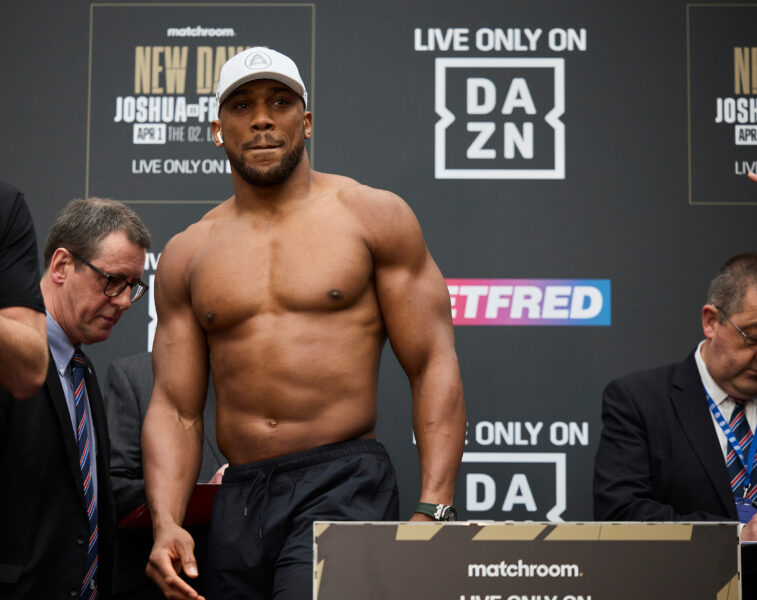 Elsewhere on the card, Ipswich heavyweight Fabio Wardley (15-0-0, 14KOs) takes on New York's Michael Coffie (13-3-0, 10KOs) over ten rounds.
Birmingham flyweight Galal Yafai (3-0-0, 2KOs) was set to face Mexican Moises Calleros (36-10-1, 19KOs) in America next week but the bout was moved forward seven days after Felix Cash pulled out of his European title clash against Matteo Signani.
Wisconsin's Austin 'Ammo Williams' (13-0-0, 9KOs) also faces River Wilson-Bent (14-2-1, 6KOs) over ten rounds at middleweight.
FULL CARD:
Anthony Joshua (24-3-0, 22KOs) vs Jermaine Franklin (21-1-0, 14KOs) – Heavyweight (12 x 3)
Fabio Wardley (15-0-0, 14KOs) vs Michael Coffie (13-3-0, 10KOs) – Heavyweight (10 x 3)
Galal Yafai (3-0-0, 2KOs) vs Moises Calleros (36-10-1, 19KOs) – Flyweight (10 x 3)
Austin Williams (13-0-0, 9KOs) vs River Wilson-Bent (14-2-1, 6KOs) – Middleweight (10 x 3)
Campbell Hatton (10-0-0, 3KOs) vs Louis Fielding (10-7-0, 1KO) – Lightweight (8 x 3)
John Hedges (7-0-0, 2KOs) vs Daniel Bocianski (11-2-0, 2KOs) – Light-Heavyweight (8 x 3)
Juergen Uldedaj (15-0-0, 6KOs) vs Benoit Huber (8-3-0, 6KOs) – Cruiserweight (8 x 3)
Jordan Flynn (8-0-0, 1KO) vs Kane Baker (18-9-1, 1KO) – Super-Featherweight (8 x 3)
Peter Kadiru (14-1-0, 7KOs) vs Alen Lauriolle (6-1-0, 3KOs) – Heavyweight (6 x 3)
Ziyaad Almaayouf (2-0-0, 1KO) vs Georgi Velichkov (3-11-0, 3KOs) – Super-Lightweight (4 x 3)
Featured image: Mark Robinson/Matchroom Boxing.