In terms of making history, I am not referring to the clash between WBC heavyweight champion and MMA fighter Francis Ngannou in Saudi Arabia, to which will steal the weekends headlines. The event will take the limelight because of Fury's commercial pull and marketability as an entertainer, despite true boxing fans knowing the extent of the mismatch and how much of a walk in the park it will be for him. Albeit, if the contract between him and Unified champion Oleksandr Usyk is truly signed, he will be forgiven by the boxing community in no time regardless of the weekends antics. 
The real history that will be made this Friday is a significant advancement in women's boxing. Trailblazers Amanda Serrano (45-2-1, 30 KOs) and Danila Ramos (12-2, 1 KOs) will clash in a boxing ring over twelve three-minute rounds. Since 2007, women's championship bouts have been scheduled for ten two-minute rounds. However, many major names in women's boxing have now opted in for the same length and amount of rounds as men's championship fights. This ultimately pushes for equality in the sport. The push will likely help women earn more financially in the sport and get greater recognition for their accolades. It is also hoped by fight fans that the change will result in more exciting knockouts and spectacles. The poster for the fight has scribbled out 'women's', in front of championship boxing, to highlight the attempt of parity across the sport.
However, not everyone in boxing supports this change. A sanctioning body that has refused to sanction the bout is the WBC. President, Mauricio Sulaiman, refuses to support the change. This means that the Puerto Ricans WBC belt will not be on the line, in what would be an undisputed clash. The president believes the length and pace of the fight will be unsafe.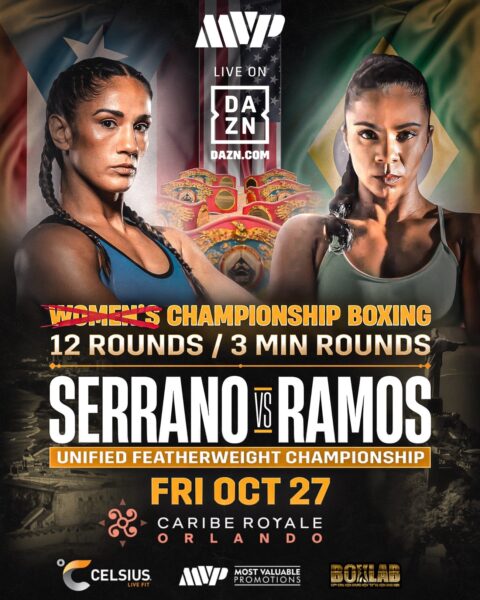 There is some level of argument for both sides, but if elite female fighters want the same opportunity as men then why should that not be given to them? After all, the WBC have been known to be swayed by self-interest and what makes more financial sense. The female pioneers of the sport will likely see this preconceived view as old fashioned and discriminative. The irony is also that the WBC are simultaneously sanctioning a world title bout between an elite champion and a debutant on the same weekend that they are refusing to sanction a women fights world title fight over twelve-three minute rounds.
"I'm hoping to prove, come October 27th, that we can do it", Serrano told TMZ sports.
The experienced champion is the favourite for Saturday nights featherweight clash, mainly due to the far superior resume and experience. The bout is promoted by Most Valuable Promotions and will take place in Orlando at the Caribe Royale resort. The fight will be broadcast live on DAZN.