Birmingham's Frankie Gavin retained his British welterweight title whilst taking Denton Vassell's Commonwealth belt and his unbeaten record, after the Mancunian was forced to retire at the end of the seventh round with a suspected broken jaw, at the Olympia in Liverpool last night. (Friday)
We all knew Frankie Gavin, now 16-0 (12) had something special about him, the boxing X-Factor, character and hugh potential, destined to make it in the professional ranks. You don't become world amateur champion without a natural pedigree and breed. Gavin last night shown us just a glimpse of that talent and promise he possesses and still dealt, almost effortlessly at times, with a quality opponent and his only close domestic rival at welterweight, other than the world class Kell Brook.
Vassell, 28, was in prime condition, he was up for this biggest fight of his career and being tipped by many to eventually catch up with Gavin in the later rounds, but it was never close and Gavin dictated the pace from behind his southpaw right jab, controlling the distance between himself and Vassell with world class timing and footwork.
We like to judge how good a boxer is, when we know how good his opponent is, and we all knew Vassell was a live opponent, he is the fighter no one wants to spar, let alone fight. He added to that hard unbeatable mystic last November by viciously stopping unbeaten prospect Ronnie Heffron in his last fight, but, and it hurts me to say this as a big fan of Vassell's, but Gavin made him look ordinary.
To be fare to Vassell this was only his second fight in 18 months and it shown as he found it hard to get his timing, falling short with his punches and finding it hard to pin his elusive opponent down. But it was more of what Gavin did, appose to what Vassell didn't or wasn't allowed to do. From the first round Gavin's right back hand was the key, either from behind his jab or leading with it, it was sharp and punishingly accurate has he countered to perfection.
The Manchester man did get through with sold body shots when he did get close, but his follow up head punches were missing most of the time or not landing clean, as Gavin slipped his way in and out of range, never there long enough to get tagged clean, but long enough to land his own stinging shots while parrying Vassell's.
Gavin, 27, took the first four rounds, while Vassell did enough to take the fifth as Gavin dropped his pace and Vassell upped his, a big right hand that landed flush in Gavin's face while his back was to the ropes, drew the cheers from the large Vassell fan base, but it was his only real moment of success. In Round six Gavin was back in control again and a wicked double left had Vassell hurt momentarily, but he continued to push forward and never stopped trying to find a path back into the fight.
Vassell had taken Gavin's big shots, but it seemed that one of them had done damage to his jaw. The right side of Vassell's face was beginning to swell and the referee, who noticed blood coming from Vassell's mouth asked the ringside doctor to inspect the damage at the end of the round. His expression when he saw the damage was one of concern and advised the referee to end the contest such was the extent of the injury.
Gavin has shown when he is up against it he performs. He is renowned and openly admits to being a bag of nerves before his fights and builds up his opponent more than maybe they deserve. He didn't need to build up Vassell into anything much bigger, he was in there with a proud determined fellow unbeaten champion and proper up against it, this was the first real acid test of Gavin's career and he passed it in style.
Undercard report to follow, see the full undercard results here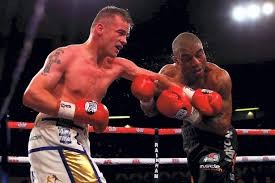 What did you think of Frankie Gavin's Performance? Who would you like to see him fight Next? Please leave your views below or Tweet us @britishboxers
Continue to the Next Page to Watch the Post Fight Interview with Frankie Gavin by iFilmLondon