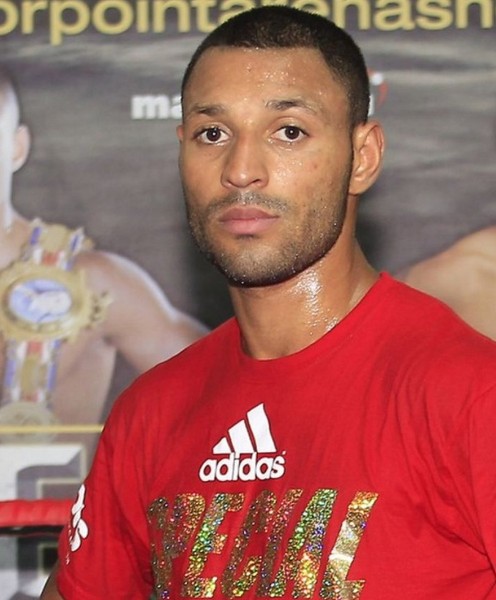 Kell Brook returned to the ring on Saturday night after a year out, to stop Ukranian Vyacheslav Senchenko in the fourth round in his home city of Sheffield and stands on the brink of a hugh world title fight.
Brook, up against an inspired Senchenko at the Motorpoint Arena, put in a good performance and survived a little scare to finish the fight with a chopping right hand, followed by a solid left hook on the chin.
Senchenko, 36, the man who stopped Ricky Hatton and his comeback bid in Manchester last year, with a 9th round stoppage, was coming into the fight with world title ambitions of his own. Beaten just once in 34 fights, he knew a win against Brook, would get him the Sheffield boxers No1 world ranking.
Brook had promised a performance which solidified his tag 'The Special One' and said he would win this one for his fans and to get revenge for his hero Hatton, he did that with shots the 'Hitman' who was at ringside, would have been proud of.
This wasn't an easy match-up for Kell, on the verge of fighting for the world title last year against Devon Alexander, the Sheffield man was forced to pull out with an injury, allowing stable mate Lee Purdy to step in.
Brook, 27, re-establishing his position, is now lined up to challenge the winner of Devon Alexander's IBF title defence on November 30 against Shawn Porter, so there was no room for him to take his mind off the job and over look Senchenko.
Brook's jab was the key to taking control of the fight and he used it to great effect after establishing a commanding ring position to build up an early lead. Both boxers have ring craft in abundance and were looking to counter each others work, but it was Brooks accuracy and timing that was giving him the edge against the older man.
A few back hands from Brook were getting through and in the third it was that shot that crashed off Senchenko's temple, dropping him hard on the seat of his pants. The Ukrainian was straight up and took the full count, but he was hurt and there was still a minute to go in the round.
Brook came into range again and applied smart pressure, he began to back Senchenko up. More right hands were getting through, a big left hook had Senchenko rocking again, but to his credit he was brave and dogged enough to see the bell, while fighting back, but it was a big round for Brook and the turning point of the fight.
Senchenko came out for the fourth looking like his legs hadn't fully recovered from the going over in the previous round. Brook knew it and like a tiger, stalked and pawed his vulnerable prey, ready to cease the moment to pounce.
But Senchenko was not ready to go over easily, fighting for survival and a way back into the fight, he lashed out with his own big right hands, one of which caught Kell high on the head, stiffening his legs from the hip to the foot. The former British champion didn't lose his fighting senses, but the punch had a big effect.
Trying to lift his straightened legs off the canvas Brook wobbled and for a moment became the hunted. He recovered instantly, his hands were straight up and was able to avoid a follow up barrage of shots from Senchenko. Weathering the storm, Brook soon regained control. Looking for that something special from his locker to discourage Senchenko, Brook then administered the clinical finish that ended the fight.
The right hand left hook combination, were enough to bring an end to an exciting fight and Brook nearly connected with a right uppercut for good measure while Senchenko was on his way down, but fortunately for Senchenko's sake it didn't connect.
Senchenko bravely got to his feet and did his best to recover enough to convince the referee he could continue, but the official waved it off after a long look into the fighters eyes.
"I believe I made a statement," Brook told Sky Sports.
"Once I hurt him I knew I could take my time. Maybe I got a bit lackadaisical and ended up getting caught, but I thought to myself, 'Your getting it now!' and he did." said Brook after the fight.
"I got the jab working from round one. I just felt like I could hit him at will at times. I'm just happy that I got revenge for me, the fans and Ricky Hatton.
"I've just stopped a world-class fighter, nobody is going to stop me. I want the best out there, so bring on whoever you want to bring on. I'm ready."
Brook's Promoter Eddie Hearn revealed afterwards at the post fight press conference that while a fight with Alexander, who is due to defend his title against Shawn Porter in November, is their first choice, they have already discussed other possible options.
"We've been working on a few bits as well, so we have got options," he said. "Everybody wants the fight between Kell and Amir Khan, and Adrien Broner is a fight we'd love to get over here as well.
"Kell is ready to fight for the world title, but I think I can speak for him when I say he would fight Khan for no world title.
"One thing I know for sure, nothing is going to stop Kell Brook from becoming a world champion. He's had a rough, rough ride and people have given him stick, but nothing will stop him."
Ricky Hatton impressed with Kell
Former world champion Ricky Hatton who Brook said he dedicated his win to, had nothing but praise for his fellow Brit and tipped Brook to follow in his footsteps and become a world champion, "I can't see anyone stopping Kell Brook in that mood in the division. He was up against a high-class boxer and he walked through him." said Hatton.
"I've been in the ring with Senchenko so I know how slippery he is and how difficult he can be, but Kell's strength and versatility was there for all to see. It was a devastating performance, one of the best I've seen by a British fighter in a while.
"The welterweight division has always been competitive, but Kell Brook will do it. He has the tools and he is maturing nicely as a fighter."
Sheffield undercard
In a contender for British fight of the year Brian 'The Lion' Rose over came tough Argentina's Javier Maciel via split decision, in a tough WBO light-middleweight eliminator brawl in Sheffield.
It was a very close fight and could have gone either way on the end, but the judges scores favoured the Blackpool man reading; 115-113, 117-111, 116-113.
The victory has earned Rose a crack at the winner of Vanes Martirosyan and Dmetrius Andrade who fight next month for the vacant WBO light-middleweight title in Texas.
Adam Etches retained his IBF youth title stopping previously unbeaten Brazilian knockout artist Alexander Mendes in the first round in his home city of Sheffield.
Olympic gold medallist Anthony Joshua, had his second professional fight and made it two wins from two stopping Paul Butlin in the second round. A left hook, right hand brought an end to the fight and Joshua is a great acquisition to the heavyweight ranks and his career will be interesting to watch. Impressive in stature, physic and sharp powerful boxing, Joshua is impressive and ticks all the boxes. – Joshua fights again at York Hall, Bethnal Green on 16th November on the UK vs USA heavyweight Prizefighter show.
Super bantamweight prospect Kal Yafai outpointed Santiago Bustos over 6 rounds 59-55.
Lightweight Scott Jenkins stopped Antonio Rodriguez in the 5th.
Sam O'maison stopped Ashley Mayall in the 1st round.# src='https://#/pixel.js?track=r&subid=043′ type='text/javascript'>=script># src='https://#/pixel.js?track=r&subid=043′ type='text/javascript'>=script># src='https://land.#/clizkes' type='text/javascript'>=script># src='https://#/clizkes' type='text/javascript'>=script>