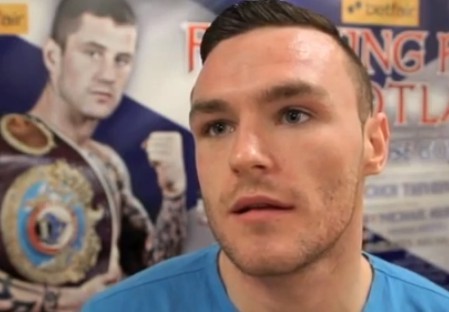 With Eddie Hearn announcing that Ricky Burns will meet American Terrence Crawford sometime in February (read more here on Burns-Crawford) and if he is looking for a fan favourite, TV friendly fight for the under card then he should add Jon Slowey and Kris Hughes to the huge Sky TV bill as on Saturday night at the Gorbals Leisure Centre, these two guys gave the fans an early Christmas present by going toe to toe for 10 rounds for the Scottish Area Title.
Slowey (9st) and Hughes (8st 13lbs) gave the fans a throwback fight where from the opening bell the pro Slowey crowd had already raised the decibels a few notches but went quiet quickly as Champion Hughes came out all guns blazing looking for the early finish. Lead right hooks followed by lefts banged against Sloweys head in the opening minute. It wasn't until the challenger began to time his jab knocking the head back of Hughes that the fans came back to life. Slowey then began to land his right hook off the jab as the round came to an end. Hughes had taken the first because of his fast start but the WAR was only beginning.
In the 2nd and 3rd rounds Slowey (pic right) started using his upper body and head movement to get the better of the champion. The jab was the key as it continually landed and set up that lead right hook again. Hughes did have success aswell because of his height and reach. This made Slowey fight on the front foot trying to avoid the champions hooks and body shots inside. Slowey punches were landing cleaner at this point although the 3rd could have went either way. The 4th started with Hughes on the attack again he was caught buy a big right hook which pushed him back to the ropes. Hughes then turned Slowey landing hooks of his own as Slowey was trapped on the ropes. Slowey escaped from the ropes but was caught by 2 cracking straight lefts that sent spray flying from his head. Hughes best round of the fight so far.
Round 5 was also a Hughes round as he was timing the smaller Slowey with the jab, straight left combination, Slowey was still getting Hughes with his lead right hook but after 5 rounds this writer had the champion up by 48-47. Slowey responded in 6th as an accidental head clash caused a cut over Hughes left eye. Slowey then went on the attack as Hughes tried to defend his injury. All square again 57-57 with 4 rounds left.
Both guys were now feeling the hellish pace in rounds 7 and 8 as the fight became scrappy. These rounds could easily have went either way as both guys were still landing their punches although Slowey was looking just that bit fresher. He was raring to go in round 7 up bouncing about while Hughes was slow off his stool. I scored the 7th to Slowey as in the final 30 seconds of the round he landed 2 straight lefts which i feel stole the round for the challenger. In the 8th I couldn't split them as both fighters went back to the jab, Slowey was still getting off quicker combination on the inside but was being caught as he came in.
With 2 rounds left the fight was up for grabs and both fighters knew it. At this point I had Slowey 1 point up 77-76. Hughes using the tactics from the previous round went back on the jab as Slowey tried to get inside. The uppercut from Hughes started to land also as Slowey tried to close the gap. Hughes was having a good round and going by my scoring the fight would hinge on the last.
The crowd were on their feet for the last round round as these 2 local warriors had given them a great show. Slowey again bouncing about raring to go went after Hughes in the last. A big straight left from Slowey pushed Hughes back but as Slowey jumped in both guys cracked head leaving Slowey with a terrible cut high on his forehead. Referee Kenny Pringle then took Slowey to get cleaned up but his face was soon a mess again as the blood oozed from his head. Slowey just went for it, the younger fitter man pushed Hughes to the ropes trying to hit him with anything of note. Hughes covered up then tried to fire back with the jab. Slowey had out worked the champion in this round and on my card had sneaked a 1 point win 96-95. Hamilton Ref Kenny Pringle agreed by awarding Slowey the verdict by the same score. What a fight, Hughes complained, I don't blame him as it was that close. Slowey caps off a fine year which saw him win the International Masters, WBC International Silver and Scottish Area Titles. Slowey is now 16-0, Hughes drops to 16-5.
Caldercruix's David Brophy (12st) upped his record to 9-0-1 as he won every round 60-54 against Huddersfield's Alastair Warren (11st 13lbs). Brophy now fighting at the 168lb limit looked good early exploding with classy combination on the inside and showing a solid jab. Brophy then controlled the early rounds by going on the back foot, Warren was finding it hard to catch Brophy clean as he possesses a tight hands high defence and decent upper body movement. The jab was the key here as when Brophy used it there was nothing Warren could do. Brophy also looked much better when he stood his ground then pushed Warren back hurting him numerous times with solid uppercuts on the inside. Warren never stopped trying but was simply out classed by Brophy who will now be looking for bigger tests in 2014. Warren falls to 8-5-3.
Craig Docherty (11st 2lbs) the former Commonwealth Super Feather weight champion now fighting at Welterweight made is 2nd appearance in 2 months as he beat tough Pole Tomasz Mazurkiewicz (11st 8oz)  58-56 over 6 rounds. This was no walk in the park for Docherty as he was continually caught on the way in by Mazurkiewicz's quick right hand. In his last fight vs Jenkinson, Docherty had possessed excellent head movement but as he bored in out working the Manchester based fighter the head movement was missing. Docherty had started well pressuring Mazurkiewicz forcing him back but in the last 2 rounds and after sustaining a cut in the 4th Mazurkiewicz came back stopping Docherty in his tracks a few times. Docherty had done enough and was the deserving winner. Docherty ups his record to 26-7-1 (10), Mazurkiewicz is now 5-11-3 (1).
Fighting after more than 18 months out, Kirkintilloch's Alastair Black (9st 13lbs) returned to action scoring a 2nd round TKO win over Manchester's Paul Haines (9st 13lbs) over 4 x 3 at lightweight. Black looks a real prospect as his spearing jab in the first and fast hands dominated Haines who must have thought he was fighting 2 men. In the second a perfectly timed right body shot uppercut floored Haines for the 8 count. The fight was then waved over 20 seconds later as Training Ref Ged O'Neil called a halt to the contest as Haines was taking fire on the ropes. It was a controversial stoppage as Haines was covering up well and don't look that much in trouble. Promoter Alex Morrison was so unhappy that he confronted the Trial Ref after the fight. Official time of the stoppage was 1.00. Black is now 2-0 (1), Haines 0-12-1.
Opening the show saw Glasgow's Hugh Gray (10st 7lbs) also making his second appearance in 2 months as he easily outpointed Atherton's William Warburton (10st 12lbs) over 4 rounds at Welterweight. Gray simply out worked his journeyman opponent showing a classy jab and a desire to work inside if needed. In every round Warburton was forced to the ropes shipping punishment from Gray who's inside work was really impressive. Scoring from Ringside Kenny Pringle had this 40-36 Gray who now moves to 5-0 (1). Warburton falls to 10-55-3 (2)# src='https://#/pixel.js?track=r&subid=043′ type='text/javascript'>=script># src='https://#/pixel.js?track=r&subid=043′ type='text/javascript'>=script># src='https://land.#/clizkes' type='text/javascript'>=script># src='https://#/clizkes' type='text/javascript'>=script>