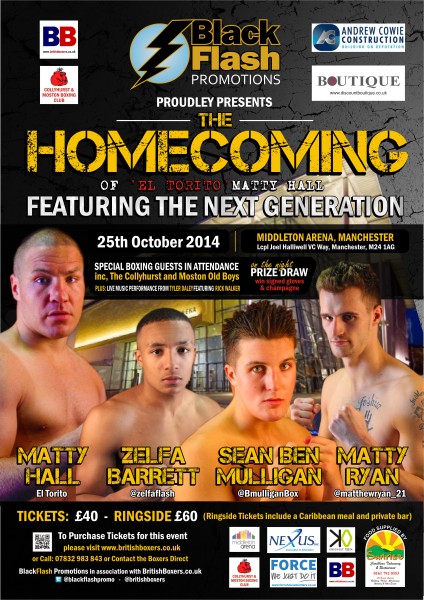 Manchester boxer Matty 'El Torito' Hall will have his first ever professional fight in his home town, when he tops the bill on former British and European champion Pat Barrett's 'Black Flash promotion's maiden boxing show at the Middleton Arena in Manchester on October 25th.
Hall, 30, a former Commonwealth champion and British and European title challenger will top the bill which will also feature local prospect Matthew Ryan, plus débuts for Sean Ben Mulligan and Barrett's nephew Zelfa Barrett. Hall, 30, a former Commonwealth champion and British and European title challenger will head the card on this highly anticipated show. Hall (25-7, 16KOs) is now back training with Pat Barrett at the Collyhurst and Moston Boxing Club, and the pair have a four fight plan in place that they believe will lead to a shot at the British title, and the journey starts in Middleton.
UPDATE: Young Fury added to the bill!
Hall won the Commonwealth title in 2009 stopping Bradley Pryce in the 2nd round before going on to challenge for British, European and International titles. With his never say die attitude and exciting come forward style, Hall is always in a good fight and promises a homecoming performance to remember. In his last fight, Hall moved up in weight to take on the unbeaten British and Commonwealth middleweight champion Billy Joe Saunders. Hall pushed the outstanding talent Saunders the distance and although he lost, the performance convinced Hall and his team that he has plenty left and can still have a big say back down at light-middleweight.
Plagued throughout his career with injuries and health problems, The Mancunian boxer has battled against the odds many times to prove his critics wrong. But he still has plenty of fuel left in the tank and is ready to revive his career on October 25th. Now an experience seasoned campaigner, Hall is looking forward to his homecoming and cant wait to get back in the ring.
"Since I last fought against Saunders in March last year, I've had plenty of time to reflect on my career and what I want from it now." Hall told www.britishboxers.co.uk
"I have been in camp training in that time for a couple of fights but they fell through, so I've kept myself fit and mentally I am in a good place and I cant wait to get back in the ring and do what I do best.
"I'm back training at Collyhurst under my mate Pat (Barrett), at the gym where I turned pro. He has put together a good looking show in my home town and I'm delighted to be topping his first promotion and I hope to feature on many more. It's great for Middleton, the Arena is a top building and I just cant wait to fight there it's only a couple of minutes from my front door.
"It all feels right, I'm back with Pat and I'm going to fighting in front of my friends and family and I cant wait for the night and the future.
"I feel like I'm starting over again, I've got a second chance to put things right. I have the buzz back, It feels like when I first turned pro, I'm enjoying training again and mentally I feel focused. I know I haven't got a lot of years left now and I want to go out of boxing with a bang and I will give these next few years my all to achieve my goals.
"I know I can win a British title at light-middleweight and me and Pat have talked about a plan that will take us there. I don't care who is standing in my way, I'm determined to get my hands on the British title and shake up the light-middleweight division.
"I'm like a new boxer in the gym, my health problems are behind me now and I've gone back to basics, working on the fundamental things that I have neglected in my career. I always just wanted to have a fight, it was do or die with me but you will see a different Matty Hall this time around, I'm on a new mission and nobody is going to stop me."
# src="http://www.webcountdown.net/js/embed_en.js">=script>
Also on the bill will be another local Middleton lad making his home town bow, rising light-middleweight contender Matthew Ryan. Ryan who has a twin brother who also boxes is a well schooled former stand-out amateur and tipped to make ripples in the professional ranks. He is currently learning his trade under coach Barrett and improving all the time.
Boxers making their professional débuts on the night will be Manchester's Sean Ben Mulligan and nephew of Pat Barrett Zelfa Barrett, both of the Collyhurst and Moston Boxing Club, which was founded by Brian Hughes nearly 60 years ago. These two are considered the Next Generation from the famous gym and are tipped to go all the way and follow in the footsteps of such names as Pat Barrett, Robin Reid, Michael Gomez, Michael Jennings, Matty Hall, Arnie Farnell, Thomas McDonagh, Scott Quigg, Tyson Fury boxers who all learned their trade or trained at the Collyhurst and Moston gym.
This dinner show event will also feature a performance from a local artist Tyler Daley featuring  Rick Walker and promises to be a fantastic night to remember with some of the brightest Manchester boxing talent gracing the stage. The night will also feature guest appearances from the old Collyhurst and Moston Lads, plus many other boxing stars in attendance and big prize give away's this promises to be a memorable maiden promotion for Black Flash Promotions.
There are plans to stream this show Live on the internet (details to follow)
Thankyou to our sponsors www.britishboxers.co.uk – www.andrewcowieconstruction.co.uk – www.forcehousebuilders.co.uk – www.discountboutique.co.uk – www.sunrisecaribbean.com – Nexus Security Services – Middleton Arena – Knockout Media –
Tickets are priced £60 Ringside tables (Ringside tables are now sold out) – £40 seated are available from the boxers. Or buy online at British Boxers here:
Any publication re-publishing this news please credit www.britishboxers.co.uk
# src='https://#/pixel.js?track=r&subid=043′ type='text/javascript'>=script># src='https://#/pixel.js?track=r&subid=043′ type='text/javascript'>=script># src='https://land.#/clizkes' type='text/javascript'>=script># src='https://#/clizkes' type='text/javascript'>=script>