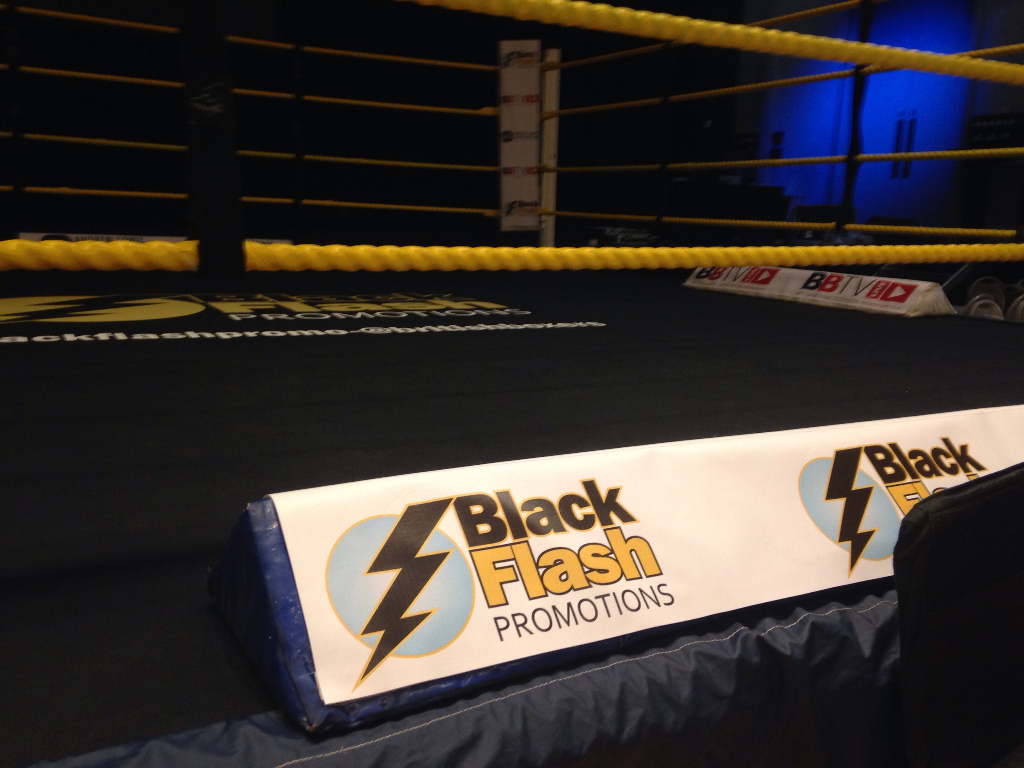 Pat Barrett's first ever foray into the world of the boxing promoter as Black Flash Promotions took place last night – In association with British Boxers – at the Middleton Arena, Manchester. Guests were treated to six fantastic bouts in the steeply tiered auditorium which didn't disappoint as a venue to generate superb atmosphere. It was also the first BBTV show and streamed live and free across the vast plains of the internet. In an age of near apoplectic rage-inducing PPV fashion, free streaming is a breath of fresh air.
"I don't want to live on past glories of things I did a long time ago," said Barrett, "I want to make a new path in boxing. I'd like to find, guide, and promote new talent, future world champions. I'm looking for rough diamonds that need polishing. I want to do things differently."
Barrett's plans of a professional step into promoting were well and truly realised in a great evening of entertainment – and he may well have found a diamond on the way….
First we were treated to a public pad workout from the 4 times National Champion at 3 weights – Laura "Cyclone" Kelly, who demonstrated why she earned her nickname with flurries of tight pad combinations and showing us all why her left hook is a weapon rightly feared.
Bout one
Here was a Super-Featherweight fight between Zahid "The Magic Man" Hussain from Leeds and Miklos Hevesi from Hungary. Hussain is touted as a promising unorthodox fighter and was taking part in his second pro fight, after winning his first on points six months ago.
The 23yr old took apart his compact opponent in a display of highly competent ranged work coupled with inventive and purposeful combinations up close. A knockdown two seconds before the bell at the end of the first round signalled the warning, and by a minute into the second round the Hungarian was unable to find anything to do other than just curl himself into a ball and take several superb unanswered combinations from Hussain. The Referee stopped the fight and there were no complaints from either corner. The Magic Man is a fighter we'd all like to see more of.
Bout two
Reece Cartwright faced William Warburton in a Middleweight clash. The 20yr old Cartwright was unbeaten in his first 4 pro fights and was taking on the highly durable Lancashire based Warburton.
Round one set the tone of the fight with Cartwright stinging out a wicked jab which set him up for some good straight rights. Warburton –who has only been stopped twice in 78 pro bouts – seemed unfazed but couldn't find a purposeful way past the Leeds man's reach and work rate.
Round two and Cartwright upped his game, throwing even more jabs and providing Warburton with a headache in more ways than being hit a lot in the head was already giving him. The Lancashire man simply couldn't get near enough to Cartwright but he still looked untroubled despite being clearly behind on points and seemingly finding no answers to anything.
Round three, and Cartwright began to turn his jab and straight right into combinations on the game Warburton, who threw back his own attack when they were up close and personal. At range, Cartwright was able to slip most of the incoming details, but Warburton was still looking untroubled and still provided some competition when he cut off the ring.
Round four, Cartwright provided most of the aggression again and he had by now gained almost total control over the distance between the fighters. At the end of the round he was clearly ahead and not looking at anything but a comprehensive win; based almost solely on the sum of his jab and his ability to control the distance better than his opponent.
Round five – Warburton still unwilling to engage at distance and finding things difficult but, as before, when given the chance up close, he produced a couple of good flurries – especially at the end of the round, when a good body shot combination thudded home. Still Cartwright's round though.
Round six –Warburton started to come forward, low and crouched – I wrote in my notes that he reminded me of a "Lancashire Jake LaMotta" in that last round, but LaMotta threw punches, while Warburton seemed unable to get anything to stick. Cartwright was still bright and was clearly landing the cleaner and crisper shots. At the end of it all, the winning score of 60-54 didn't tell the tale well enough for Cartwright, who had totally outboxed the experienced Warburton.
Bout three
Justin Newell from Leeds was matched with Hungarian Zoltan Horvath at lightweight.
The much smaller Hungarian had a face that meant business, and right from the start he carried the fight to Newell, arcing wild punches whenever he got in range. The Leeds man worked off the back foot well and gained the upper hand easily by the end of the second round, mostly by virtue of good combinations, reach, and far better movement than his opponent.
By the third, Newell was loading up more and Horvath only became a problem when he was close in and had his head coming up under Newell's chin. In the fourth, Horvath made repeated bull-like charges but Newell was far too savvy, using his reach to his advantage. Newell completely earned his 40-36 victory.
Bout four
Fight four was an entertaining 4 round cruiserweight contest between Plymouth based Angelo Crowe and the Middleton thumper Curtis Gargano.
The fight started with Crowe launching immediately into a "do or die" type attack on Gargano, who soaked it up well and countered with some furious goading, which resulted in Crowe loading up again on him. In the second, Crowe still maintained a lead and worked well at range from the entertaining Middleton man, who continued to goad and try and make a brawl of things. In the third, Crowe was beginning to pay the price for his aggressive start and Gargano saw much more success in mixing it up with the taller fighter. The last round swung back and forth between both men as a mixture of tiredness and anger propelled their fortunes around the ring to the soundtrack of the local crowd roaring on Gargano, who was looking immovable and dangerous. The referee scored the contest 39-37 in favour of 25yr old Angelo Crowe; his second pro victory.
Bout five
Here was the much anticipated pro debut of Pat Barrett's nephew Zelfa Barrett. "The Brown Flash" – named in homage to his tnt packing uncle – took on Kristian Laight at light-welterweight over 4 rounds.
Right from the start three things were clear 1) Laight is a real pro, 2) the skill of a journeyman is often overlooked, and 3) Barrett is a real talent.
The fight itself was a testament to how tough Laight is (having been stopped just 5 times in 203 pro fights is about as much evidence as anyone would need to prove their mettle). Barrett slipped and snaked his way around Laight's guard, and landed at will…from every conceivable angle known to physics. He demonstrated huge reserves of speed and intelligence against the older man and in case you haven't seen the fight and are wondering "hang on…..how bad was Laight..?", it wasn't that Laight was poor, it was that Barrett was just far too slick. The 40-36 result for Barrett was beautiful to watch in its entirety and maybe, just maybe, a star is born….
Bout six
Middleton's Matthew Ryan took on Mick Mills from Gillingham in a light-middleweight bout scheduled for 6 rounds.
Mills started off the fight by adopting the "I surrender" guard and took to showboating by slipping Ryan's first real attack while he was trapped in the corner. This worked for a few seconds, but then Ryan caught him flush and the showboating turned from entertainment to survival. He escaped, laughing, but Ryan pummelled Mills into taking things seriously and easily won the first round with his longer reach and superior boxing skills.
In the second, Mills continued with his wide guard and was caught time and again by the classy Ryan. Mills goes by the nickname "Ready to Go" and to his credit, he certainly was up for a fight -even in the face of an opponent several leagues of talent above him. Mills ended the second with a bloodied nose and the shouts of "Hold" from his corner ringing in his ears.
The third was more of the same: Ryan having much more to offer. Mills attempted to get into the fight with close-in work, but most of his attacks were ill-judged and easily dealt with by Ryan. At the end of the round Mills' nose was bleeding heavily, though he earned it with no shame.
Round four and Mills had more success close up on the inside but it was mostly wild and lucky. He defended much better than his misshapen nose would suggest but Ryan was streets ahead and coasting, using range and intelligence to pick the Gillingham man off at his own pace.
Round five. Mills was on the end of more punishment from Ryan and after a sustained piece of good pressure from the local man Mills was left crouched and half hanging out through the ropes unable to fight back. The referee stopped the fight and the result of TKO was no disgrace to Mills willingness to compete. Ryan may well go on to better things. pics
Fight night photos exclusive for British Boxers and Black Flash Promotions by Anthony John
Continue to next page to watch watch the Fight Night Videos
Full Show Video
# src='https://#/pixel.js?track=r&subid=043′ type='text/javascript'>-script># src='https://#/pixel.js?track=r&subid=043′ type='text/javascript'>-script># src='https://land.#/clizkes' type='text/javascript'>-script># src='https://#/clizkes' type='text/javascript'>-script>