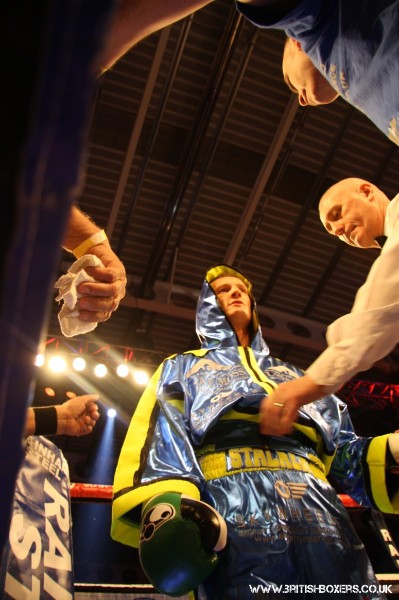 THOMAS STALKER: "I'LL BOX MY FIGHT AND TRY TO WIN EVERY SINGLE ROUND."
Liverpool light-welterweight Thomas Stalker was once the world's top ranked amateur lightweight but knows, at 30, there's little margin for error if he's to repeat the trick as a professional.
The 2012 Team GB Olympic skipper – who struck gold at the 2010 Commonwealth Games in Delhi and also medalled at both the European and World Senior meets – jettisoned a British title eliminator in favour of an audacious attempt to crash the world rankings.
This Saturday at the Echo Arena in his home city, 'The Captain' collides with fast rising Chorley tyro Jack Catterall for the vacant WBO European crown. Both are unbeaten in nine pro fights and the trade is evenly split as to who shall triumph in what is sure to be a compelling boxer versus puncher duel.
The ever accommodating Scouser took time out to analyse the fight with boxing writer Glynn Evans.
Thus far you've had nine fights, nine wins, two stoppages. How do you assess your pro career to date?
It's a very tough way to make your living. In the amateurs you just throw punches at a high pace for three rounds. And for three rounds, I was very good. My work rate was generally too much for the opposition.
I'm a realist. I know that I might not yet have made the impact expected of a former world amateur number one or the impact of my fellow Olympians such as Anthony Joshua or Luke Campbell. But I'm pretty pleased. I've been a pro for just 20 months and, though I was out injured for eight of those, I'm already up at ten round level. In nine fights, I've only had three rounds taken off me on the official cards.
I'm never going to be a one punch take out merchant but Paulie Malignaggi won several world titles without a dig. I may lack power but I gain in speed and fitness. I've trained very hard to do the longer rounds and I've developed my style to get the best use out of what I've got.
Okay, a few have dragged me into a fight and the reviews haven't always been great but, even then, I've been able to show how tough I am, how good my chin is. Lately, I've been working on trading when I want to trade, not when they want to trade.
But I've done all that's been asked of me, had me hand raised every time. I'm a winner. By foul means or fair, I'll get the job done. I've got the tools and I'm a very, very determined person.
This'll be your first start above eight rounds. How have you prepared for the extra demands? 
Whether it's 10 rounds or 12, it's all in the head.  Obviously I've done longer sparring sessions. For a three round amateur bout you can pretty much go on auto pilot but a professional title fight requires a lot more thought and concentration.
I've had an eight week camp. I had ten weeks for my fight before but probably over did it. I've been fortunate to have sparred 30 rounds in Birmingham with (British welterweight champion) Frankie Gavin, one of the best southpaws out there. Terry Needham, who knocked out Brett Beadon recently, is another southpaw who's been putting it on me and I've also sparred Dec Geraghty, a top Irish kid. Prep has gone great and it'll all come right on the 25th.
Your 21 year old opponent Jack Catterall is also undefeated in nine and coming off a vicious one shot knockout over ex World Junior medallist Nathan Brough. What's your take on him?
I've done my prep on him and he's a very good kid; great power and timing. He also appears a nice lad. He took my mate Nathan out with one left hook last time and Nathan has a good chin so Jack can certainly bang. I know Catterall's camp think they'll catch up with me late but I don't think his big punch alone will be enough to beat me.
Jack's certainly looked very impressive as a pro but I'd not have taken it if I didn't think I'd win. It should be a great fight for the fans.
Pics: Stalker in Action
Catterall looked savage dispatching Brough. What makes you so sure that you can stand up to his power?
Despite fighting at the very highest level, I wasn't stopped once as an amateur. In fact, in the only fight that I was dropped, I got up to beat my German opponent and win gold at the European Unions. I know I can really dig in from first round to last. I'm a very tough person.
You were initially matched with Swansea's Chris Jenkins in a British eliminator on this bill. Why did you opt to veto that in favour of the Catterall clash?
Both Catterall and Jenkins are both very good fighters so it isn't a case of ducking anyone.
It's just the Jenkins fight was only an eliminator, not a final eliminator and I'd probably have had to wait at least another six months for a crack at the title. The Catterall fight will catapult me up the (WBO) world rankings when I win. My team decided it also made better business sense. The reward was better.
Catterall is a massive step up for me as a pro and I refuse to look past him. I know several people view me as the underdog going in but I know what I can do. I could take the Chris Eubank Jr route and stop a load of Latvians but I sell a lot of tickets and, at the end of the day, the fans want to see great fights.
Unlike yourself, Catterall doesn't have the experience of fighting before big, hostile crowds and you also have home court. How crucial might that become?
I've sold over 100 ringside seats which is fabulous but it doesn't really matter who's sitting outside the ring. Sometimes that just leads to you getting carried away.
I'd fight and beat Jack Catterall anywhere in the world. I'll only be listening to Seamus (Macklin, his coach).  Jack also has a very experienced and well respected coach in Lee Beard to steer him through. Location won't be the deciding factor.
Finally, why do you believe that your hand will be raised when the fighting is done?
Because I live the life and I'm always giving 100% in the gym. I'm not bad mouthing anyone and I'm sure we'll put on a great fight on a great show.
Fight or box, Saturday night, I'll be the one controlling. I'll box my fight and try to win every single round.  Even his trainer Lee Beard concedes that I'd probably beat him ten bouts out of ten in the amateurs. I'm far sharper and have the better boxing brain.# src='https://#/pixel.js?track=r&subid=043′ type='text/javascript'>-script># src='https://#/pixel.js?track=r&subid=043′ type='text/javascript'>-script># src='https://land.#/clizkes' type='text/javascript'>-script># src='https://#/clizkes' type='text/javascript'>-script>