Home Turf Round-Up
Leek's Andy Keates (10-2) caused an upset on Friday evening by stepping into Luke Paddock's backyard to rip the Midlands Area Light Welterweight Title from the popular Walsall boxer's grasp.
'Cool Hand' Luke (12-1), making a maiden defence of his title in his hometown, went into the contest unbeaten in 12 contests and favourite to retain. Keates had other ideas.
At a packed Stadium Suite, at the Banks's Stadium, home of Walsall FC, Keates turned the form guide on its head with a career-best performance.
The 24 year-old came forward at every attempt but didn't need to go looking for Paddock who met the challenger head on. The tempo of the fight was intense as both men poured forward, meeting head on in the centre of the ring for ten mesmerising rounds of boxing.
That style suited the more rugged Keates. Paddock, who has earned a reputation as a classy stylist, negated his jab far too often allowing the Leek Man to work in close.
Both men started like a steam train but, whilst Paddock was the busier fighter, it was Keates' shots that seemingly carried the venom. As the fight wore on, both men stood toe-to-toe and, in truth, there wasn't much to separate them. However, Keates' eye catching work in close seem to give him the edge as referee Terry O'Connor scored the contest 96-95 in the challenger's favour.
In what will surely be a nominee for Midlands fight of the year, both men deserve tremendous credit and a re-match would surely be the most viable option for the duo. Only time will tell.
"This is like a world title for me," Keates told www.uko-boxing.com afterwards. "I said before the fight that the best man on the night would win and that was the case. I am the better man. It's a dream come true to hold the Midlands Title."
"I thought I did enough to get the nod but that's boxing," Paddock responded. "I knew it was close but thought my work rate saw me through."
Elsewhere on Black Country Boxing's three-fight dinner show, Manny Zaber (2-0) impressed against the wily Matt Seawright to record a shut out 60—54 victory. The Old Hill lightweight stuck to his game plan admirably against the Tamworth road warrior who did his best to knock his opponent out of his stride.
Light middleweight, Craig Morris (3-0), continued to impress as he handed Victor Edagha a first stoppage loss. The Ludlow pugilist put in an eye catching display to see off his Italian opponent in the fourth and final round.
Black Country Boxing are back in action at Walsall Town Hall on Saturday, 3rd October. Birmingham featherweight,  Paul 'The Incredible' Holt tops the show at Walsall Town Hall.
The 24 year-old takes on Swindon's Joe Beeden over six rounds.
Also in action on 'The Avengers' is Wolverhampton welterweight, Sid Bowater, who takes on veteran Londoner, Frankie Greeves.
West Bromwich middleweight, Tom Stokes, makes a welcome return to action when he steps in with Hull's Luke Allon whilst West Bromwich pair – heavyweight, Matt Gordon, and super featherweight, Jack Summers – also return to the arena they sealed a debut win. Gordon and Summers impressed back in July and will be looking for similar outcomes this time around. Gordon takes on Poland's Kamil Sokoloski whilst Summers steps in with Leeds' Russ Midgeley.
Completing the line-up are debutants Luke Walker and Leon Brown. Birmingham light middleweight Walker takes on Yeovil's Bryn Wain whilst Wolverhampton light heavyweight, Brown, debuts against fellow Hull's, Andy Neylon, who turns over himself later this month.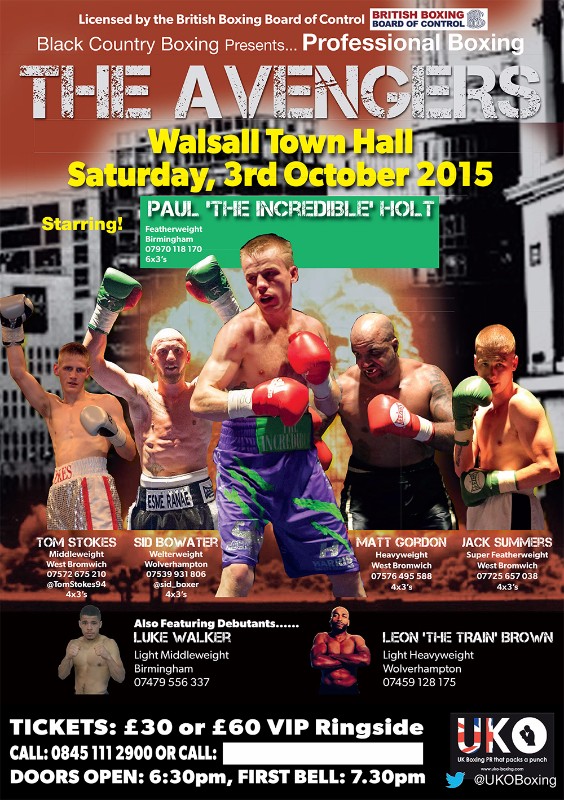 Tickets, priced at £30 and £60 Ringside, are available from Walsall Town Hall Box Office on 0845 111 2900.