Amir Khan believes his skills, speed and power combined, will be the winning recipe for victory when he moves up almost two weight divisions in his attempt to dethrone world WBC middleweight champion Saul 'Canelo' Alvarez in Las Vegas on May 7th and 'shock the world.'
Khan, 29, will face the Mexican super-star at the catchweight limit of 155lbs, in the biggest fight of his career so far, and Khan who has been deep in training in America with his coach Virgil Hunter is in confident mood of causing the upset and bringing the belt back to the UK.
"Training camp has gone really well. It's been tough, working on new strategies and remaining more focused," revealed the Bolton fighter.
"Normally we have to lose a lot of weight, it weakens me. But I'll be focusing on my game plan and my boxing skills.
"It's been tough, obviously, working on these strategies with my trainer Virgil, being more focused, because I know that one little mistake in a fight like this could get me in trouble,
"We're doing everything right. I mean, look, my skills are what's going to win me this fight. I know I'm not going to be stronger than Canelo in any way. I'm not going to be thinking I'm stronger than Canelo, but I'm going to stand with him and fight with him."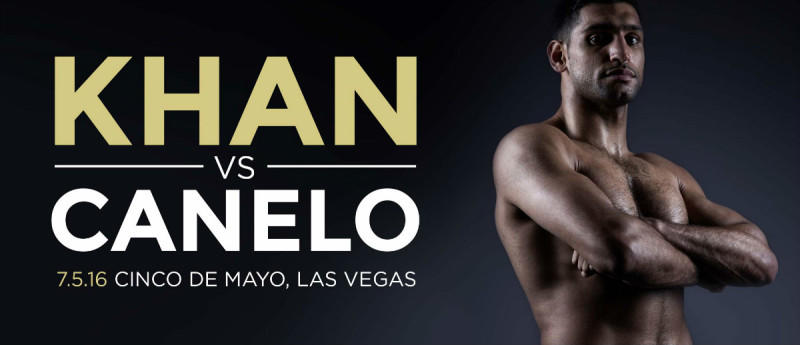 It is a tall order for Khan, but rumours from his training camp are very positive and he is training, performing and looking better than ever. The added weight it seems has not limited his punch speed output and this could be the moment he puts everything together and realises the potential he has of becoming one of the top rated boxers in the world.
"I think my skills in this fight will win me the fight, and I don't know if the speed I have is something that I don't think that Canelo's experienced, speed with combinations and speed with power.
"I would say, I will definitely shock the world come May 7th, otherwise I wouldn't take the fight.
"We know we can expect Canelo to come forward, I've got sparring partners who can prepare me with that kind of pressure," explained Khan.
"I feel stronger, I'm sparring with some very tough guys in the gym. The weight is giving me stability and power."
Khans commitment and never say die attitude and his determination to come back from crushing defeats and learn from them, should not be overlooked. Khan never shy's away from putting himself up there to be shot at and wears his heart on his sleeve in fights. Let's get behind our boy and hope he brings that world title home and joins the other 12 current British world champions currently reigning in this Halcyon period of success for British boxing. Good luck Amir, British boxing is rooting for you and wish you all there very best on May 7th.
Watch the big Khan v Canelo fight live on BoxNation by subscribing to the Channel of Champions here..
Conference Call – Amir Khan Oscar De La Hoya Virgil Hunter on Canelo vs Khan The Winner Will Be The MAN IN BOXING
Canelo Alvarez vs Amir Khan Full Video – COMPLETE NEW YORK Press Conference & Face Off video