So that great fighter, and I mean great fighter, Jake La Motta has passed on. What a fighter Jake was.
History tells us that Jake never got decked yet I remember reading that a former light heavy of the 50's namely Danny Nardilo, did the trick. Danny Nardilo from Tampa, Florida was a world class light heavy.
I had the wondrful honour and privilege of being on the top table with Jake at his last appearance in Britain at a club in Birkenhead. What an honour to be on the top table with Mrs. La Motta, the compere and the great man himself.
Commonwealth lightweight champ Masher Dodd took a photo of myself on the top table and I will always cherish it. (above)
How did I happen to be on the top table? I asked the man who had organised Jake's visit did Jake ever remember Bob Satterfield and Popeye Woods. I was interested in the Satterfield fight as when I was at school I took newspapers out, Boxing News was 6 pence and The Ring mag 1/6D a month that came out of my money. In the Ring mag one month was one big report of Jake's bout with the murderous puncher Bob Satterfield whose nickname was 'Scatterfield' as when his name was mentioned it was as if a plague had struck. However Jake k.o.'d him in 7 rounds.
Well Mr.Spencer asked Jake if he remembered those bouts. The next thing I knew was Mr. Spencer came to me and said 'Tommy, you're on the top table with Jake'. He shook my hand and said that Bob Satterfield could punch. I also received a keepsake off Jake, a stetson signed by him.
Imagine how I felt, here I was sitting on the top table with the man who was the first to defeat my idol and the greatest boxer who ever graced the hempen square, the incomparable Sugar Ray Robinson. Six times they fought, every one was close except the last few rounds of the last one.
They made the film 'The Raging Bull' over Jake but his original nickname was the Bronx Bull. Ok they said he did a deal with the mafia to get a title fight. The deal was to get stopped by Billy 'Black Jack' Fox and then he'd fight Cordani.
I look at it this way, ok to get a chance at the title not only did you need to be number 1 contender but other forces were at work so don't let's judge Jake too hard.
Even the great Sugar Ray Robinson received the run around when he was a welterweight. Boxing is littered with great fighters who never got the chance at the title they deserved.
Jake La Motta was a great fighter, a great world champ whose rivalry with Sugar Ray Robinson helped to make the Sugar Man the daddy of them all.
Jake La Motta and Sugar Ray were two total opposites, if you missed Jake with punches it was as if you insulted him, whereas the pure artistry and moves of Sugar Ray was as if they were patented by him and were his alone.
Just two days before Jake passed away so did a member of the first actual boxing club that I attended, the Relience ABC.
His name was Georgie Parker, George was a nice respectable man. He always talked to me about how Fred Pickering, Fred Tilston, Tommy Barlow, Tommy Dod and Billy Spencer looked after us and helped to mould our personalities.
Though George trained and was an active member. He never actually boxed but they always found a job for George and he looked after the kit and was looked on as a good club member.
I'll be going to George's funeral on 6th October and when I found out Jake had passed on I wondered if George would be waiting for him at the pearly gates to be his kit man.
Yes it was wonderful for Mr. Spencer to put me on the table with Jake La Motta and it was good to have known little Georgie Parker.
Tommy Dix.
P.S. The report of Jake La Motta vs Bob Satterfield was in a ring mag of 1952 – 53 about stand out bouts of the forties.
I WAS RINGSIDE AT THE ECHO ARENA LAST SATURDAY TO WATCH A GREAT NIGHT OF ACTION
As per usual the Matchroom promotion at Liverpool's Echo Arena was a real value for money show.
With Ellesmere Port's Paul Butler winning an eliminator over Stuart Hall to box the winner of Jamie McDonell and Liberio Solis. Jamie, the holder of the WBA Bantamweight Seconday Belt, will face Paul if he gets past Solis.
With the likes of Mexico's Luis Nery, Japan's Yamanaka and Ricky Hatton's boy, the Z Man Zhanat Zhakiyano, not forgetting Carlos Payano, Ryan Burnett and the one who could well be the one to trouble them all, Zolani Tete, the bantamweights is a division of tough playmates not an easy bout for anyone.
Paul boxed well within himself to score a decisive points win on his Matchroom debut.
Rocky Fielding was in fine form and relieved David Brophy of his Commonwealth title. Once Rocky gets a man going he rarely lets them off the hook and Brophy found this out in losing his Commonwealth title in the first round.
Ohara Davies got back to winning ways in scoring numerous knockdowns over Tom Farrell. Tom, who was undefeated, was game as a pebble however I thought the corner or referee should have said enough is enough sooner.
To me the icing on the cake was the Commonwealth lightweight title defence of champion Sean 'Masher' Dodd against Liverpool's ex -Olympian Tom Stalker.
Being Vice President of the Venture Boxing Club, I see Masher pretty regularly however, on Friday 22nd September I was in the gym and remarked to Masher, Sean Trodden and Danny Kelly that I had never seen Masher looking in such great shape and Sean and Danny agreed.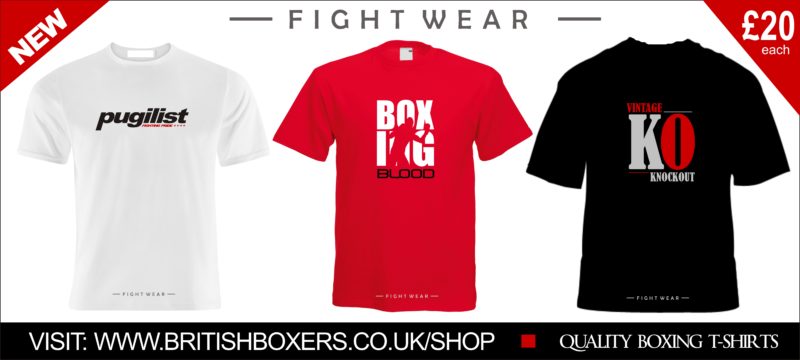 Well years ago when my pal Kenny Willis (the father of prospect Luke Willis) was running a club St. Ally's in Huyton, and Tom Stalker boxed for the club. I helped Kenny for a while though I only met Tom when he was home from the GB squad, so you can tell I was looking forward to this set to.
Tom Stalker put up a great bout, let's take nothing away, firing rapid combinations off his jab, very good movement as you'd expect from such a talented boxer.
However in Masher Dodd he was in with a man who was not to be denied. Masher kept to his game plan of working behind his jab for the full 3 minutes of every round and when Tom threw his combo's he would jump in with his own body punches and uppercuts.
Slowly but surely Masher's tactics, the game plan of his trainers was paying off in this intriguing bout.
This bout never lost its momentum with Stalker's classy skills being met by Masher's workrate.
It was Sean Dodd who was gaining the upper hand to run out a clear winner though Stalker fought a great fight, in the end it was Sean 'Masher' Dodd who was the victor in a bout that will live in the memory of all who witnessed it.
Results from Liverpool
2017-09-30, Echo Arena, Liverpool
Sean Dodd
W
UD
12/12
Thomas Stalker
Rocky Fielding
W
TCO
1/12
David Brophy
Anthony Fowler
W
TCO
4/6
Jay Byrne
Natasha Jonas
W
TCO
4/4
Bojana Libiszewska
Tom Farrell
L
TCO
6/10
Ohara Davies
Paul Butler
W
UD
12/12
Stuart Hall
Craig Glover
W
TCO
1/4
Ferenc Zsalek
Dereck Chisora
W
TCO
5/6
Robert Filipovic
Scott Fitzgerald
W
TCO
5/8
Bradley Pryce
Prior to Saturday's show I had a call from my London pal Jesse Keogh and being an ex boxer he asked me over to the bout, I told Jesse that I had never seen Masher in such shape and so relaxed and he'd take some beating.
The more I look around the more confident I am about the boys whose families came to me for advice over clubs for their boys.
The boys at Collyhurst are doing ok and so are the boys at Liverpool's Golden Gloves and the Venture.
Collyhurst ABC, Venture ABC, Golden Gloves and Ancoats ABC have a wonderful coaching system and when the pro game beckons they have to look no further and that means alot.
The Liverpool Golden Gloves hold their first show of the year on Friday 5th October at Liverpool's Fusion Nightclub, it should be a great night.
Until next time, Good luck, God bless,
Tommy Dix.