"I think Maree Boxing will be that next brand that is on the scene and kicks on to become a big player. We are not playing games, we are in this and we are doing things properly."
Having built an accomplished CV in the sport of boxing, working with some of the UK's most decorated fighters, Kevin Maree is more than content thriving in the background away from the limelight. 
Now taking the role of matchmaker, promoter and manager to over 40 fighters, Maree has developed an understanding of the fight-game from almost every perspective possible.
"My talking should be done behind the scenes, not in front of the cameras and I have always been that way", he told BBTV as he sat down for a rare interview.
Looking back on where he started, he revealed: "We had boxing in the family so I was always drawn to it. I went down to my local amateur club and absolutely fell in love with my coach Burt Myers, who sadly passed away last Saturday (9th May). He was such a role model and such an influence on my life and boxing career.
"I think I always knew, even when I was a young kid that I would probably end up in the sport as a trainer or a manager – I was always the one that was vocal on the nights if something was wrong, I was the one that would make a scene if the boxers were getting the pie and peas, whilst the officials were getting three-course meals.
"It's a side to me that I always had as an organiser – making sure everyone has their gumshield and their boots. So going into the management and training side of things is something I always think I was destined to do."
Now once again fully focused on the sport he loves, Maree underlined that he can do what he described as 'the proper role of a boxing manager'. Placing an enhanced focus on his fighters, 'watching them spar, sitting with them, talking to them telling them the plan, who they will be fighting and why they will be fighting them'.
That unity and collaboration between fighters and managers is something Maree stated he felt was missing from the sport.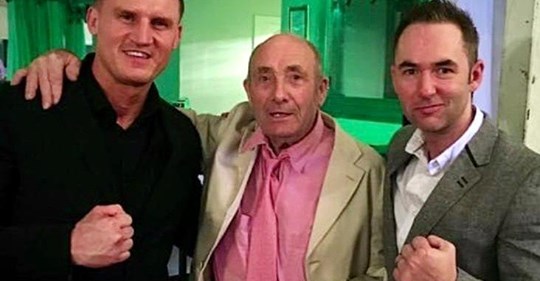 Expressing optimism and anticipation about the future, he added: "The way we were headed and the momentum we were building, I know it's an outlandish statement but I think we will probably be the next people to challenge somebody like MTK, who are doing such great things at the moment.
"I think Maree Boxing will be that next brand that is on the scene and kicks on to become a big player. We are not playing games, we are in this and we are doing things properly."
A fighter that will be at the heart of the planned surge, is middleweight powerhouse Mark Heffron, someone Maree clearly holds a deep sentiment for.
"When I partnered with Mark, the amount of people that told me it would end in tears because of the way Mark was at that moment – he didn't have a British boxing license and he was getting in trouble.
"Mark has turned out to be a smashing lad, he has his own house, a fantastic partner, lovely kid, he has not been in trouble, he loves his daughter and he is the perfect dad. To see him now as the man he is, genuinely gives me as much excitement as his boxing."
The experience Maree has gained throughout his tenure in the sport is something that transcends his approach as a manager, as not only does he bring with him a deeper understanding of fighters, but also a heightened appreciation for trainers.
Affirming this, he emphasised: "The setup is skewed in my opinion, I've been on the other side of it as a trainer and the trainer is with the boxer 24/7. The trainer gets 10% and the manager gets 25%, morally I can't do that so I change the percentages and say to the boxers that it's not for me to tell them to do it, but this is what I'm taking which leaves you a surplus amount, in my opinion I think you should give some to the trainer."
Maree went onto admit the urge to train fighters again is always there and has heightened during the current lockdown, however, he deemed it would hinder the unwavering support he can offer as a manager.
"If I am going to do this and do it right I have to have the platform to get my lads on out, I can't be going cap in hand to somebody else to get my lads on, I need to have the platform for them.
"In terms of the matchmaking, no disrespect to anybody but I am a bit of a control freak. I know my boys better than anyone, so surely I should be matchmaking them and be fully in control of their careers.
"It keeps me on the pulse, I can tell you about every single lad coming through, every prospect, every journeyman, so if I need something for one of my guys, I know where to get it. The matchmaking was a natural evolution to be able to cover every facet I think is needed."
He concluded: "I think we have the product to take a lad, whether they're at the top end and want the connections with the TV promoters, or whether they're a prospect they can see I can bring them through, or if they're a journeyman because we have a few journeymen in the stable, they will stay busy as I am matchmaking the shows, so they will have first dibs.
"I cover every facet for anyone that wants proper boxing management.
"As soon as we are out of lockdown, we are going to be doing shows. At this moment in time, It's going to be behind closed doors and we are going to put five fights on, every one of them has to be 50/50 and that's just how it is."
From Manchester's Michael Gomez to Scotland's Kenny Anderson, Maree has played a key role nurturing the careers of some of British boxing's most colourful and talented characters. It means that when the sport does resume after the lockdown, the myriad of fighters that make up the Maree boxing stable will be armed with ample guidance as they seek to fulfil their potential.
Watch our full video interview with Kevin below.
Contact Maree Boxing: https://www.facebook.com/mareeboxing/