After an entrance that would make Deontay Wilder stand to attention, Nigel Benn entered the ring in front of his former British Army regiment to face against Michael Watson. Benn had built a reputation as one of the most dangerous men at middleweight. He was a clear favourite against Watson having annihilated all 22 of his former opponents by way of knockout.

Benn, ever the aggressor, came out clubbing. He bobbed and weaved towards his man lunging as he moved, much like Joe Frazier. He was throwing bolo punches to the body and wild hooks upstairs. Watson maintained a very tight defence, having some success on the counter.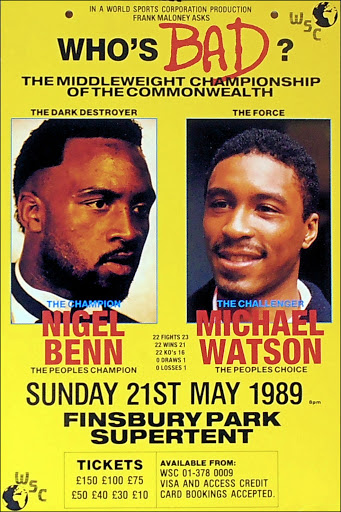 Round 3 is introduced with stiff jabs from a more engaging Watson. His shell defence provides an almost-perfect cover to counter punch from, but Benn's relentlessness ensures some wild hooks find their home.

Round 4 and Benn looks dangerous as he clips Watson with a left hook clean. Watson again covers up high. Watson intelligently shoulder barges him off at close engagement and lands concussive blows that rattle The destroyer. Benn looks hurt but comes back strong at the end of the round.

Round 5 and what a war! The two men engage in grinding in-fighting as they vie for centre ring. Watson has abandoned his shell defence whilst Benn continues to bob and weave at the waist. The jab slows the rolling Benn as Watson zeros in with several straight punches that ragdolls Benn. As Benn looks finished on the ropes, he answers back with a tremendous uppercut that turns the tables. He launches head seeking missiles at Watson as he comes forward again. Watson reverts to his tight defence and lands a clean counter right that wilts Benn heavily late in the round.

Round 6 and Benn's clubbing hooks are being deflected easily by Watson. Watson damages Benn with a sneaky looping punch that had The Destroyer backing away and flinching. Bizarrely the ref put a halt to the action briefly as Benn completely turns his back on Watson. As the action restarts, Benn now looks completely bedraggled. Flailing desperate hooks inside, Benn is literally flattened by a surgically precise jab. He does not recover and is counted out.

What a war!

Benn would go on to have the more outstanding career despite this loss and faced Gerald McCellan ("Mini Mike Tyson") in a fantastic fight which unfortunately ended with a traumatic brain Injury for McCellan.
In tragically ironic circumstances, Benn's great rival and mutual opponent of Michael Watson- Chris Eubank, would go on to do the same thing to Watson, which lead to similar extensive brain damage.
An omnipresent threat to fighters are the other fighters and the teams around them; which is a very sad aspect of the sport of Boxing. Utmost respect should go to any professional boxer who quite literally risk their lives to get an income and to entertain us.
SUBSCRIBE TO BBTV
ROMFORD BULL JONNY FISHER - "JOE JOYCE HAS BEEN UNDERRATED" (BBTV CLIPS)
BOXERS DISCUSS - EUBANK JR V CONNOR BENN! NOW IT HAS BEEN OFFICIALLY CONFIRMED
KAISEE BENJAMIN MANDATORY FOR DALTON SMITH'S BRITISH TITLE "LETS DO THIS, END OF THE YEAR"
BORN RIVALS! EUBANK JR V BENN IS ON! - BREAKDOWN WITH KERRY KAYES
TYSON FURY ANNOUNCES NEW TRAINER? MESSAGE TO HIS FANS
SHAKAN PITTERS WARNS DAN AZEEZ "IM NOT AFRAID TO MIX IT UP!" AHEAD OF BRITISH TITLE CLASH
PROSPECT WATCH: ETHAN BROWN (1-0) LIVERPOOL "BOXING IN THE BLOOD!"
LEON WILLINGS REFLECTS ON SHOCK FIRST DEFEAT AFTER LATE DRASTIC WEIGHT CUT ON SAME DAY WEIGH IN
PROSPECT WATCH: SEAN ARKWRIGHT (3-0) LIVERPOOL. "I'M LOOKING FORWARD TO BEING IN BIG 50/50 FIGHTS!"
28 ROUNDS WITH JAZZA AND 2 BLACK EYES! JOHN EDO (3-0) ON HIS OWN JOURNEY INTO THE PRO RANKS
NATHAN BENNETT: "I DON'T WANT EASY FIGHTS!" NEXT BIG TITLE CHANCE FOR LIVERPOOL BOXER IN THE WORKS!
EDDIE HEARN: "LETS HOPE EUBANK JR TAKES THE CHALLENGE" SMITH V O'MAISON FIGHT WEEK IN SHEFFIELD
'ROMFORD BULL' JOHNNY FISHER "IT'S A STEP UP HE'LL BRING THE HEAT!" *RUGBY INITIATIONS! *JOE JOYCE!
SAM O'MAISON: "YOU CAN'T RUN AWAY FROM TRUTH AND TRUTH WILL SHOW ON SATURDAY NIGHT!" VS DALTON SMITH
KIERON CONWAY: "I'M HERE TO DO A JOB!" FIGHTS IN SHEFFIELD ON SATURDAY BEFORE LAS VEGAS TITLE CHANCE
POPULAR MANSFIELD PROSPECT NICO LEIVARS ON HIS 3RD PRO FIGHT IN SHEFFIELD ON SATURDAY NIGHT
BREE WRIGHT "FOLLOW THE JOURNEY, YOU'LL BE SURPRISED HOW FAR WE CAN GO!" CONFIRMS NEXT FIGHT
SUNNY EDWARDS "MARTINEZ FIGHT IMMINENT!" GYM MATE DALTON SMITH'S BIG NIGHT, REFLECTS ON THAT SPAR!
UNBEATEN JORDAN THOMPSON PROMISES AN "ARTISTICALLY VIOLENT PERFORMANCE" IN SHEFFIELD ON SATURDAY
DALTON SMITH LIVING THE DREAM! TALKS SHEFFIELD DERBY FIGHT FOR BRITISH TITLE AGAINST SAM O'MAISON
PROSPECT WATCH: BIG HITTER SCOTT FORREST (2 WINS, 2KOS) "I WILL BE WORLD CHAMPION!"
TOLD HE'D NEVER BOX AGAIN AND COULD LOSE A LUNG! BUT UNBEATEN (7-0) THOMAS WHITTAKER HART IS BACK!
"COME ON FIGHT ME, ANYONE OUT THERE FIGHT ME!" CHAMP IN 5 FIGHTS MATT MCCALLUM AND COACH MATTY JOBES
EUBANK JR VS BENN A GOOD MATCHUP? | THE WELTERWEIGHTS | USYK-JOSHUA 2 | BOXING TRADE SHOW PODCAST
JAMES 'BUDDY' MCGIRT: 2 TIME WORLD CHAMP ON BEING A TRAINER & WORKING WITH CALLUM SMITH IN LIVERPOOL
PAUL SMITH SIGNS NEW HEAVYWEIGHT PROSPECT RICKY GORMAN, PREVIEWS BROS CALLUM AND LIAM'S NEXT FIGHTS
CALLUM SMITH ON THE QUEST TO BE A 2 WEIGHT WORLD CHAMPION, NEXT FIGHT IN SAUDI AND 10YRS AS A PRO
ROMAN FURY REVEALS PRO-DEBUT DATE, 6ST WEIGHT LOSS AND JOINING HIS FIGHTING FAMILY IN BOXING
"LEARNING EVERYDAY!" RICKY GORMAN AT THE ROTUNDA BOXING CLUB LIVERPOOL WITH MANAGER PAUL SMITH JR
PRO DEBUT ON USYK-JOSHUA 2 UNDERCARD FOR BUDDY MCGIRT TRAINED SAUDI BORN BOXER 'ZIZO' ALMAAYOUF