Scotland's Josh Taylor returns to Glasgow's SSE Hydro Arena for the first time since 2019 against WBO mandatory challenger Jack Catterall this Saturday. 'The Tartan Tornado' will be the first British fighter to defend an undisputed championship on home soil in the sport's long history, hoping to re-emerge with his titles upon the sounding of the final bell before looking towards potential monster clashes with the likes of Teofimo Lopez and Terence Crawford respectively. England's Catterall looks to tear up the script however, having bided his time for a shot at world honours, stepping aside last year to allow the undisputed clash between Taylor and Jose Ramirez to take place in Las Vegas.
The bout was scheduled to take place in December of last year before the Scotsman suffered an injury to his knee while in camp.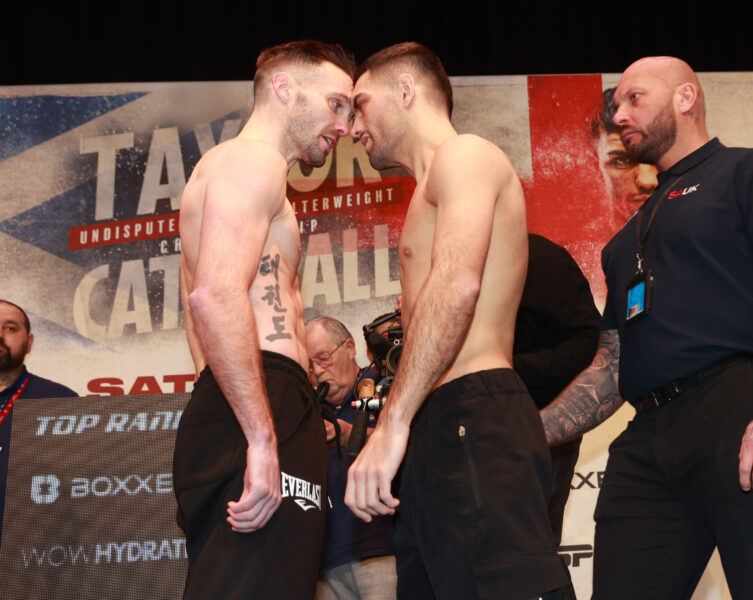 UNDERCARD:
Three debutants feature on Saturday's card in Glasgow, including Northern Irish featherweight Kurt Walker, who will meet Czech Republic's Jaroslav Hriadel (1-2-0) respectively. In the super-welterweight division, Ireland's Kieran Molloy enters a professional ring for the first time against Spaniard Damian Esquisabel (4-7-0). Up at cruiserweight, Edinburgh's Scott Forrest faces Georgian-born Erik Nazaryan (28-25-4). Bellshill featherweight Mark McKeown (5-0-0) seeks his sixth win as a professional, two of which came by knockout, against Hungarian Laszlo Szoke (2-7-0) as his professional career continues to develop.
Just one week following his runout third-round stoppage of Kristaps Zulgis in Turnberry, Inverness' John Docherty (11-1-0) is out again at 168lbs against Jordan Grant (4-1-0). Saturday will mark Docherty's third fight since his only career loss to Jack Cullen back in November of 2020, the former GB man seeking to regain momentum as a pro as he looks towards securing a shot at a title in the near future.
Another Irishman features on Saturday night, with welterweight Paddy Donovan (7-0-0) running out for the eighth time as a professional. Donovan has won five of his seven victories so far inside the distance and will hope to break down Czech Republic's Miroslav Serban (13-8-0) in similar fashion on Saturday. Only two of Serban's defeats have come by way of stoppage however, and so Donovan will have to be patient in order to put his man away. Serban lost on points to popular Albanian Florian Marku back in 2019.
Portsmouth's featherweight prospect Ebonie Jones (1-0-0) walks out for the second time as a pro, impressing in her debut back in October where she won a comfortable decision on points against a live opponent in Vaida Masiokaite. Eftychia Kathopouli (4-3-0) will be the opponent this time around, and Jones will be looking for another dominant performance as she seeks success as a professional. Extra emphasis is often placed on young female fighters to be fast-tracked due to the lack of depth in the female code, and the divisions in and around 125lbs are currently thriving with the success of the likes of Mikaela Mayer, Alycia Baumgardner and Terri Harper.
Also making his second appearance is highly decorated amateur Bilal Fawaz (1-0-0), who kicked his pro career in style with a third-round technical knockout of Vladimir Fleischhauer at York Hall earlier in the month. Fawaz enjoyed success as an ABA champion in the amateurs and looked equally impressive on his debut in a division that is crammed with domestic talent. Fawaz will no doubt be looking to add his name to the list of contenders at 154lbs but will need to progress quickly given his relatively late start as a pro at the age of thirty-three. Malam Varela (1-1-0) of Manchester will be the opponent of over four rounds.
In the chief support in Glasgow, the vacant Scottish Area Heavyweight title will be contested for by the undefeated prospect Nick Campbell (4-0-0) and Jay McFarlane (12-5-0). Both share a common opponent in Phil Williams, both sharing a ring with the Swindon man in their last fights, with Campbell winning via stoppage in the third round, while McFarlane ran out a winner on points over four. Though McFarlane's record is nowhere near as glamorous as the unbeaten Campbell upon first inspection, the latter has not had a real stern test yet early on in his career, and it will be intriguing to see if this comes in the form of McFarlane on Saturday night.
THE MAIN EVENT:
Saturday's main event between Scotland's undisputed super-lightweight champion Josh Taylor (18-0-0) and his WBO mandatory challenger Jack Catterall (26-0-0) of England. Originally slated to take place on the 18th of December 2021, the bout was pushed back to this weekend due to an injury Taylor sustained to his knee during training.
The fight will mark Taylor's first fight on Scottish soil since his unanimous decision win over Ivan Baranchyk in 2019 where he was first crowned world champion, picking up the IBF title at 140lbs. Catterall's first shot at world honours meanwhile will come on Saturday, making the decision to step aside last year to allow Taylor to fight for and eventually claim the undisputed crown in Las Vegas against the then undefeated Jose Ramirez. Taylor won a close decision on points, knocking the Californian down twice over the twelve rounds.
The build-up between Taylor and Catterall had been tense yet overall respectful heading into fight week, both demonstrating confidence as the main event moves closer. The two filmed a 'Gloves are Off' episode with Sky Sports, with usual soundbites exchanged between the pair before a respectful handshake at the conclusion. Taylor then approached his adversary away from the table as the two removed audio gear required for the filming, saying 'if you're going to try and outbox me (as Catterall had at one point indicated during the sit-down) then it'll be an easy night'.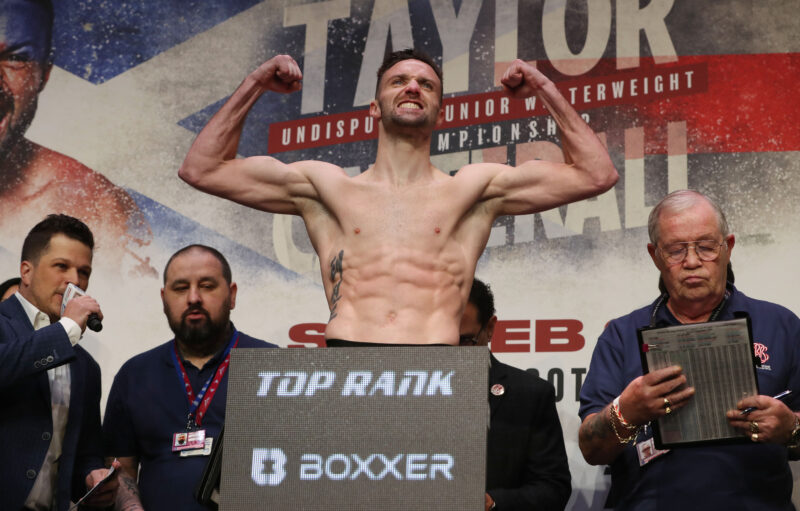 Tempers did flare between the two at the weigh-in on Friday with the two engaging in a head-to-head shot during their final meeting before the sounding of the opening bell the following night. Both Taylor and Catterall flew towards each other, foreheads meeting with both pairs of eyes wide, the Englishman momentarily grabbing or pushing at the neck of the champion who returned with a swipe of his own left hand, security eventually separating the pair.
One interesting point of contention was the condition of the champion Taylor, who looked gaunt on the scales, his face thin, a strong indicator that making the 140lb limit is becoming more and more difficult with each passing fight. He has been strongly linked with a mega dust-up with fellow pound-for-pound king Terence Crawford up at welterweight, a huge fight between two of the best fighters in the sport. Regardless of the opponent anyhow, one can assume that a move to 147lbs would be a wise decision given Taylor's huge size for a super-lightweight.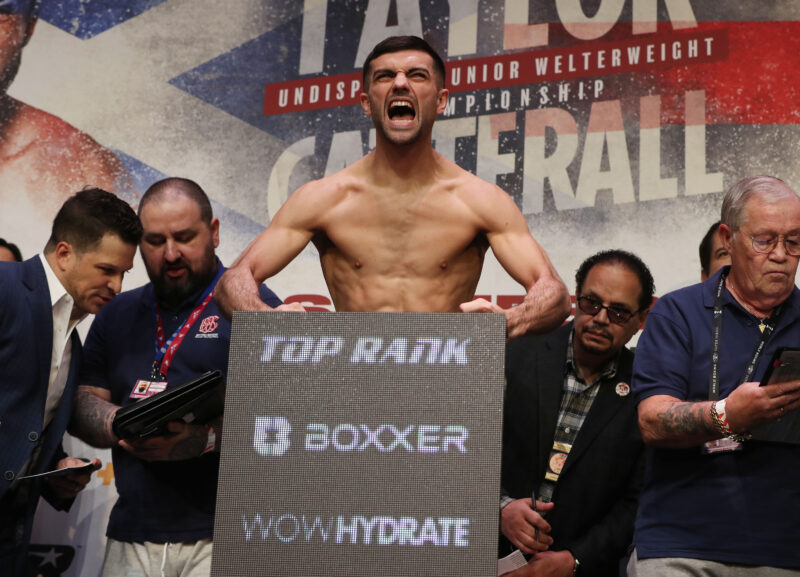 All discussions regarding this are however irrelevant with the shadow of Jack Catterall still looming over the Scottish capital, looking to score what would surely be an early contender for upset of the year if he was to leave the SSE Arena with the undisputed title attached to his name. No doubt he will have taken some solace upon seeing the condition of Taylor at the weigh-in as he looks to upset the applecart and write his own name among the superstars of the sport.