Russia's David Avanesyan (28-3-1) defends his EBU European welterweight title this Saturday night at the Wembley Arena, live on BT Sport. Oskari Metz (15-0-0) of Finland is the challenger, a man 'Ava' is expected to dispose of fairly comfortably as he continues his search for a big 147lb clash at world level.
Last time out, Avanesyan stopped Middleton's Liam Taylor inside two rounds in October, his first fight since handing Rio 2016 Olympian Josh Kelly the first professional defeat of his career last February inside six. Since then, the Russian has put pen to paper with Frank Warren's Queensberry Promotions as he continues to chase the big names at welterweight. Asides from Kelly and Taylor, Avanesyan also brags the scalps of Kerman Lejarraga, who has since became European champion at the weight above and whom he defeated twice in 2019, as well as an albeit ageing Shane Mosley in 2016. Avanesyan has however since struggled to grab the big fights, posing a high risk with low reward, and has long been linked with Britain's up and coming star Conor Benn, but no fight between the pair has materialised. Metz is not expected to put up much of a test this weekend, though he does brag an undefeated record for what that's worth, and providing he does secure victory, Avanesyan will unfortunately likely have to adopt the old-fashioned rout of forcing a shot at world level if he is to soar the levels of success those around him believe he is capable of.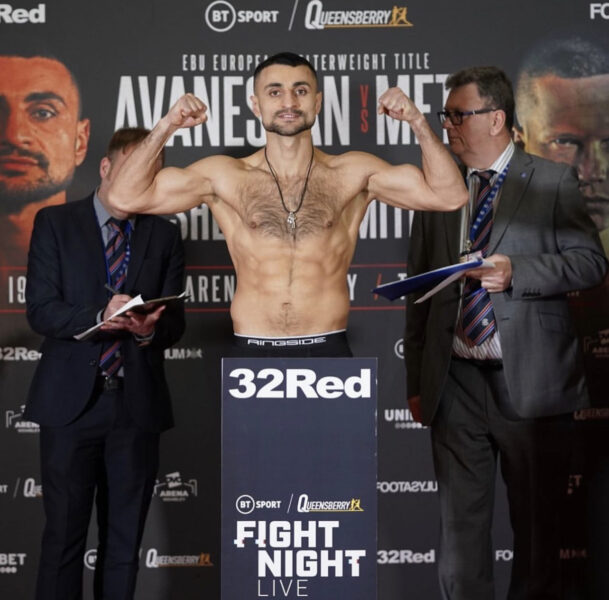 The undercard sees the first fight at middleweight for Hamzah Sheeraz (14-0-0) over ten rounds against Middlesex's Jez Smith (13-4-1). Sheeraz controversially stopped Bradley Skeete inside nine rounds last time out, appearing to land several blows while the fallen Skeete was already on the canvas, before forcing the stoppage in the next round. Hamzah has since took the decision to move up to 160lbs and will I'm sure look to move on from the controversy of the Skeete fight as he continues to develop as a pro. Smith meanwhile was more than competitive in a domestic fight of the year contender last year against Brad Rea and will look to further expose potential flaws in Sheeraz's skillset seen in the Skeete fight last time out as he looks for a big win of his own.
Lightweight Mark Chamberlain (9-0-0) continues his growth in the professional code over ten rounds against Jeff Ofori(11-3-1), the latter having gone the full ten rounds with Archie Sharp down at super-featherweight in 2020. Sticking with the 135lb division, Sam Noakes (8-0-0) is also scheduled for ten against Italy's Vincenzo Finiello (15-4-2). Bantamweight sensation Dennis McCann (11-0-0) features with an eight-round contest against Charles Tondo (12-4-2) as he gears towards domestic titles in the near future. Featherweight Louie Lynn (10-0-0) steps up against James Beech Jr (14-2-0) over ten rounds, marking an increase in quality for Lynn against a man who has previously fought for the British and Commonwealth titles down at super-bantamweight, losing over twelve to Brad Foster in July, 2020.
Super-lightweight Henry Turner (6-0-0) runs out for the seventh time as a pro against Ivan Njegac (13-22-0) over six rounds, while super-feather Masood Abdulah (3-0-0) is scheduled to go the same distance versus Sandeep Singh Bhatti (6-2-0). Sonny Ali (2-0-0) features against Lee Glover(11-8-0) at 140lbs, as does Khalid Ali (1-0-0) at 147lbs. Super-featherweight Royston Barney-Smith makes his professional debut.