Richard Riakporhe continued his assent towards world level with a second-round stoppage of Fabio Turchi at Wembley Arena on Saturday night.
In a fight which was being dubbed a step-up for the thirty-two-year-old Riakporhe, the Brit drew a hellacious bodyshop to the ribcage of the Italian which left Turchi curled in a ball in the centre of the ring. Turchi just about made the count before his cornerman ran into the ring to prevent the fight from continuing, a merciful decision to prevent the inevitable onslaught coming his way.
The first session saw a positive start from the Italian Turchi, who remained compact as he closed the ring off, looking to break the bigger man in Riakporhe down. Turchi landed a solid right-hand over the top towards the end of the round, a shot which at the time seemed to indicate that a difficult night might be ahead for 'The Midnight Train'. Riakporhe had other ideas however, who fired a straight right upstairs towards Turchi who reacted by raising his arms to block the incoming shot, leaving room downstairs for Riakporhe to fire a nasty left hook to the Italian's ribs. As is usually the case with shots to the body, there seemed to be a delay in Turchi registering the shot and the damage it had caused before he dropped to the floor in agony. Credit to his corner team for stopping the fight when they did, with it inevitable that a heavy-handed Riakporhe would rain fire on a wounded Turchi who dropped to his knees again once the fight was waved off, clearly still in pain from the blow.
The impressive form of Riakporhe continues with his third stoppage in a row having previously disposed of Deion Jumah and Olenrewaju Durodola in the last seven months.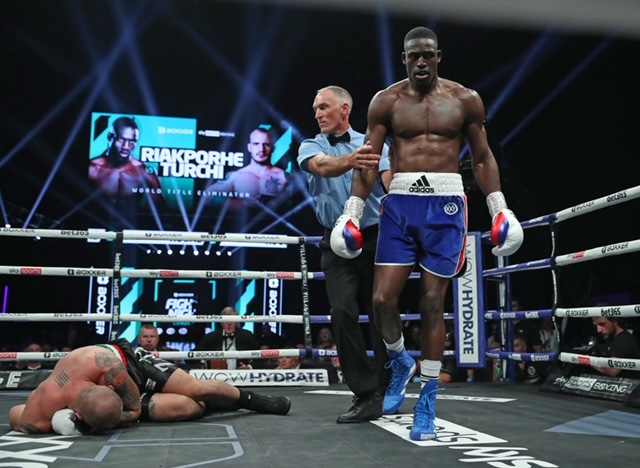 The chief support saw a successful professional debut for Tokyo 2020 middleweight gold medallist Lauren Price at 147lbs. Price, from Wales, comfortably outpointed Valgerdur Gudstensdottir of Iceland over six two-minute rounds, displaying superb hand speed and shot selection throughout. The twentyg-seven-year-old Price, who previously excelled in football and kickboxing also, opted to remain in Sheffield training at the GB set-up and had Rob McCracken in her corner on Saturday night.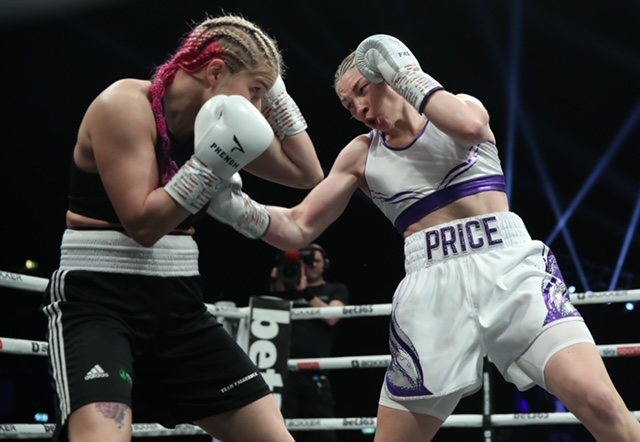 Zak Chelli also emerged victorious after ten rounds of action to claim Germaine Brown's super-middleweight English title. Brown started well in the early rounds with Chelli appearing disjointed and lacking rhythm, but the twenty-four-year-old from Fulham grew into the bout and enjoyed lots of success with the right-hand as the contest drew on. Chelli's new record stands at 12-1-1, while Brown was handed his first professional defeat to move to 12-1-0 respectively. Welterweight contender Chris Kongo secured the win of his career so far against Germany's Sebastian Formella after ten competitive rounds in Wembley. The judges found Kongo a comfortable 98-92, 97-94 and 97-93 winner, but the scores did not tell the full story as Formella more than played his part throughout, providing Kongo with valuable rounds as he continues his professional development towards European level. Cruiserweight prospect Viddal Riley also impressed with a sensational first-round knockout of Jone Volau with a superbly-timed left-hand.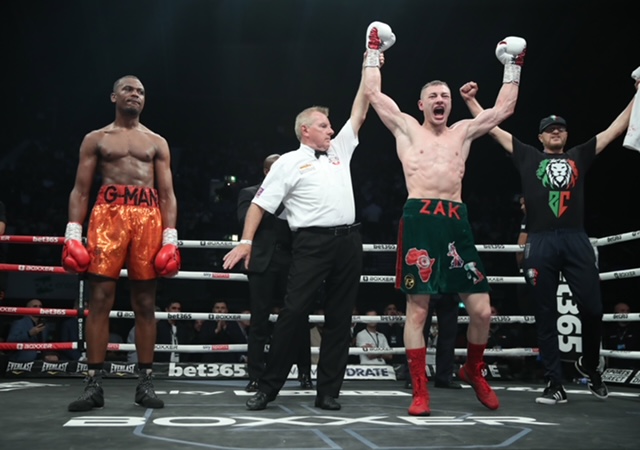 The Sky Sports Boxing's Youtube channel also broadcast four contests at the beginning of the night, including super-flyweight Shannon Ryan's second professional outing which saw her win all four rounds against Gemma Ruegg. Portsmouth featherweight Ebonie Jones also returned following a draw in her second pro contest, this time emerging a winner with a brilliant six-round points victory over a tough and brave Bec Connolly. Heavyweight Jamie Tshikeva also impressed with a first-round knockout of Jake Darnell, while super-featherweight Jimmy Lee scored his first stoppage with a third-round knockout of Ricky Starkey.