Sheffield has a new British super-lightweight champion following Dalton Smith's sixth-round stoppage of Sam O'Maison in a raucous steel city derby.
Smith entered the contest as a big favourite on Saturday night at the Utilita Arena in Sheffield and the twenty-five-year-old showed why in a career-best performance so far. A tentative first round saw an increase in tempo in the second with the straight right of Smith starting to come into play. O'Maison then found himself down heavy in the third with a sharp one-two culminating with a razor sharp right-hand and he did well to survive the round with over half of the session still to go. The knockdown only encouraged Smith further however and his dominance was more and more clear the longer the contest drew on.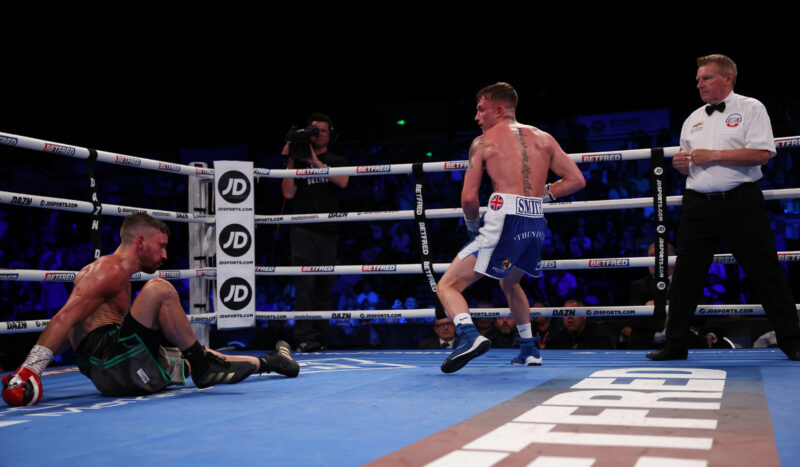 A commanding fifth round which saw multiple right-hands land flush on O'Maison's chin was a sign for what was to come minutes later, where Smith would fully assert his authority and put O'Maison away in predatory fashion. The round started with yet another sharp one-two from Smith in the opening seconds, before a pawing jab distracted O'Maison for a split-second, allowing another arrow-like right to catch O'Maison's chin flush. The thirty-one-year-old was down again and the writing looked to be on the wall with little over twenty seconds remaining by the time he re-climbed to his feet. O'Maison was brave and tried his luck with a desperate right-hook that was miles away from meeting its target, before a final bludgeoning right from Smith planted him down again, with referee Marcus McDonnell having seen enough and waving the fight off.
Smith is now the British super-lightweight champion inside twelve professional outings, ten of which have ended inside the distance, and the Sheffield man looks destined for world titles on his current trajectory after another punishing display on Saturday night.
Sandy Ryan avenged her first professional defeat to Erica Farias in March with a confident ten-round performance over the Argentinian in their rematch on Saturday. The Derby fighter looked rejuvenated and assured throughout, demonstrating much sharper footwork on the night as she swiftly moved in and out of range. Unlike in Nottingham, Ryan focused on her use with the jab coupled with superb lateral movement to limit the success of Farias, who despite enjoying moments of success, found the majority of her winging right-hands sailing through the air to no avail. The former Team GB fighter Ryan refused to engage and fight the Argentinian's fight, instead choosing to pick her off from a distance with a pin-point, ramrod jab, and the body language of the Brit suggested she enjoyed the contest much more than she did five months ago on the back of a more comfortable camp this time around. There can be no doubting that many important lessons will have been learnt in the last six months which will aid Ryan in fulfilling the world-class potential she clearly possesses.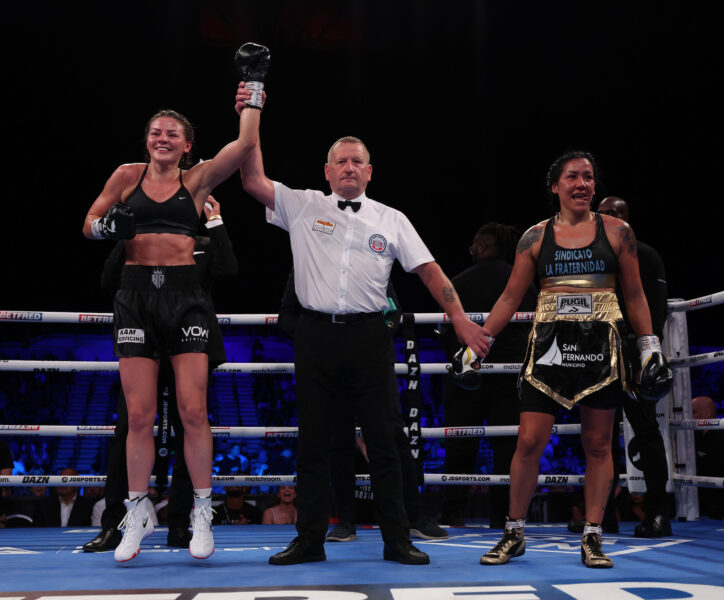 Cruiserweight Jordan Thompson picked up the win of his career so far, surviving a late scare against a resilient Visal Ducar to run out a wide winner over ten rounds. Fans saw a different side to the Manchester man from the off as the twenty-nine-year-old displayed a calmer, patient approach, cautious not to over-exert himself and empty the tank early on. Ducar was typically rugged and aggressive as he looked to close Thompson down but often found himself on the end of a stabbing jab as the Brit moved well off the back foot. Thompson dug his heels in as the fight drew on as he looked to push Ducar back, and seemed to be cruising to a comfortable decision on points until a brief moment of complacency allowed the Czech to land two rights flush to the Manchester man's temple. With fifteen seconds remaining, Thompson was visually wobbled and several Ducar hooks bundled the Brit to the ground in the final seconds. To the relief of those ringside, Thompson just about made the ten-count to survive the affair and emerge victorious, but the importance of remaining focused until the very end will no doubt have been reiterated in those final seconds.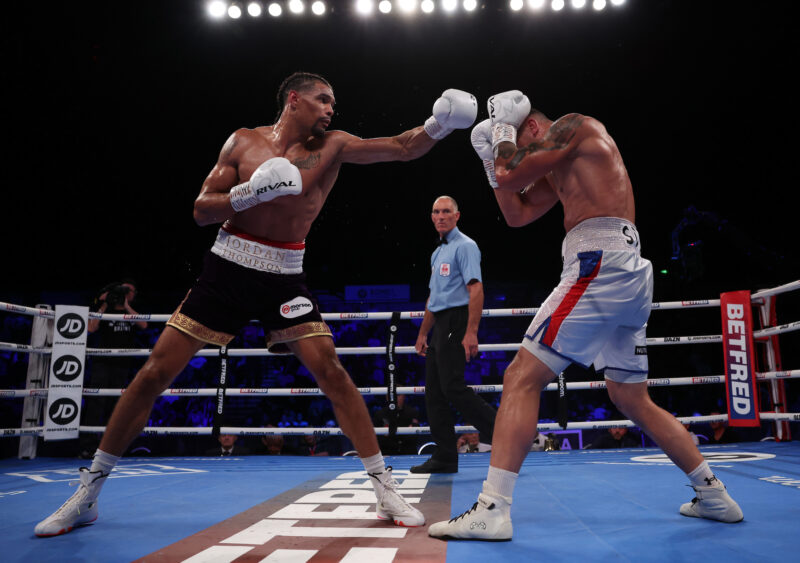 Further down the card, popular heavyweight Johnny Fisher secured a second-round knockout of Michal Reissinger to move to 6-0-0 as a professional. A right-hook wobbled the Czech inside the dying seconds of the first, and a chopping right left Reissinger flat on his back just twenty-five seconds into the second, forcing referee Steve Gray to wave the bout off. Campbell Hatton picked up all six rounds on the way to defeating Michal Dufek in their lightweight bout, and Hopey Price was equally as dominant, running out a comfortable winner against Alexander Meija over eight rounds. Kieron Conway also ran out to stop Gregory Trenel inside five rounds in preparation for his big clash with Austin 'Ammo' Williams in Las Vegas next month.
Aqib Fiaz comfortably outpointed Jordan Ellison at 130-pounds, and Junaid Bostan stopped Jose Clavero in the final round of their six-round middleweight contest. Nico Leivars was unfortunate versus Angel Chavez due to the latter suffering a cut in the second-round, the cause of which being an accidental head clash. The ringside doctor advised the fight be stopped, and due to a lack of rounds being completed the fight was announced a technical draw.