This Weekend was busy for British boxing fans, Friday saw the young rising star Dennis McCann suffer a majority draw against Ionut Baluta due to an accidental clash of heads. While on TNT Sports and on Saturday night amateur star Galal Yafai extended his unbeaten pro record by impressively stopping Tommy Frank in the first stanza of a ten rounder.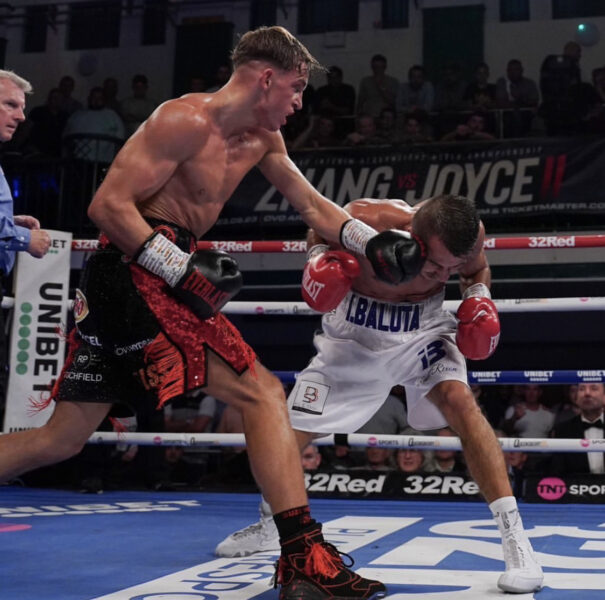 Draw McCann vs Baluta – What a fight! @queensburypromotions
But more was going on than most boxing fans realised, a new way of doing things or rather two new ways of doing things were on display with experimental boxing formats presented to us by both Overtime Boxing and Team Combat League in the USA.
For as long as any of us can remember people have been trying to dominate the boxing landscape be it promoters such as Bob Arum, Eddie Hearn or Frank Warren, Broadcast executives like Showtime Sport's Stephen Espinoza or unseen figures who linger in the shadows, Al Haymon comes to mind. Boxing has been carved up and conquered, borders have been drawn so new ideas were needed in order for new hands to grab their piece. Rather than competing directly with boxing's established power brokers the owners of these new hands have settled with tinkering with the sport itself, changing formats, manoeuvring rulesets and inserting novelty. This isn't new, it can be argued that this is exactly how Eddie Hearn barged his way into the market with the much-missed Prizefighter boxing tournament and who can forget Big Knockout Boxing or BKB with its reduced rounds, mandated attire, microchipped boxing gloves which for a time had the knuckle padding removed and the famous pit. Launched in 2013 and folded in 2015, BKB was a concoction of American media conglomerate DirecTV in an attempt to start and hold the rights to its own combat sport franchise by hybridising and perhaps insulting boxing.
Now we have Overtime boxing or OTX, it is a subsidiary of sports media publisher Overtime and is its third franchise after Overtime Elite, a professional Basketball league for high school players and international players between the ages of 16-19 and OT7, a low contact 7 on 7 American Football league. They have reportedly signed over fifty professional boxers to their roster.
OTX held an event on Friday evening staged at their own arena in Atlanta, Georgia. It was the third of four events they are staging in August and was headlined by light welterweights Kurt Scoby and Narciso Carmona.
OTX hails itself as a new and revolutionary property designed to help build the next generation of boxers and entertain new boxing fans. Everything about OTX is made to be short, snappy and violent, it's cards only feature four fights, those fights are held in a smaller 18ft x 18ft ring as opposed to the usual 20+ft x 20+ft ring, knockout bonuses are up for grabs, fights are restricted to four, six or eight rounds with the first and last rounds serving as "Money Rounds" meaning a fighter will receive a more lucrative bonus for scoring a KO in one of these rounds and an "Overtime Round" will be fought if there is a draw on the judges' scorecards, this is a winner takes all round designed to make the fighters throw all caution to the wind and stand in centre ring for a smash up.
It's pretty obvious that OTX is targeted at the so-called YouTube generation, futuristic sets and strobe lights are erected for weigh ins and fight nights, competitors are continuously streaming their endeavours onto social media, some are dressing up as super heroes for ring walks, the whole thing has slight Disney quality to it. Of course, the WBC has had to get on board, where there's money to be made, you'll find the ever-faithful protector of boxing that is Mauricio Sulaimán. They have been handing out belts to the winners of OTX main events, further degrading the image of the once great green and gold band that adorned some of our sport's greatest combatants. DAZN have also got in on the act, the sports streaming platform signed up as OTX's broadcast partner for one year back in February. Game changed..
Then on Sunday evening Team Combat League held a fight card in Long Beach, California.
If OTX tinkers with boxing's edges, Team Combat League are looking to overhaul the whole sport. The clue is in the name, they have changed boxing into a team endeavour and it is as underwhelming and ridiculous as it sounds. The rules are as follows, each match contains 24 three minutes rounds to fought continuously, there is a 15-minute break after round 12, teams will compete across six weight divisions, each time will include five Maes and one female, each round is scored individually with additional points awarded for knockdowns or knockouts, one point for each team if a round ends in a draw, two points for a decision win, additional points for knockdown and stoppages with a maximum of six points for a KO. But apparently the ten points must system is confusing.
The event on Sunday featured heavyweight talent Michael Hunter, a real contender who has shared the ring with Oleksandr Usyk, Martin Bakole and Alexandr Povetkin. He was taking on former NFL star and UFC fighter Greg Hardy whom he politely carried rather than battered.
Essentially it is watered down tag-team boxing, the idea is that new fresh fighters every round will boost the entertainment factor. It is said that fatigue makes cowards of us all, so remove the fatigue and you'll get bold fighters holding nothing back in rock em sock em style rounds but this steals one of professional boxing chief narratives, that of tired and battered fighters saying no to the voices' that say surrender and keep fighting, smashing through pain barriers and giving pieces of themselves that they'll never recover. No more Thrilla in Manila heroics. Simply, this format removes the beauty and art of pugilism, less boxing more fighting, less poetry more mumble rap.
The one thing theses new formats have in common is reduction of time the boxers actually spend boxing and the introduction of God-awful Instagram nonsense. It assumes that young people have no attention span or capacity to see past pretty colours and full-grown adults dressed as Spiderman. On a deeper analysis you'll find that the people behind these new formats are not at all interested in revamping the sport, they couldn't care less about the actual art of boxing, what they want is to further fracture our already splintered sport and franchise great swathes of it as we can see in MMA with its multitude of competing promotions and organisations such as the UFC, Bellator, ONE Championship and so on. Progression is the disguise for domination, the bastardisation of boxing will not stop while there is money on the table.
Boxing is not perfect, it's not even wonderfully imperfect, it's a hard sport to be a fan of, we are constantly let down, priced out and ripped off but at its best there is nothing that can match the sweet science and the stories that are told within the squared circle. Bright lights, Hollywood sets, Instagram models and all the Logan Pauls in the world just don't come close.
By Albert Eastwood