A couple of days have passed and boxing fans the nation over have had time to reflect on last Saturday's findings, lightening can indeed strike twice. China's iron fisted Zhilei Zhang came back into enemy territory and flattened our heavyweight charge, the quirky and unconventional Joe "The Juggernaut" Joyce in a filled-out Wembley Arena.
Many have questioned the wisdom of putting Joyce in the ring with Zhang not once but twice, especially after the first beatdown and his team has taken a fair amount of flak from the fans. We must remember that before the first fight, Joyce was the WBO interim champion and mandatory challenger for the unified heavyweight champion Oleksandr Usyk's WBO full strap and as interim champion and mandatory challenger had to fulfil certain obligations to maintain his position with the WBO. As events unfolded and ranked WBO boxers turned down offers, taking on Zhang became one of the duties and in typical Joe Joyce fashion the "Juggernaut" followed through.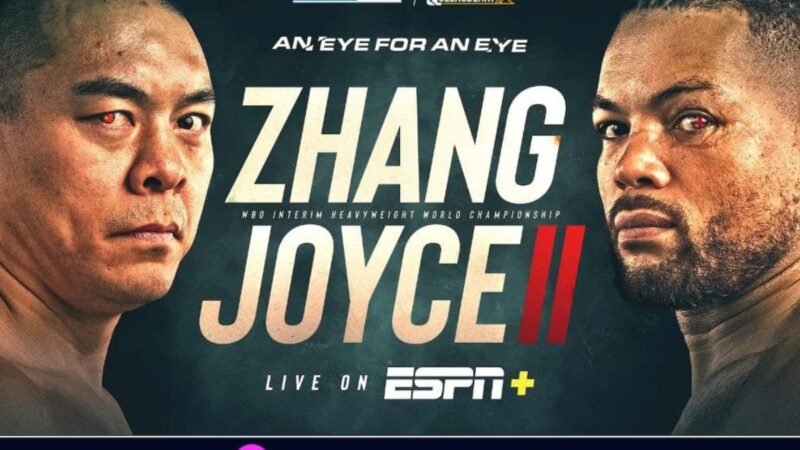 And it was a total disaster from the opening bell, every single one of the glaring faults in Joyce's game were on full display and Zhang took advantage. The lumbering sluggishness we have come to expect from Joyce had never been clearer, his decision making was strange to say the least, a man of his vast experience in elite amateur boxing should not look as if he'd never seen a real southpaw in the wild before and his lack of defence which teamed with his iron chin that historically made for fun fights and "I can't believe he just ate that shot" moments was sickening. All in all, it was an odd performance but that is not to take anything away from Zhang, he performed extremely well and conducted himself with the utmost professionalism breaking his man down with thunderous straight lefts and well-timed stabs to the body, eventually severely damaging Joyces right eye and forcing a stoppage in the sixth round.
Joyce took the loss well; he is a well-mannered man who is always cheerful and respectful of his opponents. But slowly the excuses have made their way out. The first and most prominent being the issue of Joyces weight as he'd come in at a professional career low of 256 pounds. Some told us that he was too light and this is why he was unable to withstand the Chinese power and if only he was heavier, he'd never have been beaten. The second and much stranger excuse we were given was that it was just the swelling to the eye that caused the fight to be stopped and that an eye injury won the fight. No mention of the man that inflicted the damage to the eye with his superior boxing skills and perfect punch placement.
These excuses were the result of very low-resolution thinking and an avoidance of a truth that was there for all to see, Joyce is simply not as good as Zhang and it his size was the very least of his concerns, yes, he was light last time out but he was hardly malnourished, if heavyweight boxing is the land of the giants the 250 pound plus specimens are the true behemoths of the world. But there were things the big brute could have done to mitigate the challenges that Zhang presented him. He could have utilised movement to make Zhang work and reach with his shots, he could have led off with left hooks to tag and confuse his southpaw opponent and he could have fired screw shots in order knock Zhang's huge head backwards. Instead, he came into this fight at career heaviest weight of 281 pounds and plodded around like a concussed rhino.
It's hard to understand why team Joyce decided to come in so freakishly heavy, it stinks of a pressured decision made by strength and conditioning coaches and those who lack any real knowledge of boxing. Joyce was transformed into a lethargic and ill put together version of himself, his body bloated and huge, even his head was large and circular, gone were the sharp details of his face, rounded off by excess weight, it had essentially become a beachball ripe for the popping. So why, when he was so easy to hit last time, would you make the target even larger?
It must be stated that Joyce had at least tried to make a couple of positive changes. He fought the urge to meet Zhang's jousting arm and did not allow his opponent to control his hand placement and vision, which was a massive problem for him in the first bout, this time keeping his lead hand to himself and his rear hand just in front of his chin. He was also concentrating on throwing body shots, this was a good idea as it took his head off the centre line and he did land one nasty shot in round number two, though Joyce typically throws arm shots that jolt out from his tightly constrained elbows, this time he was so large that his size and weight affected his ability to simply throw a punch. And never has his movement seemed so stiff and sluggish, movement has never been much of an asset for Joyce but on Saturday evening he had all the mobility of a moo-moo clad Homer Simpson, it must also be stated that the iron jawed man did not seem to have any confidence in his metallic mandible, for the first time in his career he seemed genuinely scared of getting hit. There is absolutely no shame in defeat, especially to a man as skilled as Zhilei Zhang and Joyce deserves all the credit in the world for attempting to avenge his first defeat but there are real questions over his decisions and his future.
Joyce has stated his intent to continue on and there are certainly good fights out there for him but first things first, a rest is needed and he must drop the weight. Then a hard decision needs to be made, is it time to cash out or does the 38-year-old Joyce want to attempt a re-build. For a boxer as old as Joyce, most would suggest the former, a fight or two that make the most money before he rides off into the sunset but Joyce is not most 38-year-olds, he has always done things his way. Re-building is no small feat and it will not be especially enjoyable but it can be done, to a degree at least. Joyce is already being named as a potential opponent for Derek Chisora, a fight with plenty of appeal but at this point it's hard to wish any further damage on the elderly "Del Boy", a rematch with Daniel Dubois has been touted ever since Joyce beat the ambition out of him in 2020 but it's hard to envision "DDD" taking such a fight after the recent Usyk debacle and Dillian Whyte certainly won't be available for quite some time due to a recent failed drugs test.
S-Jam, the firm who manage Joe Joyce could go down the rout of boxing the young up and comers like Frank Sanchez, Jared Anderson, Arslanbek Makhmudov or Bakhodir Jalolov but these fights will be seen as far too risky for any potential reward. But there are opponents who bridge the gap between risk and reward, the first being the disgraced Jarrell "Big Baby" Miller a man who if in a sport that operated with the slightest hint of a moral compass would never box again but as we saw with the return of Connor Benn this weekend no one really cares. Miller boxes at over 300 pounds and is surprisingly similar to Joyce, relying on a high punch output and a strange ability to suck in oxygen which could make for a good, action-packed fight, he is also a well-known name due to the Joshua doping drama that probably should have finished his career and could definitely garner fan interest.
Otto Wallin is another name that could step into the ring with Joyce, the Swedish giant is on a five-fight winning streak, has decent name appeal due to his bout with Tyson Fury and that cut, boxes with textbook "European" style, sits in the top 15 of the WBC, WBO and IBF and does not present much danger in terms of punching power. Basically, Joyce now finds himself in the weird void that sits between true contenders and the power elite.
If Joyce decides to carry on there are good fights but he has to understand that the formula has been revealed, Zhang didn't just break his face, he broke the mystique and the intrigue that surrounded Joyce. The heavyweight sharks have smelt blood and will soon Start to circle.
If he truly wants to the big "Juggernaut" can return but only if he's willing to poor in the blood, sweat and tears all over again.