Black Flash Promotions back at the Middleton Arena for a local derby with more than local pride on the line.
On Saturday 5th November at the Middleton Arena in Manchester, two local boxers will go head to head in a fight that has the potential to deliver plenty of bonfire night fireworks!
Current International challenge champion Matty Ryan (11-1, 2KOs) from Middleton, will take on the challenge of fellow Middleton man Darryl Sharp (3-10) in the main event on what promises to be an exciting bill on Guy Fawkes night.
Ryan, 25, claimed his first belt in July scoring a second round stoppage over Hungarian Zoltan Turai in Oldham and has developed into a good solid pro under the tutor-ledge of trainer Pat Barrett, who also hosts the show with Black Flash Promotions.
"I am delighted with Matthew's progress and he is getting better all the time." Barrett told British Boxers.
"He is an avid trainer, he listen's well and has done everything me Paulie (DaSilva) and Tommy (McDonagh) have asked of him in the gym. He is now developing the power we always knew he had in the locker because his timing and ring craft is going up a level, his fitness and confidence too.
"Matty is getting what it takes to be a professional fighter now and everything is coming together for him." added Barrett.
The match-up against Sharp on paper might not set the pulses racing, but if you look closer it has meaning and factors that make it a very interesting one, and an anticipated one to those who know the local scene.
Sharp, 24, could walk from his home front door to Ryan's home in 2 minutes, they will often pass on the street, meet each other in the local super market and talk to each other when they do. They both have mutual friend's and family friends. – The Unbeaten super-featherweight prospect Alex Rutter, (9-0) is Sharp's cousin, and happens to be gym mates with Ryan at the Collyhurst and Moston boxing club. Rutter and Ryan car share every morning to get to the gym with the former the designated driver.
[sam id="1″ codes="true"]
Another interesting twist on proceedings is that Sharp, recently took the unbeaten record of Matty Ryan's friend and gym mate Chris 'Fat Boy' Monaghan (4-1) in what was considered an upset in July, on the same bill as Ryan's last win. Not to mention local bragging rights, a Central Area title shot awaits Ryan if he gets past Sharp, so there is plenty to fight for and plenty to look forward to for the fans.
In his last contest in August, Sharp pushed former world title challenger Jimmy Kelly (19-1, 7KOs) the full ten rounds, at a weeks notice, in what was a gallant effort. He also holds an upset win over highly touted prospect Adam Ismail (9-1) and under the guidance of former fighter Kieran Farrell has become the road warrior prospects are thinking twice about taking on. When a fit focused Darryl Sharp turns up, he is a match for any domestic light-middleweight.
"I like Darryl Sharp, he is a throwback to the journeymen fighters of the past." Pat Barrett added about his charges next opponent who he knows is a dangerous fighter and has respect for what he is doing in the game.
"He has gone on the road and in just 10-months has had 13 fights, most at short notice all around the country and he alway's gives his all. Sharp recently put on a good performance against my lad Chris Monaghan and got the win and he has upset some other prospects. He has just gone the distance with a top pro in Jimmy Kelly who recently fought Liam Smith (23-0-1, 13KOs) for the world title, so let me tell you Darryl Sharp is no mug and he is coming to win. It is in his home town, a local derby and it is a fight that seems meant to be given the history and we are happy to make it.
"Matty will have to be on song to beat a fired up Darryl Sharp but if he comes through this we are ready to put him in for the Central Area light-middleweight title, so there is a lot riding on this fight for him and he cannot afford to let his foot of the gas at this stage of his career and under estimate Sharp in anyway." added Barrett.
– Interview's and inside camp videos with both Matty Ryan and Daryl Sharp

coming soon to British Boxers!
Also on the Middleton bill will be local favourite and one of the most exciting Manchester prospects on the scene, the ever popular Prestwich lad Sean Ben Mulligan, (5-0, 1KO) who makes his first appearance since fighting on the big MEN show in May, when Anthony Crolla successfully defended his title against Ismael Barroso. Mulligan is back at the arena where he dramatically stopped Dwayne Grimes after looking like he was on the verge of losing the fight. Mulligan entered the contest unwell, he had a perforated ear drum and had suffered food poisoning in the run up to the fight, but shown his true fighting heart to find a way to get the victory.
The aforementioned Alex Rutter will make a welcome appearance in his home town and 24-year-old, Oldham KO artist and recent Black Flash signing Mark Heffron, (11-0, 9KOs) is a star attraction recently added to the stable and this show. Heffron's gym mate Alex McCloy, 22, unbeaten in six is also a very good addition and assuring up the show is former Olympian and Commonwealth games medallist, the Manchester based Cameroonian Blaise 'The Lion' Mendouo who says he is ready to go in the ring with any cruiserweight in the world right now! – More details on the these fights coming soon to British Boxers.
Tickets are currently only available from the boxers. Priced: £35 stalls – VIP Ringside tables of 10 people £700 (includes food and table waitress service)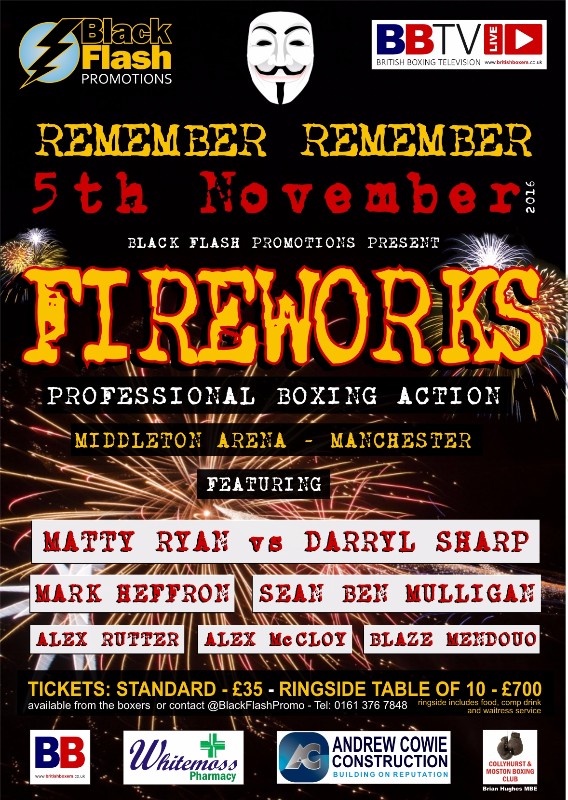 [sam id="1″ codes="true"]