With ITV dipping their toes back in the professional boxing waters after years of avoidance, it was good to see their first fight card back turn out be a very successful one in Preston, Lancashire on Saturday night.
All of the fights were entertaining and received good reviews from viewers and the social media public across the board. The ringside patrons and lively crowd in attendance were captured by the action and everyone went home happy.
The main event saw the likeable Liverpudlian power puncher Robbie Davies Jr (15-0, 11 KOs) in the second defence of his WBA Continental light-welterweight title, pitted against an awkward and tough last minute replacement opponent in the form of Hungary's Zoltan Szabo (13-4, 6KOs) An awkward, jerky fighter with a solid resilience and dangerous swinging counter shots.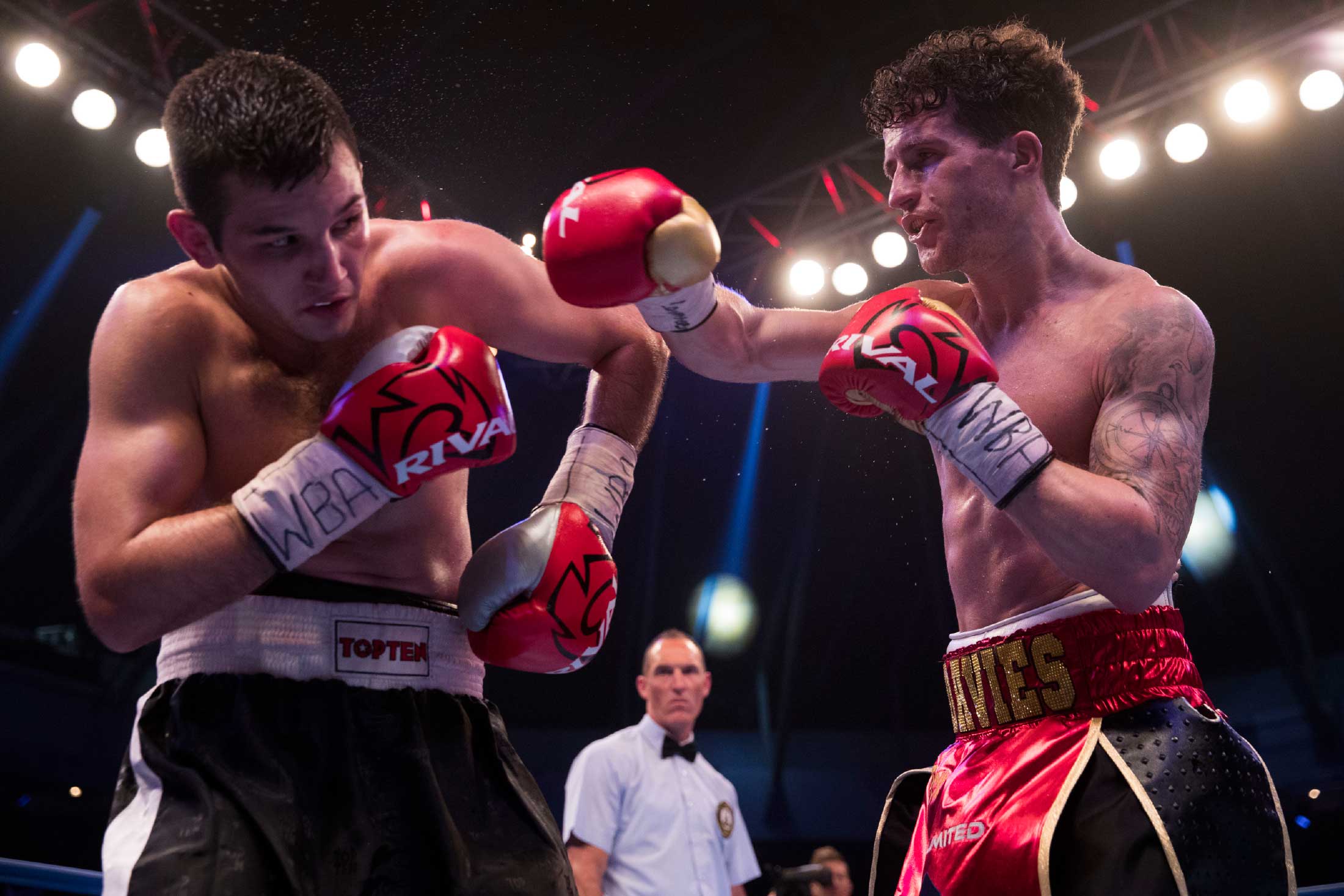 Davies, 27, was meant to be facing former British champ Willie Limond but after the Scot pulled out, he stayed professional and didn't let the change effect him as he looked to breakout on national TV. 
Szabo, 22, who must have been one of the busiest boxers in 2016 with 16 fights and boasting a KO win over tough Irishman Stephen Ormond on his resume, certainly turned up to win in the biggest chance of his short career so far. The early rounds saw Davies struggle a little with his range and timing as he switched stance looking to find the correct range.
[sam id="1″ codes="true"]
The home fighter virtually won every second of every round and was always in control, but he had to be aware at all times of Szabo's awkward unorthodox style and his counter shots. There was a danger of frustration setting in as Davies seemed eager to put on a show on the big stage and in front of a partisan crowd but a calm professionalism prevailed as the fight progressed.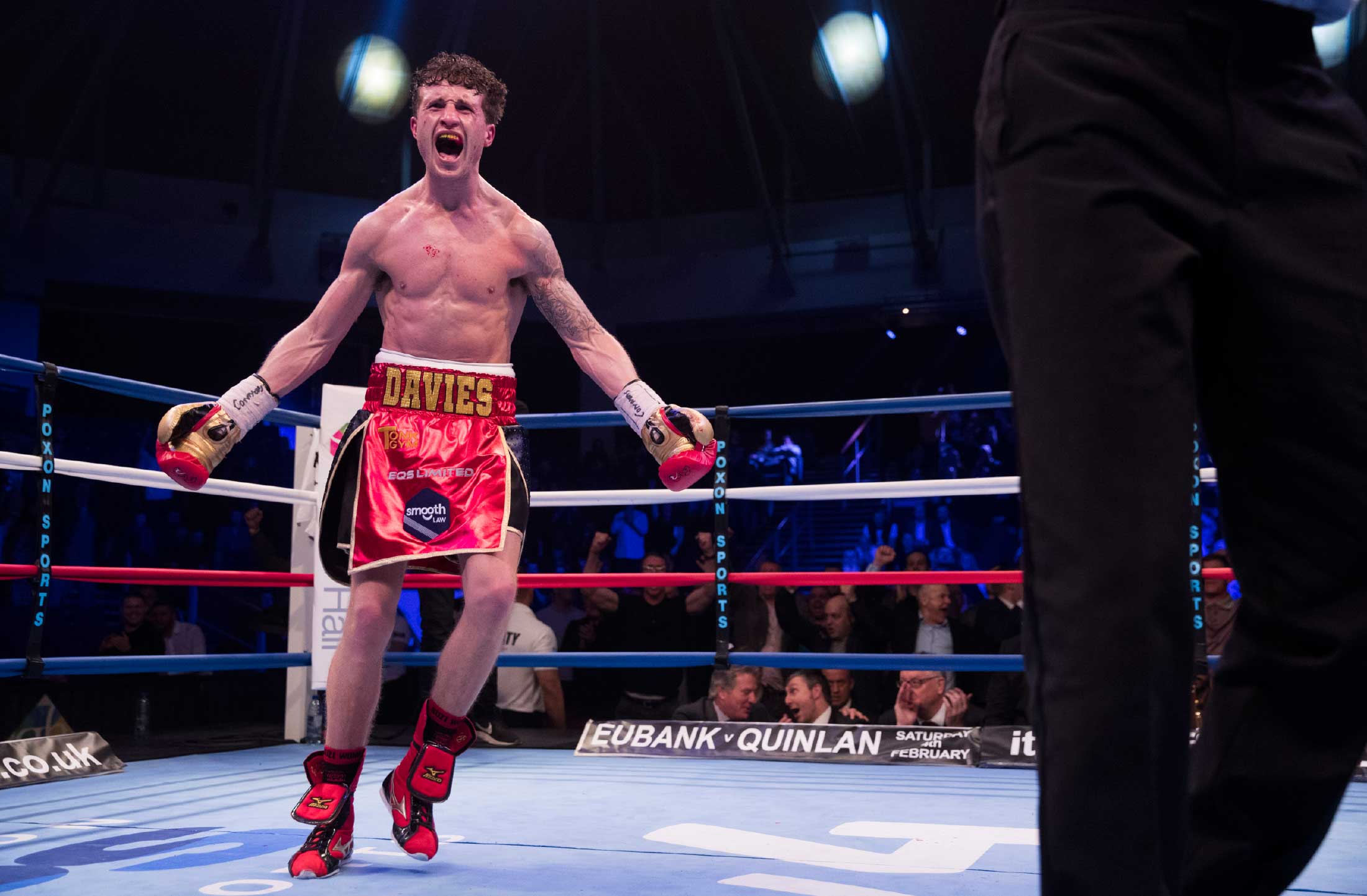 As the fight entered the halfway point, Davies began to close the range and despite the gutsy resilience from his opponent. Szabo looked like he was feeling the pace as he dropped his hands and beckoned Davies in. It became clear that the athletic Liverpudlian was stalking his prey with mean intentions now and showed some classy moments with his slick choice of punches. His superiority became clear as each round became more and more painful for the Hungarian. 
The finish came in dramatic style with an immaculately timed left hook to the body, delivered with precision and a thud that echoed around around the venue. The punch shot shook Szabo to his foundations and doubled him over, everyone knew the fight was over as he winced in pain and gulp for oxygen with the ref counting him out.
It was an extremely impressive win for Robbie Davies jr, in light of the last-minute replacement, the change of focus and the somewhat negative opponent he faced. Davies showed flashes of brilliance and proved his reputation for carrying serious power is well founded. Onward an upwards for the man from Kirby, lets hope now he gets the big fights he deserves now as he progresses through the ranks—he is certainly one to keep your eye on.
Jack Arnfield v Mick Hall
As chief support, the prospect of this fiery grudge match sat well with the fans at ringside. The anticipation building at the Preston Guild hall was palpable and fueled by the apparent disdain between the fans from Blackpool and Preston.
The rivalry also stemmed from a previous encounter in which Jack Anfield (23-2, 6 KOs) was given a split decision win over Mick Hall (13-2, 1 KO) in the 2015 Prizefighter series, stoking the animosities between the large groups of lively opposing fans. 
The crowd was hostile towards Arnfield and as the introductions were made the chorus of noise was heightened by a travelling brass band. There was football style chanting from a riled up, but respectful, crowd and ITV4 viewers got a taste of what British boxing means to local supporters. 
The fight itself was a good one, early on it was cagey with Anfield, 27, dictating the play with a rangey jab and effective counter punching, Hall looking to close the range and land his own shots in a come forward and compact style, but Arnfield was more precise and wasn't having to up the gears to remain in control. The gutsy Hall, 30, kept coming and looked for angles and opportunities to get in range yet it was evident early on that Anfield was just a class above. 
[sam id="1″ codes="true"]
The home fans roared their man on, trying to get him going, but it was a tough job to budge Anfield from his rhythm; his game plan was tight and he never waned from it, despite the desire and determination from his challenger. 
Overall, Arnfield looked more suited to a 12 round fight and had paced himself well; he was always in control and his fuel reserves were high as the fight entered the championship rounds.
Take nothing away from the brave and committed Hall, but as the fight continued it began to look a matter of time before Anfield prevailed. To make matters worse, Hall suffered a large swelling to his forehead which caused the ringside observers to wince and recoil every time he got hit. In true fighter's, style Hall would not stop and in round 11, his best session of the fight, he actually stiffened the legs of Anfield with a big right hand as both men traded. However, it was to be Hall's last stand.
The corner rightly stopped the fight at the end of the penultimate round with Hall's swollen face and forehead now becoming a little worrying. Arnfield celebrated a deserved win, he boxed to orders well, he looked focused and poised and picked his shots brilliantly. His head trainer Mike Jennings had talked before the fight about his quiet confidence and we could see why, his charge boxed a close to perfect fight in the context of it all and deserved the win. A great domestic match-up and an excellent way for ITV to announce themselves back onto the British boxing scene.
Full Results from Preston
Robbie Davies Jnr
W
KO
9/12
Zoltan Szabo
Mark Jeffers
W
PTS
4/4
Anthony Fox
Jack Arnfield
W
TCO
11/12
Mick Hall
Zach Parker
W
TCO
4/6
Bradley Pryce
Nathan Wheatley
W
PTS
4/4
Kieron Gray
Joe Wood
W
PTS
4/4
Andrej Cepur
Bill Hodgson
W
PTS
4/4
Ferenc Zsalek
Atif Shafiq
L
TCO
1/6
Andreas Maier
Nick Webb
W
TCO
3/6
Chris Healey
[sam id="1″ codes="true"]