EDITOR'S NOTE: A few hours after this report was written, news broke out that Alejandra Ayala had to undergo surgery after her world title challenge against Hannah Ranking at the Ovo Hydro on Saturday. According to the official statement, she is now in stable condition. While waiting for further updates, we would like to take the chance to wish her a full and speedy recovery. Our thoughts are also with her family at this difficult time. 


Statement from Fightzone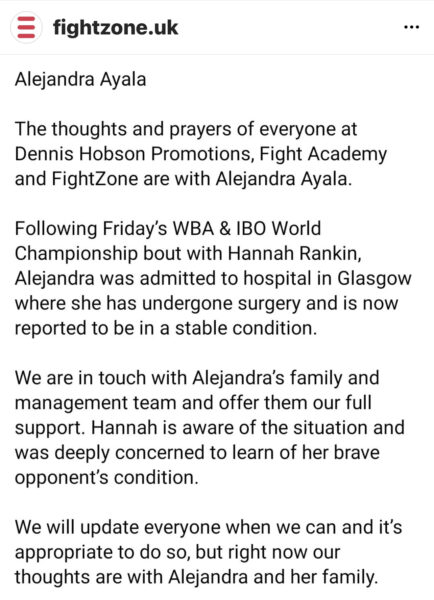 Mexican fighter Alejandra Ayala's last visit to these shores ended in a second round knock out at the hands of WBO Middleweight champion Savannah Marshall and not many gave her a winning chance in her challenge for champion Hannah Rankin's WBA and IBO Super Welterweight titles but she definitely did not come to Glasgow just to collect a pay check and more than played her part in what turned out to be a brutal battle of wills.
The Mexican challenger's game plan was apparent from the first bell when she went all out swinging to overwhelm Rankin and not allow her time to think. Hannah remained cool headed and picked her shots throughout the first three rounds while Ayala seemed to feel both the pace and the punches almost immediately. But, she was successful in dragging her opponent into a war of attrition as the defending champion decided to engage and try to beat her at her own game. Rounds 4 to 6 saw some heated exchanges where both gave as good as they got. Rankin's face appeared swollen while Alejandra was cut under the left eye from a clash of heads. The tide was turned for good in favour of the home fighter in round seven where she won all the exchanges landing increasingly heavier shots to the head, the sting gone from the challenger's punches whose work rate also visibly dropped. Rankin asserted her dominance in the next two rounds forcing Ayala on the ropes and unloading at will. The last round was one way traffic in favour of the defending champion with absolutely nothing coming back from the Mexican and really painful to watch. A lacerating 1-2 combination to the head finally forced the referee to jump to the rescue and halt the contest at 1:15of the tenth. Some uncomfortable moments followed as Ayala was visibly grimacing in pain in her corner while receiving medical examination. To everyone's relief, she was able to leave the ring on her own among a deserved cheering from the totally pro-Rankin crowd.
When discussing Hannah's next move, Fightzone promoter Dennis Hobson declared himself sceptical about the possibility of a unification with WBO champion Natasha Jonas, who had manifested interest in what would be a mouth watering domestic showdown. Hobson found telling that Jonas did not attend the fight and thinks she won't be sticking around at 154. While the WBA ratings for the category do not seem to offer any interesting match up, a rematch with former foe Patricia Berghult, now holding the WBC belt, might be an option worth considering.
In the co-main event, Commonwealth Featherweight champion Nathaniel Collins retained his title with a solid technical performance against Jacob Robinson in a battle of Southpaws. Robinson was supposed to be a step up in opposition but Collins proved to be a level above. He took control of the fight from the start, establishing his jab and displaying good head movement, footwork and overall skills. Jacob seemed unable to figure him out and got tagged every time he opened up. The challenger's best spell might have been in the fourth round, where he used his physicality to close the gap and rough his man up at close quarters but he ran quickly out of ideas after. While still landing the occasional left hand throughout the fight, he was neither a consistent or effective aggressor and could not match Collins work rate and accuracy. Nathaniel was successful both when taking the initiative or countering on the back foot. A knockdown was awarded to the champion in the eighth and it was obvious at this point Robinson would need a knockout to win, still he did not show the necessary urgency going forward. And, to be fair, neither did Collins who didn't really need to get out of second gear to get a deserved and wide point decision. The scores of 119-108, 120-107 and 120-108 accurately tell the story of the fight.
The vacant British Featherweight title is now Collins' next step and he showed tonight that's the level where he belongs.
Highlights on the all-Scottish undercard, which saw all of the home fighters get their hands raised, included a second round TKO by Corey McCulloch against Jack Osgood and a harder than expected point win for Regan Glackin against undeterred Robin Zamora from Nicaragua. McCulloch took all the fight out of Osgood with a left to the body in the second round and closed the show following up with an unanswered barrage of punches. Glackin had to get through some uncomfortable moments, being chased all over the ring and trapped against the ropes by the spirited Zamora and trying to make quality count against sheer aggression and output but managed to remain unbeaten winning a 58-57 razor thin decision.
comprare recensioni google