The inevitable happened and Joe "The Juggernaut" Joyce's chin and physical resolve were finally found wanting, The British brute was beaten bloody and forced to retire by the stoic and hammer fisted Zhilei Zhang of China, marking the first defeat of Joyce's professional career.
He's had a very good career thus far and was defending his WBO (interim) world title against Zhang, so why was this inevitable?
Of course you can question the tactics or the fact that he looked like he'd never seen a southpaw before but the answer is very simple. You cannot take unchecked punishment bout after bout and expect that your chin will always hold up.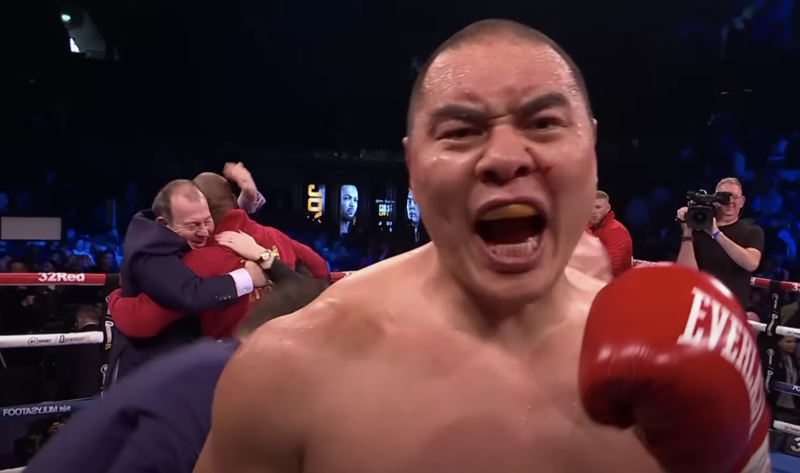 Yes Zhang was great, he had worked Joyce out perfectly, manoeuvring him where he wanted, countering with his crushing left and occasionally stabbing him to the body. He's better than Joyce, pure and simple but his power was the deciding factor, Joyce, after all these years finally found a punch his mandible couldn't withstand, Zhang is cut from the same cloth as the George Foremans of the world when it comes to the power stakes.
Anyone who has followed Joyce for long enough will know that he has always boxed this way, ambling, awkward, high output and a willingness to take big shots. Even in his amateur days he was happy to take one to give one and he had some incredible bouts, his wars with Nick Webb in the ABA divisional finals and Frazer Clarke in national finals have gone down in English amateur boxing infamy.
And this trend has continued ever since he turned professional in 2017 at the age of 32. Of course no one expected him to overhaul his whole style that had taken him to an olympic final, but most probably did expect him to develop a real and solid defence and maybe some head movement in order to make it to the top of the pro game.
He didn't.
But his chin is incredible, strangely that was never more evident than last night, one of those shots Zhang nailed him with repeatedly would have slept many a heavyweight and Joyce never went down. He is super human tough.
But this absurd robustness and his reliance upon it has been a ticking time bomb from the moment he dropped the vest and donned the 10oz lace ups. He and his team have commodified his ability to take a punch and used it as a USP of sorts, rather than learning to dodge punches he has learnt how to sell his inability to do so.
Every time he stepped into the ring be it against a sluggish Bermane Stivirne, Carlos Takam, Christian Hammer or the former champ Joseph Parker he gets tagged and smashed in the face with heavy leather at his opponents will, rarely attempting to block or avoid he has become content to just ride the thunder and eat the leather. It's as if Joyce and those around him genuinely believed that he could not be hurt never mind stopped, this was a mistaken belief to say the least. If Joe Louis and Muhammad Ali can be stopped so could Joe Joyce.
It's been amazing to witness and every time he has stepped up a level we the fans have asked can he keep taking these shots?
Somehow it was yes until it was no.
Zhang said no!
WATCH Fight highlights: Joe Joyce vs Zhilei Zhang