Who would have prevailed if two of boxing's greatest ever heavyweights were to have fought at their peaks? Albert Eastwood breaks down the mythical fight round by round and asks… what if?
Boxing is a sport of what ifs! What if Howard Foster had never stepped in during Carl Froch's onslaught of George Groves to bring their first fight to a halt?
What if Tommy Hearns had decided to box and stay at distance from Mavin Hagler rather than go to war with him?
What if Jose Luis Castillo was given the nod over Floyd Mayweather after their close and contentious first bout in 2002?
There are so many what if scenarios that can be dreamt up but none more fun than the whole mythical match up debate.
What if Carlos Monzón boxed Roy Jones Jr, who would win between Tyson Fury and George Foreman, who comes out on top in a lightweight super fight between Roberto Duran and Henry Armstrong. But the big one that has always been in the back of every boxing fans mind is this! Muhammed Ali VS Mike Tyson
To give this mythical super fight the justice it deserves only the very, very best version of these two greats should be pitted against each other.
Muhammed Ali
Known to boxing fans world wide as the greatest of all time, Ali formerly, Cassius Clay is the biggest character to ever come out of the sport. In a career full of ups, downs and even a forced exile, no man has ever transcended the sport like the GOAT.
The best version of Ali is almost definitely the lean 214 pound 24 year old that decimated Cleveland "Big Cat" Williams in November of 1966 just a year prior to his banishment. This was undoubtably the quintessential Ali performance, he was exquisite, dominating with his razor sharp jab, moving with middleweight speed, embarrassing his man with his trademark shuffle, nailing Williams with lightning right hands and vicious combinations and exuding the sheer arrogance only he could get away with. He may have been unbeatable that night.
Mike Tyson
The spectre of "Iron" Mike Tyson has lingered over boxing since he first made it big under the tutelage of Cus D'Amato and Kevin Rooney in the mid 1980's, he was utterly destructive and is probably the most intimidating fighter of all time. Standing at only 5ft 10in and weighing in at 220 pounds he was a small man in the division of giants but utilised a peekaboo guard and incredible head movement to work his way inside and rip heavy shots to his opponents body. Ultimately the story of Tyson's pro career is a sad one full of loss and poor decision making but at his peak he was undoubtably one of the best and most unique heavyweight champions ever.
Most would say the best Tyson was the the 21 year old version that destroyed Michael Spinks in 1988 and they may be right, that was certainly Tyson at his most terrifying. But for me the young, record breaking 20 year old who decimated the very decent Trevor Berbick within 2 rounds in 1986 was the most complete Tyson we ever saw. His defence was impenetrable, his head movement perfect, his crunching punches thrown with beautiful form, all with bad intentions and an almost mythical level of intimidation radiating from him.
The Fight
A robed Ali dances his way to the ring, throwing lightning punches, engaging with fans and smiling, full of confidence and raring to go.
Then "Iron" Mike wearing no robe, walks bare chested to the ring, the sound of chains jangling is played through the speakers, the jovial atmosphere of Ali's walk is sucked from the room and even the fans at home are nervy.
Both men in the ring, Tyson cannot take his eyes off of his opponent, he looks dangerous and ready to cause pain. A wide eyed Ali is moving relentlessly, hiding his fear behind a veneer of arrogance.
They touch gloves. Ali does look weary of the stoic but terrifying Tyson but as they are about to separate the Kentucky man screams in Tyson's face. Fight on.
Round 1
Tyson comes flying out of his corner, immediately establishing his dominance of centre ring, forcing Ali to dance, with his arms stretched out Ali focuses on controlling Tyson's head and keeping the brute distance. Tyson's feet are more than good enough to keep up with Ali as he dances, he forces Ali into a corner and unloads a massive combination to head and body, Ali rides the shots but is visibly shocked by Tysons explosiveness. A pretty tame opening round with both men looking for weaknesses.
10 – 9 Tyson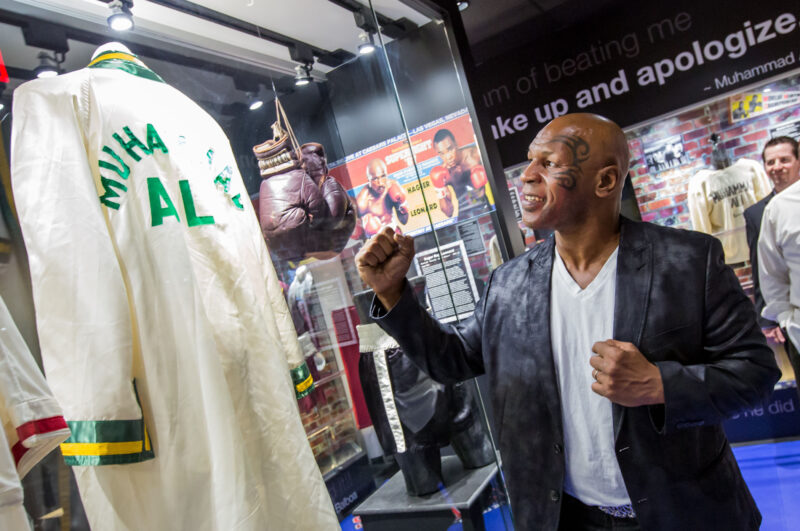 Round 2
Tyson flies out of the blocks yet again but this time is met by Ali in the middle of the ring, Ali unleashes his speed and puts together some long range attacks that Tyson mostly avoids. Again Tyson starts to push forward and puts the "Louisville Lip" on his toes. Ali goes on the retreat whilst snapping his jab in singles and doubles to keep Tyson at bay. Tyson is dominating the round until Ali puts a string of jabs, straight rights and uppercuts together in the last 10 seconds.
10 – 9 Tyson
Round 3
High off of the end of the last round Ali comes out with a dogged swagger and attempts too push Tyson back with his Jab and starts to time his opponents head movement. Tyson is ducking and weaving his way inside and again attacking Ali's body but is being held and wrestled. Getting tagged by sharp jabs and whip like rights Tyson starts to get frustrated. Ali knows he has his man thinking and the trash talk begins.
10 – 9 Ali
Round 4
Tyson is visibly riled by Ali's words but recaptures his discipline and gets his head movement back on track. He keeps Ali dancing and manages to beat the bigger man to the jab, Ali grabs ahold of him to stifle his aggression. Tyson pushes him off and while Ali is moving backwards commits to his ducking lead hook. Connecting with frightening power Ali goes down heavily. Tyson goes to the neutral corner, the referee begins his count, some how Ali stands up. Shaken to his core he dances on the spot. Bell rings.
10 – 8 Tyson
Round 5
Tyson comes out strong, he can smell the finish and is ready to go in for the kill. He bullies Ali and pushes him onto the ropes, Ali accepts the ropes and covers up, riding Tyson's shots, occasionally dropping his guard slightly to trash talk his assailant. Tyson smashes Ali with an uppercut from hell and once again Ali goes down. But yet again Ali stands. Tyson looks dejected but goes in for the kill, as he steps in he is caught by tidy left, right from Ali and his legs buckle. Ali has something to say. Tyson scored the knockdown but cracks are starting to appear.
10 – 8 Tyson
Round 6
The directions the fight is starting to change, despite the damage he has taken Ali is growing in confidence, popping jabs out to keep Tyson off balance, dancing counter clock wise to avoid the big right hands. Tyson is noticeably tiring and the tidiness of his work is lacking, though he is still finding his way up close and delivering crushing bent armed punches. Ali is still nervy of the ducking hook and uppercuts but is catching Tyson more and more and bloodies his nose with a stinging right hand.
10 – 9 Ali
Round 7
Now it is Ali who comes flying out the gates, Tyson meets him in centre ring but theres a sluggishness to his movement. Ali is jabbing away to Tyson's bobbing head and whipping right hands over and through the gloves of the peekabooing beast. Tyson, growing in frustration and chewing on his gloves charges forward, taking blows, he gets wobbled with a long screw shot. Ali puts together a series of 4 and 5 punch combinations, only taking a break to shuffle his fast feet, bang, fast as lightning he puts a left, right, hook through Tyson's chin. Down goes Tyson. He slowly gets up onto unsteady feet and is met by a seething, screaming Ali.
10 – 8 Ali
Round 8
The tide has truly changed and this is now the Ali show, Tyson's power and aggression is still there but he is doubting every decision he makes, he's exhausted, being teed up on and beaten down and starting to look more like a scared child than an unstoppable monster. The fleet footed Ali is now pushing forward with no fear of his opponent, mocking him, taking joy in humiliating him. Tyson is ready to go but resisting it with all his might, wobbled and shaken many times by Ali he shows his inner resolve and stays upright but this has been nightmare 3 minutes for him and he's been battered.
10 – 8 Ali
Round 9
The end is near, Tyson can hardly keep his hands up and is staggering due to fatigue and injury. Ali is taking his time, he knows he has his man beat but wants to make a show of it. One last wild attack comes flying in, it's a last ditch effort and it fails. Ali manoeuvres Tyson into a corner and unloads a mix of straight punches and swiping hooks with ferocious intent. The desperately exhausted Tyson collapses to the canvas, rendered unconscious by one of Ali's shots. Ali stands proudly atop his opponent, arms aloft.
Muhammed Ali wins by KO (74 – 74 at time of stoppage)
Tyson at his best was a devastating wrecking machine, a mix of elite defence and monstrous but clinical and disciplined offence. He was capable of defeating most heavyweights in history including Ali, you have to imagine if they were to box ten times he'd take two or three. He had the exact attributes that drove Ali mad, speed, athleticism and a world class left hook (think of the trouble Norton and Frazier gave him). But his fragilities were many and potent, he was susceptible to a strong jab, he fatigued quickly when forced to fight at his opponents pace and his mental state was always questionable and this is what Ali would of zeroed in on, winning the mental battle prior to the physical.
Both men were great. One was greater.
VIDEO: How does Tyson feel he would have got on with Ali?
British Boxing, boxing news, boxing interviews… uk boxing news, uk boxing website, British boxers…