Negotiations continue to rumble on for an undisputed heavyweight showdown between Tyson Fury and Oleksandr Usyk.
The pair informed the WBA that a tentative agreement had been reached between both parties at the end of last week.
Fury has however thrown another spanner in the works by asking for the removal of a rematch clause in the fight contracts.
"I've been speaking to the lawyers today, and Usyk's people are talking about rematch clauses and all that b*llocks", Fury said in a video posted to his social media.
"Here's one to up the antis. How about there is no f*cking rematch clause for both of us. Let's up the antis completely, never worry about what's in the future or however many more dollars you can get after you've been defeated.
"Worry about the fight. April 29th, no rematch clause. The winner takes the glory, the loser goes home with his dick in his hand. Agree to that you f*cking b*tch."
Usyk swiftly responded to Fury's video with one of his own.
"Hey greedy belly, the rematch clause came from your side not mine.
"Stop whining and ducking. Be a man, ink the contract or vacate the belt. I need undisputed and not to play your stupid games."
Egis Klimas, who manages Usyk, also tweeted in response to Fury on Monday.
"No one from Usyk's side asking a rematch stop lying to people. Rematch issue came from your side, as we there dealing with your promoters you asked for a rematch which we agreed, so what is next not to fight Usyk?"
Negotiations have been ongoing for several months between the two camps.
Saudi Arabia was initially pencilled as the likeliest destination of the bout but constraints on the construction of an arena meant the fight could not take place there this side of Ramadan.
Wembley Stadium on April 29th was then shoehorned as the next date for the fight.
The lack of a hefty site fee which was available for the Middle East however complicated matters further, with Fury demanding a 70-30 split of the purse in his favour.
Usyk duly obliged and agreed to the split on Friday, only asking that Fury donate £1 million to the people of Ukraine.
Negotiations remain ongoing for a fight which would crown the sport's first undisputed champion since Lennox Lewis.
Usyk defeated Anthony Joshua in back-to-back fights to claim the WBA, WBO, IBF and Ring Magazine titles, while Fury holds the WBC after his February 2020 win over Deontay Wilder.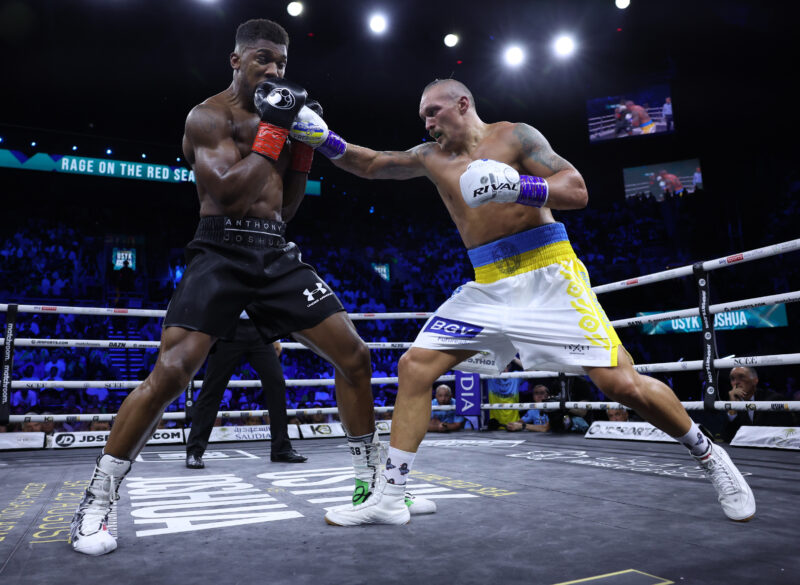 It is unclear whether a rematch clause will continue to be in place moving forward.
Alex Krassyuk of K2 Promotions [Usyk's promoter] told talkSPORT on Monday morning that he does not believe the fight will take place on the proposed April 29th date.
"Let's imagine Usyk accepts no rematch, Fury will search for another thing to pull out. He bluffed and Usyk called his bluff, 100%."
Featured image: Lawrence Lustig/BOXXER.