Last month on the first day of April British boxing lost one of its greatest and brightest ever stars as we were informed that the former lightweight world champion and Scottish national hero Ken Buchanan had died at the age of 77.
He was known to be one of the single greatest boxers the United Kingdom has ever produced. Though he was not the most spectacular athlete or indeed physical specimen, he was an extremely talented and clever boxer who had possessed lovely textbook skills and a fantastic jab, teak tough, rugged and tenacious, a pure boxer through and through who achieved it all and more.
Born in the city of Edinburgh on June 28th 1945, just over a month from the declaration of victory in Europe. The young Buchanan grew up on the working-class council estate of Northfield on the city's fringes with his loving and close nit family including his younger brother Alan who himself grew up to become a professional boxer and won the Scottish featherweight title.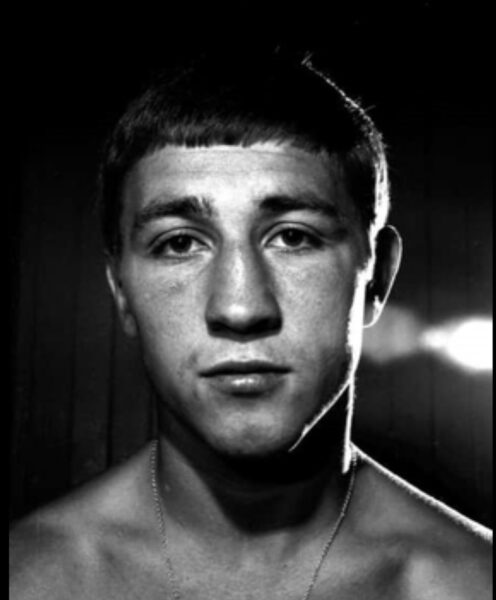 Apparently, Buchanan loved a scrap even in childhood. He would often get into fisticuffs with kids from the local area and would feel the disciplinary wrath of his teachers for the occasional school yard punch up. In a 2021 BBC Scotland documentary Buchanan had this to say of his childhood "I got bullied a wee bit at school because I was skinny. I had a wee bit of a chip on my shoulder but only because guys wanted to fight me, then his brother would want to fight me because I would knock him out."
He took up the noble art at the tender age of 8 years old, he had recently visited his local cinema to watch The Joe Louis Story, a biographical about the great heavyweight. This lit a spark in the young Scots mind and he pleaded with his father Tommy to take him to a boxing club, after a few days of negotiation his father relented and took him to Edinburgh's Sparta Club. A few months later and the young Buchanan was hooked and apparently at the tiny weight of 3st 2lb he made his amateur debut. 
Buchanan did fantastically well at Sparta Club and made rapid improvements under his coaches' tutelage and gained invaluable experience within the walls of the ABC. He continued to box through to his teens and became one of Scotland's premier amateurs. Eventually he had to think about his future and decided on learning a trade so he enrolled on a carpentry apprenticeship, this is where the nickname of the "Fighting Carpenter" comes from. This was the smart thing to do but his heart was not in it and he could not shake the boxing bug, during this time in his late teens he had become a serious threat on the amateur circuit and in 1965 he won the ABA's in the featherweight division and secured himself a bronze medal at the European Championships in Berlin. The future looked bright for the young Edinburgh kid.
With the support of his family, he decided to turn over and try his hand in the pro ranks. Many worried that it was mistake for Ken to turn professional and thought that his style was far too stiff and amateurish for the hurt business that is pro boxing. He struggled to find a manager who was willing to work with him but eventually teamed up with Welshman and former pro Eddie Thomas. Now everything was ready and Buchanan was looking forward to his new career. He made his professional boxing debut in September of 1965, stopping Brian "Rocky" Tonks at the National Sporting Club, Piccadilly.
Now he was off, a fully-fledged pro with championship belts and big pay days on his mind. Apart from his second bout he would box exclusively at Piccadilly's National Sporting Club until bout number eight, the sporting club has a rich history, it was entangled with boxing from its outset and deserves a write up in itself.
He was making his way up the ladder, showcasing his skills in gloomy atmospheric rooms for crowds of real boxing aficionados in well-polished shoes and starched trousers.
He Just kept winning but no one seemed to be paying him any attention, he was technically brilliant but didn't carry the thunderous one punch power the casual fan likes to see. After extending his winning streak to 23 consecutive bouts he took on the tough Maurice Cullen for the British lightweight title in London in 1968. He was far too good for Cullen and Knocked him out in the 11th round to win the Lonsdale belt and secured his place a legitimate world level contender.
Then in his very next fight he was back at the National Sporting Club in an 8 rounder rather than defending his hard-earned belt and endeavouring to win it outright. Struggling to make ends meet or even break even from his fights Buchanan was disgusted with the nature of professional boxing and at this point he was a married man and needed to provide. In an act of defiance, he actually handed his Lonsdale belt back to the British Boxing Board of Control.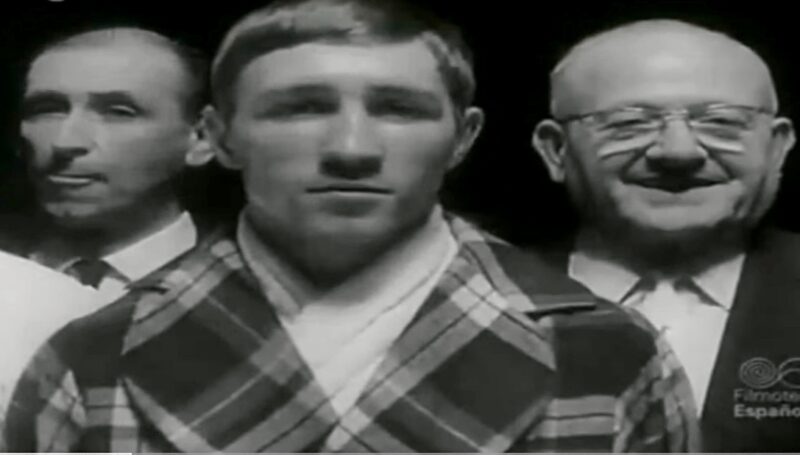 He was also enraged with what he perceived to be his managers lack of management skills and ability to find him suitable opponents to defend his belt against and earn bigger purses so parted ways with Eddie Thomas, though they would soon reunite at Ken's mothers funeral and decided that they going to take on the world and they were going to win.
The apprenticeship was over and it was now time to make his stand and find to what he was made of. In January of 1970 Buchanan travelled to Spain to take on future WBC light welterweight champion Miguel Velasquez in Madrid for the European title. He lost a 15-round decision to the talented Spaniard and didn't get hold of the coveted blue belt. But he got over the loss and got back to work and put three decent wins together and in September of 1970 he got his chance at glory and secured a fight with Ismael Laguna, a great of the sport. The only catch was the fight was to be held in Puerto Rico, outside, in the sun. Torture for a pasty Scotsman.
No one gave him a shot; how was he going to beat the great Laguna and contend with the sweltering heat. Well somehow he did it, he put in one of the very greatest performances by any boxer of any generation and defeated his great opponent via 15 round split decision, it wasn't plain sailing and he had to ride some big shots and stand fast during Laguna's snappy start but he did it, he shocked the world of boxing and became the WBA lightweight champion of the world as well as cleaning The Ring Magazine belt and the NYSAC (New York State Athletic Commission) title.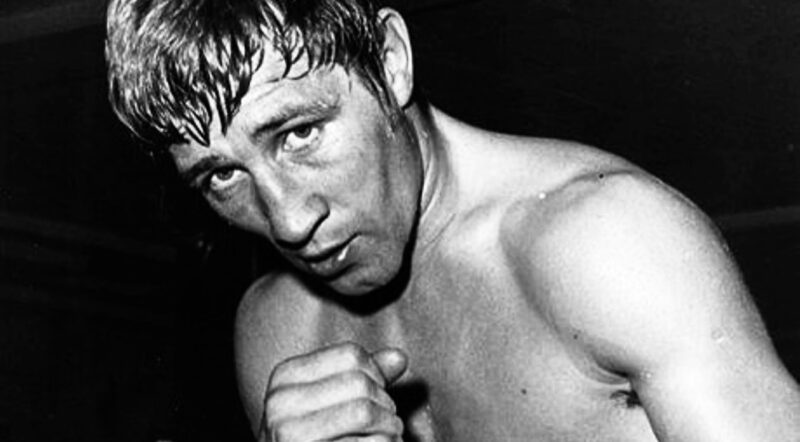 At the time the BBBofC did not recognise the WBA as the two bodies were in the midst of some ridiculous feud. So, after all the blood, sweat and tears and more sweat Ken was still not considered a world champion in his own country and was not allowed to defend his WBA title in the UK. But no matter, the world is bigger than Britain and the WBA was not the only show in town.
A few months on and he took on Italian, Canadian and former Olympian Donato Paduano at the historic Maddison Square Garden in New York city in a 10 round non-title bout who he defeated in a dominant unanimous decision.
Then in January of 1971 Buchanan made his first defence of his world title in a unification bout for the vacant WBC world title by outpointing Ruben Navarro over the full 15, this time over on the other side of the country in Los Angeles. Now the young Scot had left his mark on east and west coast of the USA and in Central America.
Now, finally Buchanan was considered a true world champion back in his home nation and was allowed to defend his WBC belt in the UK. In May of that year, he took on and defeated former light welterweight champion Carlos Morocho Hernández of Venezuela by 8th round knockout in another non-title fight at the Empire Pool, Wembley.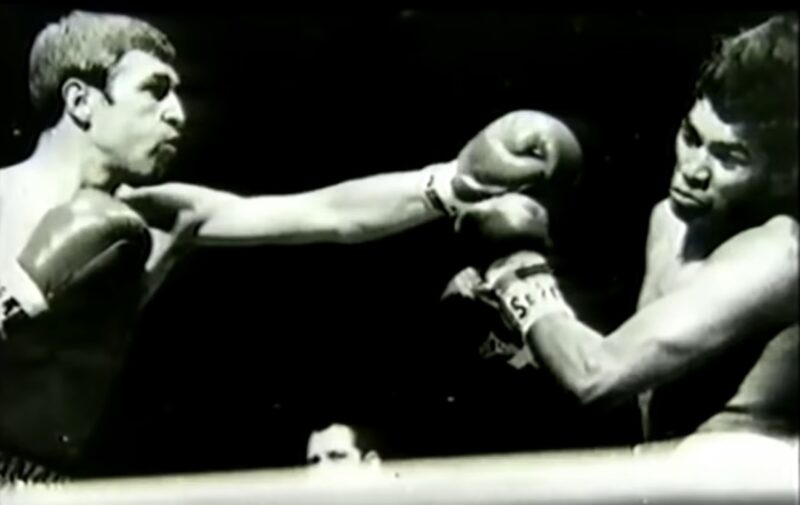 Yet another hurdle presented itself on the course of Buchanan's career as he was stripped of his hard-won WBC title just a month after his British boxing return in June of 1971 as he and his team failed to make a bout against former European champion and future WBC world champion Pedro Carrasco of Spain. Which is a shame as Carrasco was an immensely talented boxer and media darling in his home nation who finished his career with a record 105 wins with 66 coming by way of knockout with only 3 losses and 2 draws, an absolutely astounding record.
By this time he was a former unified world champion with oodles of experience, it was time for Buchanan to solidify his status by once again taking on the great Laguna in a rematch at Maddison Square Garden for his WBA title. He was incredible and this was probably the best he ever looked in the ring and he defeated Laguna by unanimous decision. But on his way to victory he took some heavy leather and the tissue around his eye became terribly swollen, his vision was letting him down, so in a real life "cut me Mick" moment Eddie Thomas, unbeknownst to the referee sliced the swelling on his charges face with a razor blade and released the pressure, the blood poured but now Buchanan could see again. Sylvester Stallone was obviously watching that night.
Again, a couple of non-title fights and victories followed, one back in London and one at the Rand Stadium in the South African City of Johannesburg which saw him batter the horribly over matched Andries Steyn whose corner threw in the towel in the 3rd.
The next fight was the big one as he was to defend his WBA belt against Panama's Roberto Durán, the man who would arguably go on to become the greatest lightweight in history if not one of the very best boxers to ever live.
The fight was to be held back at Maddison Square Garden in June of 1972 and would draw record revenue for a lightweight contest.
Buchanan, obviously feeling confident and cocky as an experienced world level operator and champion decided that Durán did not deserve his respect or attention during the build up to their fight. This lack of respect infuriated Durán who was not a wise man to anger, he was the younger of the two, only turning 21 a few days before they boxed and had got himself a reputation as a street fighter who swarmed his opponents and overwhelmed them with heavy punches and unfathomable aggression.
A classic boxer v puncher matchup.
As it turned out angering Durán could not have been more of a mistake, though there was nothing Buchanan could do. Durán was the better man all round and busted the Scot up horribly. Buchanan's stiff jab was not powerful or precise enough to keep his marauding young opponent at bay and he was not strong enough to push Durán back. He ended up spending large amounts of time with his back against the ropes which aloud Durán to open up on him with big shots and use his head as a weapon. Buchanan did have his moments and took every opportunity to smash leather into his opponent's jaw but it was just never enough. Then at the end of round 13 the rabid Panamanian great planted a solid right hand right below Buchanan's belt. It was a blatant and sickening foul, to this day it's hard to watch and it put the tartan clad Scot on the canvas holding his groin and shivering with pain until his team hoisted him back to his corner. In the words of Ricky Hatton boxing is no tickling contest but this was beyond the pale and had men viewing the world over cringing with sympathy. Buchanan was in no position to continue and did not come out of his corner for the 14th round and as he was way ahead on the cards Durán had his vicious hands raised high as he claimed the title.
Obviously, this was extremely controversial, of course Roberto should have been disqualified, he had attempted to give Buchanan an involuntary vasectomy via blunt force trauma but this is boxing and in boxing the mad, bizarre and crooked sometimes prevail. The fight has gone down in infamy and added to the storied but chequered history of boxing and Durán himself.
Buchanan was left battered, bruised and in need of some ice for his crotch but worse than any of this is that he had lost his world championship and was back to being a contender but it seemed he may get a shot to reclaim his titles far sooner than anticipated as Durán signed to run it back with Buchanan two days after their bout. Then in yet another bureaucratically engineered twist of fate Durán broke the contract as the Panamanian government insisted, he make his first defence back in his home nation which he did when he knocked out Jimmy Robinson in Panama City the following year.
Just two months later he found himself back at the Garden squaring off against the Puerto Rican former unified world champion Carlos Ortiz, a great fighter in his day but his day had well and truly turned to night by this point and he was stopped in the 6th round of 10 round bout. This would be Ortiz's final fight. Buchanan then went on to TKO Chang-Kil Lee in 2 to close out 1972.
But the Durán episode was not quite over as the Panama hard man had actually signed a second contract with Maddison Square Garden in October of 1972 to rematch Buchanan in 1973 but once again "Hands of Stone" broke the contract agreement. This time he was reprimanded and had his licence suspended by the New York Athletic Commission on April 4th of 1973.
No longer the best lightweight in the world Buchanan made his return to Scotland to take on fellow Scot and future WBC world champion Jim Watt. At this point Watt was an up and comer and far from the finished article. They fought at the Albany Hotel in Glasgow with Watt's British title on the line. Buchanan was the favourite but Watt was more than up to the task and kept up with the former world champion and held his own throughout. It was a close and technical fight that went the full 15. In the end experience prevailed and Buchanan regained the British lightweight title. Though Watt was the wrong side of the cards that night it served him well as he went on to have a decorated career.
Following his home coming success Buchanan set off on a sort of international tour, taking fights in Miami, New York, Toronto, Copenhagen and Cagliari where on Mayday of 1974 he defeated Antonio Puddu in 6 rounds for the European title, four years on from his loss to Velasquez he finally had the blue belt.
He defended his EBU strap twice, stopping both Leonard Tavarez to close out 1974, an opponent he had already defeated on two occasions earlier in his career and Giancarlo Usai in 1975. Between these two successful defences Buchanan was awarded a chance to reclaim his WBC world title in a showdown against the strange and unpredictable Guts Ishimatsu of Japan. Using his text book skills and experience the Scot was able to edge the early and middle rounds but Guts stood firm and used his unconventional style to confuse and tire his opponent, eventually Buchanan began to fade and Guts dominated the later rounds and was awarded a unanimous decision victory.
After the Usai fight Buchanan decide to vacate his EBU belt and retire from boxing with a record of 57-3 and who could blame him, he'd done it all, winning the Lonsdale belt twice, claiming the WBA, WBC and Ring Magazine world titles and finally winning the elusive European championship. He shared the ring with all-time greats of the sport and earned a few very decent pay days.
But the story of Buchanan was not yet over as he declared his intention to return to the ring in 1978 and put together a couple of wins before stepping back up to championship level to take on Northern Irishmen Charlie Nash in Copenhagen to try and win back the European title. Sadly, he was not quite the fighter he once was and Nash was able to outwork him and win a 12 round unanimous decision.
There were a couple of good nights left for Buchanan as he saw 1980 through with the last two victories of his long and storied career. He then went on to lose four bouts in a row, his last ever dance was against tough Hartlepool man and future British Lightweight champion George Feeney who defeated the old Scot by a points decision over 8 rounds in 1982. He had obviously had enough and it was time to take the gloves off for good, he was still a capable boxer who had developed many savvy old man tricks but it was time to go.
Sadly, in the vein of so many boxers both before and after him he did not adapt well to retirement. The demons that fuelled him throughout his long and violent career had come to control him, his outlet was now gone and his retirement years were marred with alcohol abuse. In need of money, he reclaimed his mantle of the "Fighting Carpenter" as he decided to take unlicensed fights in nightclubs and eventually went back to work as a joiner on sites. And he was later the victim of a sexual assault by a flat mate which affected him deeply. All in all, retirement was not what it should have been.
Though he was always respectful of the boxing press and enjoyed giving interviews about his own career and talking up the new talent coming through. And in 2000 he was inducted into the International Boxing Hall of Fame. He made sure to spread the positivity of boxing, visiting clubs and inspiring kids and amateurs where ever he could, delivering knowledge and telling stories of triumphant nights on the canvas and dealings with the likes of Ali and Durán. One of these inspired children was Josh "The Tartan Tornado" Taylor who marked Buchanan out as his idol and hailed him as "Scotland's greatest."
Buchanan's death last month came a year after his son revealed he had been diagnosed with dementia and had been living in a care home. He died peacefully in his sleep.
His funeral was held on April the 25th at Edinburgh's St Giles' Cathedral.
It is hard to put into words just how important the lightweight from a council estate on the fringes of Edinburgh would turn out to be for British boxing. A troubled soul but a real boxing man who gave his all in an era of greats and took on the very hardest challenges that the world could throw at him both in the ring and out.
If in a hypothetical world of boxing superiority, a Mount Rushmore of UK boxers were ever commissioned there would be some real stiff competition for the representatives for three of the home nations but not Scotland. For Scotland there is only one and his name is Ken Buchanan.